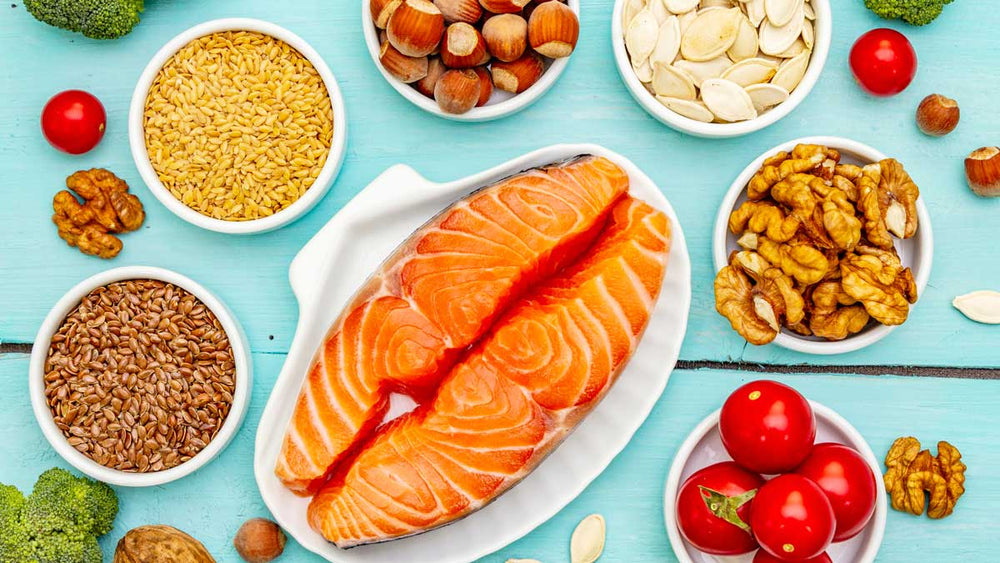 Is Your Omega 6:3 Ratio Worth Caring About?
Published on Monday, July 31, 2023 by
---
PLUS How Much Omega-3 Do You Need For Optimal Health?
I've been fascinated by the unique nature of omega-3 fatty acids for a very long time.
This family of essential fats continues to attract scientific interest, and I'm quite literally learning something new about them every day.
We don't need to look much further than my recent Foodguides piece exploring the connection between omega-3 intake and a healthy, diverse gut microbiome to exemplify that sentiment.
Who saw that coming?
Insights like these, combined with the fact these elusive compounds are found in very few foods, make omega-3s a truly intriguing area of inquiry.
As a quick refresher-
The plant form of omega-3, ALA, is found in ample supply only in flax, chia, walnuts, tofu, and soybeans.
The marine forms of omega-3, EPA/DHA, are found in large supply only in salmon, sardines, trout, mackerel, and herring – as well as supplements.
We should also be clear about the fact that the foods listed above have a significant number of health benefits above and beyond their omega-3 content and that, on the population level, they don't tend to be widely consumed.
This creates a scarcity problem around omega-3s, making them much more intriguing to study.
And we haven't even got to the notion of the "omega 3:6 ratio" yet.
We'll get there, but before we do, I want to start by exploring an important metric – the omega-3 index.
The Omega-3 Index
While you've almost certainly heard of omega-3 fatty acids, you may not have heard of the omega-3 index before.
The omega-3 index measures the presence of EPA & DHA in our red blood cells and reflects the long-term intake of these nutrients.
An individual's omega-3 index score is strongly tied to their fish consumption and omega-3 supplement use, which makes perfect sense because these are the only two sources of EPA & DHA.
It also brings to light the fact that plant-based omega-3s, valuable as they certainly are, simply aren't the same – more on this soon.
Do Most People Get Enough Omega-3?
Data out of my home country of Canada suggests that very few people have an optimal omega-3 index; in other words, their blood level of omega-3 fatty acids is below what is required to maximize heart health. 
Similarly, intake data out of the United States suggests several demographics and subgroups are at risk for under consuming omega-3s.
Global data isn't much better either, with recent numbers suggesting that most of the world has low blood levels of EPA & DHA, inevitably contributing to chronic disease risk.
People with the lowest blood levels vs. the highest have an 18% increased risk of death by any cause.
Summary:  In the absence of regular fish intake or omega-3 supplementation, there is a real risk of having less than optimal bodily levels of DHA & EPA, which is less than ideal for long-term health.
Why Are Omega-3s So Important?
There is an obvious cost for the absence of sufficient omega-3s for long-term human health.
While scientists still don't fully understand what makes omega-3s such an invaluable asset to humans, it has a lot to do with the fact that they significantly lower bodily inflammation.
Generally speaking, omega-3 fatty acids populate cell membranes, significantly changing a cell's potential to generate anti-inflammatory signals and compounds.
In common conditions like fatty liver disease, scientists regularly observe less omega-3 fatty acids present at the cellular level and that when omega-3 intake is increased, there is a measurable improvement in health. 
Fatty liver disease is one of a vast number of conditions driven by inflammation; in fact, most human diseases are.
Even issues like depression and anxiety, for which omega-3 supplements have demonstrated some benefit, are increasingly thought of as being worsened by brain cell inflammation. 
Summary:  Omega-3s populate cells throughout the body and shift cellular messaging into an anti-inflammatory state which reduces the risk and severity of several human health conditions.
Omega 6:3 Ratio –  A Relevant Or Irrational Consideration?
With some important bases covered, we can now extend today's conversation into the realm of a newly reinvigorated concept – " the omega 6:3 ratio".
Omega-6 fatty acids are found in large amounts in corn, sunflower, and safflower oils, as well as specific types of foods like chips, fried foods, and processed meat.
Some otherwise very nutritious foods, including those rich in omega-3, also contain omega-6, such as tofu and walnuts. 
Most animal protein sources also contain varying levels of omega-6 fatty acids. 
There is some scientific interest around the notion that it's not one's omega-3 intake that counts, but rather their intake of omega-3 relative to their intake of omega-6. 
This leads to a sentiment of avoidance around foods high in omega-6 fatty acids.
Some observational data suggest that individuals with significantly higher blood levels of omega-6 as compared to their intake of omega-3 may be at increased risk of chronic disease.
The problem is that there is also data to suggest that omega 3s and omega 6s may have a synergistic anti-inflammatory effect. This is precisely why guidance suggesting avoiding healthful foods high in both (like walnuts or tofu) is not scientifically sound.
Further to that point, a 2023 paper out of Nutrients looked at omega-3 and 6 intake levels in Spain and determined that the most logical priority to improve public health should be focusing on increasing exposure to omega-3s rather than focusing on reducing intake of omega-6. 
Summary:  Beyond the somewhat obvious consideration that fish and omega-3-rich nuts/seeds contribute more to human health and flourishing than chips, fried food, and processed meat – I recommend spending your energy on optimizing your omega-3 status before mulling the role of omega-6s in your diet. 
Improve Your Omega 3 Status – Flax Isn't Enough
Recall from earlier in today's article that omega-3 supplementation and fish intake were strong predictors of the blood levels of EPA/DHA in our body.
These are both direct contributors to EPA & DHA, whereas plant-based omega-3 sources such as flaxseed and walnuts contribute ALA only.
This is no knock-on ALA-rich foods, which I must reiterate have extremely high nutritional value.
That doesn't change the fact, however, that scientists have long speculated about the extent to which ALA can be meaningfully converted to EPA/DHA in the human body, and it doesn't seem as though much is.
A 2018 study out of Food & Function determined that supplementation with ALA was insufficient to restore adequate blood levels of EPA/DHA in men with low baseline levels. 
Recent work out of Frontiers In Nutrition suggests that exposure to EPA/DHA at 1-1.5 grams per day can help you achieve and maintain what scientists believe to be an optimal blood level of these omega-3 fats.
Many commonly available omega-3 supplements contain a combined EPA/DHA serving in this range, but several supplements marketed as containing these fatty acids could also have much lower amounts – be diligent about label reading or consult a health professional if you are unsure.
For my fish lovers out there, in order to get the weekly 7-10 grams of DHA/EPA required to optimize your blood levels, we'll need to do some math.
3 oz of fatty fish (85 grams)

(salmon, sardines, mackerel, trout, herring) contains an average of 1.25 grams combined EPA/DHA.
To get 7-10 grams per week from fatty fish alone, 

we'd need a total weekly intake of 17-24 oz or 500-680 grams of fatty fish.
This serving number is obviously quite a bit higher than average public health recommendations but is an objective reflection of the scientific data at the capacity to which I'm able to assess and comment on it as a lone health professional. 
Finally, and because I'm sure you may be thinking it - a friendly reminder as well that the fish highest in omega-3, the ones I've listed previously, are also among the lowest in mercury.
Summary:  The plant-based omega-3 ALA probably won't optimize your blood EPA/DHA levels – only regular supplementation (via fish oil or an algae-based EPA/DHA supplement) or consistent weekly consumption of fatty fish is likely to have the potential to do so.