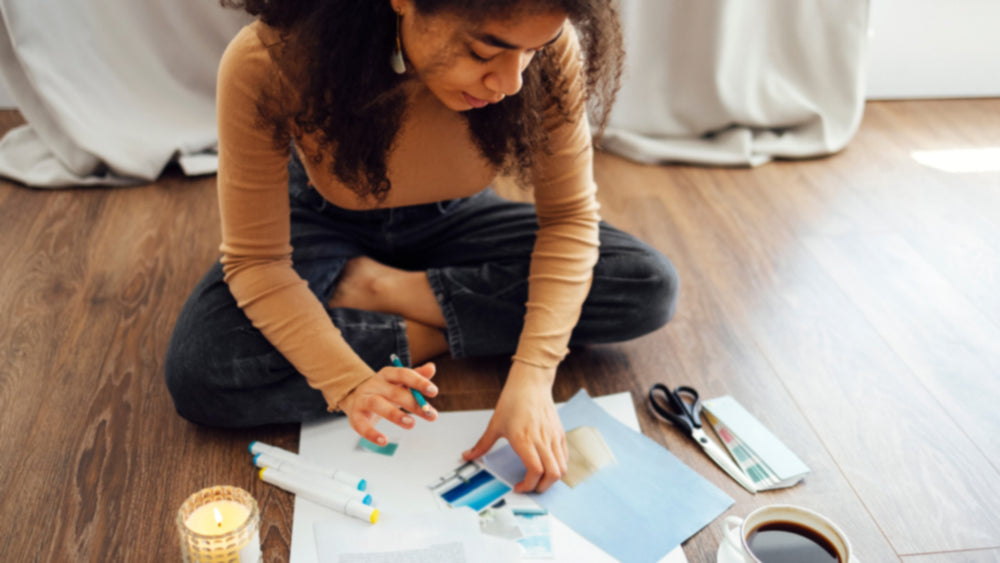 Visualizing Wellness: How Vision Boards Can Support GI Disorder Management
Published on Wednesday, November 08, 2023 by
---
Creating a Path to Wellness: How Vision Boards Empower GI Disorder Management
In wellness, creativity can often be the key to transformation. Enter the vision board - a canvas of dreams and aspirations proven to work wonders in various aspects of life. But can it really help in managing gastrointestinal (GI) disorders like acid reflux, GERD, and IBS? Surprisingly, yes! In this article, we'll explore how this artistic endeavor can bring relief and healing to your digestive system.
Creating Your GI-Friendly Vision Board
Set Your Intention
I love how Tony Robbins succinctly explains it: "Where focus goes, energy flows. And where energy flows, whatever you're focusing on grows. In other words, your life is controlled by what you focus on. That's why you need to focus on where you want to go, not on what you fear." So, start by reflecting on the outcomes you desire. Is it a life free of acid reflux? A digestive system in perfect harmony? Visualize the ideal state of your gut health.
Where focus goes, energy flows.

And where energy flows, whatever you're focusing on grows.

~Tony Robbins
Gather Supplies
Gather magazines, scissors, glue, a board or paper, and any other artistic elements you'd like to use. Make it colorful, vibrant, and full of positive energy. Let your imagination run wild. You can even make some elements 3D. You can do this digitally, but to truly reap the benefits of the energetic connection, create it IRL (that's text lingo for "in real life").
Components to include:
Nourishing Foods:

Cut out images of foods known to soothe the digestive system, like ginger, bananas, bone broth, and oats. There are lots of

Foodguides

and recipes with Low FODMAP choices. You could print off some of these for your board. These will serve as a daily reminder to make healthy, GI-friendly choices.

Relaxation Techniques: Include images representing relaxation methods such as yoga, meditation, or a tranquil nature scene. Stress is a major trigger for GI disorders, and finding serenity can significantly alleviate symptoms.
Positive Affirmations:

Incorporate affirmations like "My digestion is calm and balanced" or "I am in control of my gut health." These affirmations can rewire your mindset and reinforce a positive relationship with your digestive system. Remember that focus and energy.

Exercise and Movement:

Pictures of people engaging in light, beneficial exercises like walking or gentle yoga can motivate you to incorporate movement into your routine, aiding in digestion.

Hydration:

Images of refreshing, hydrating beverages like herbal teas and infused water can remind you to keep your body well-hydrated, a crucial element in maintaining a healthy digestive system.
The Daily Connection
Place your vision board where you'll see it daily - perhaps by your bedside or kitchen. Take a moment each morning to absorb the positive energy it radiates. Let it set the tone for your day. Reflect on your intention. Set three things in place that you will prioritize and do. Small steps each day result in significant changes.
Monitor Your Progress
As you follow your GI-friendly vision board, keep a journal. Record any changes or improvements you notice in your digestive health. This tangible evidence can be incredibly motivating and affirming.
You've Got the Power
Incorporating a vision board into your journey of managing GI disorders might seem whimsical, but the power of intention and visualization can be profound. Embrace this creative endeavor and watch how it infuses positivity and healing into your digestive system. Who knew that a bit of art and intention could lead to such transformative results?
So, grab those magazines and scissors, and let your journey toward a happier, healthier gut begin!
I see you, and YOU are beautiful!