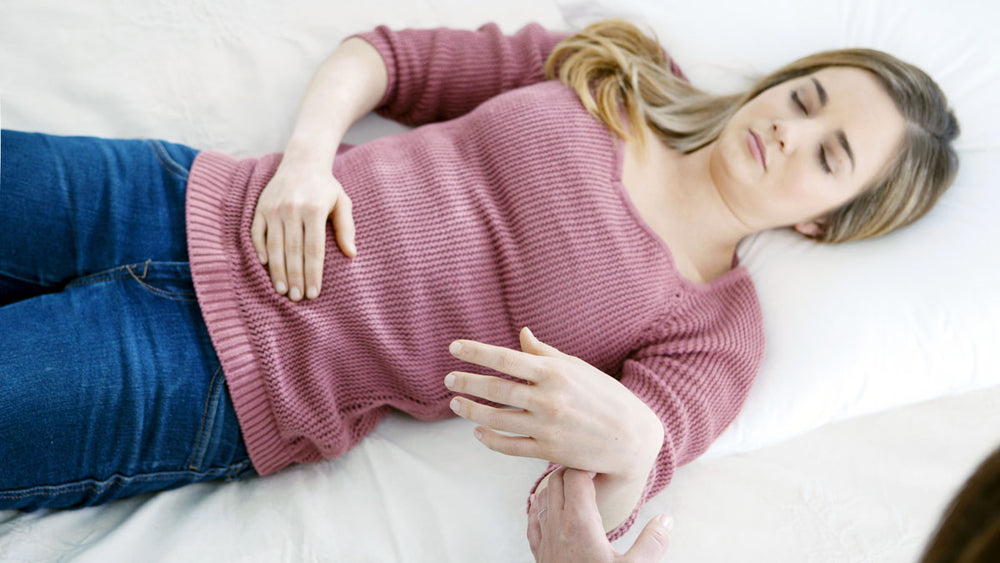 Mind Over IBS: How Hypnosis Offers Lasting Relief for Irritable Bowel Syndrome
Published on Friday, August 04, 2023 by
---
Irritable Bowel Syndrome is a Bummer
Irritable Bowel Syndrome (IBS) is the most common reason for referral to a gastroenterology specialist, and it has a profoundly negative effect on the quality of life in patients. Helping people cope with IBS is one of the prime missions of Foodguides.com.    
What causes IBS? And how can it be treated?
The mechanisms behind IBS are diffuse, and providers often are left to treat symptoms without being able to identify one specific root cause. That said, part of IBS can be traced to dysfunction in the gut-brain axis, the bidirectional communication pathway between your brain and your gastrointestinal tract. Specifically, the hypothalamic-pituitary-adrenal (HPA) axis is one of the major neuroendocrine tracts that manage our response to stress. 
High levels of negative emotions such as anxiety trigger the HPA-axis leading to alterations in the activity of the vagus nerve (the cranial nerve that innervates our viscera) and elevated levels of the stress hormone cortisol. This can severely alter gut functions, including gut permeability, motility, sensitivity, secretion, and even the gut microbiota. The end result of these disruptions can include the symptoms that characterize IBS: such as bloating, diarrhea, or constipation. 
Standard treatments for IBS include the Low FODMAP diet and medications- such as guanylate cyclase activators for OBS-C and rifaximin to treat IBS-D. Psychotherapy, including hypnosis, is an emerging tool in the treatment of IBS. Personally, when I think of hypnosis, I envision a stage magician's act in which entranced people cluck like a chicken, etc. But evidence supports using hypnosis as a valid behavioral therapy for treating many conditions, including IBS.  
Hypnosis to the rescue?
Gut-directed hypnotherapy (GDH) is a therapist-guided experience involving highly focused attention and deepened relaxation. When guided into this state, patients may be able to gain conscious control of physiological responses that are normally guided by the subconscious, such as intestinal motility. It may sound a bit "woo," but quite a bit of research supports GDH as an effective treatment. A 2014 meta-analysis found weekly GDH sessions over a period of about 12 weeks yielded adequate long-term symptom relief in 54% of patients.  
The efficacy of GDH is similar whether the hypnotherapy is done in individual or group settings. While GDH has been shown to reduce the severity of IBS symptoms significantly, it only has a minor impact on the composition of the gut microbiome. While effective, GDH has been found to be equal to, but not better than, standard medical therapy for IBS symptom relief.
How can I explore this treatment?
Evidence supporting hypnotherapy as an IBS treatment is quite compelling. And hypnotherapy may be a good addition to the standard medical treatment of IBS. For research purposes, examining the effect of GDH as a sole treatment is necessary to determine if it has an effect. But as a patient, you have no need to limit yourself to one and only one treatment, so GDH in combination with medications and dietetic consultation would offer a stronger possibility of resolving symptoms. 
Further, hypnosis appears to be one of many available mind-body therapies that can alleviate IBS symptoms.
A 2020 meta-analysis examined a multitude of different mind-body therapies for the treatment of IBS, including hypnotherapy, yoga, meditation, relaxation, progressive relaxation, autogenic training, biofeedback, psychodynamic behavioral therapy, and cognitive behavioral therapy.
Happily, all therapies offered symptom relief, with no clear advantage to one mind-body therapy versus another. These findings were confirmed by a second meta-analysis, which concluded several psychological therapies are effective for treating IBS, though cognitive-behavioral therapy and GHD seemed to be the most effective in the long term.
The American College of Gastroenterology recommends gut-directed psychotherapy (which could include GDH) as a means to treat global IBS symptoms. For help finding a qualified therapist to assist you with GDH, the Rome Foundation, and ibshypnosis.com offer listings of professionals certified to provide this treatment.