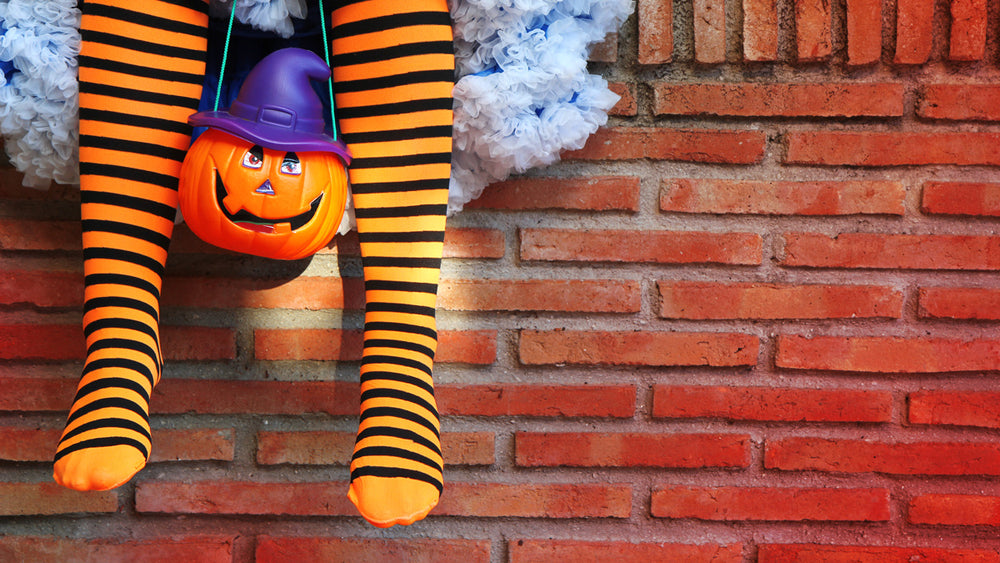 A Spooky Guide to Allergy-Friendly Trick or Treating
Published on Thursday, October 19, 2023 by
---
How to Keep Your Trick-or-Treating Allergy-Friendly
Trick or Treat! - Give Me Something Good to Eat!
Hello Foodguides family, and happy autumn! It's almost that sweet time of the year…Halloween! I'm sure you and your kiddos are giddy with the prospect of coming home with buckets overflowing with candy.
When you have food allergies, trick or treating can look a lot different; it can sometimes even be spooky! Candies may contain allergens, and unwrapped candies are cross-contamination hazards waiting to scare you. Don't be frightened, friends; we have some ghoulie goals to support your witchy wanderings.
Here are some tips to keep your trick-or-treating (allergy) scare-free!
Beware of Allergens: Reading Labels for Safe Candy Choices
First and foremost, read the food labels!
Halloween candies often contain various allergens, including peanuts, tree nuts, wheat, soy, eggs, and milk. To avoid cross-contamination, looking at where the candy is made is essential. This information is usually found on the candy label directly underneath the nutritional information. Candy factories often produce many different types of candies with various allergens. Sometimes, the candies that are labeled "allergy-free" are actually made in facilities that produce other candies with allergens. Now that's a cross-contamination nightmare!
Fun fact: the miniature-sized candies (the ones often found in candy bowls on Halloween night) may be produced on different equipment than their larger allergy-free counterparts, which means trick-or-treaters with food allergies should be especially careful.
Allergy-Friendly Candy Options for a Sweet Halloween
Luckily, there are many allergy-friendly candy options available such as Skittles, Mike and Ikes, Starbursts, Swedish Fish, AirHeads, Fun Dip, and Sour Patch Kids. These candies are just as sweet and savory as their nutty counterparts, and your kiddos may already enjoy them.
We can't forget about our gluten-free and dairy-free friends!
Here is a short list of gluten-free candies and dairy-free candies you can buy at the store (the complete list can be found at Mercy Health):
| | |
| --- | --- |
| Gluten-Free | Dairy-Free |
| Tootsie Rolls | Ring Pops |
| SweetTarts | Skittles |
| Junior Mints | Starbursts |
| Smarties | Sour Patch Kids |
| Laffy-Taffy | Jelly Beans |
| York Peppermint Patties | Jolly Ranchers |
Home Sweet Home: A Safe Space for Candy Enjoyment
To avoid an allergy attack while walking the block, wait to eat your treats until you get home!
This provides an excellent opportunity for parents to teach their children about reading food labels so that they can avoid their respective allergens. It is also an excellent opportunity to educate your friends and neighbors about food allergies so that they can do the same for their family members. If an allergy attack occurs while you are out and about, make sure you carry your EpiPen® or other life-saving medical device.
Halloween Fun Without the Food Allergy Fright
You could provide an alternative: try non-edible treats!
Trick or Treating does not have to be limited to candy. Consider joining the Teal Pumpkin Project - a Food Allergy Research and Education program promoting healthy, allergy-free Halloween activities. By placing a teal-colored pumpkin on your porch, you can signal to families that you offer non-edible treat options such as spider rings, vampire fangs, stickers, glow sticks, bookmarks, and pencils. These prizes can be found at your local dollar store in bulk so that you can provide treats for all of your neighbors!
Trick-or-treating is one of the best activities of the fall season. While the costumes may be scary, your candy collecting does not have to be! By reading food labels, avoiding allergens, and searching for non-edible alternatives, every superhero, Jedi, butterfly, ghost, witch, vampire, and werewolf can enjoy a safe and happy Halloween.
For more articles about allergy-free living, be sure to check these out:
Allergy-Free School Snacks Made Simple & 5 Tools for Your Food Allergy Tool Belt