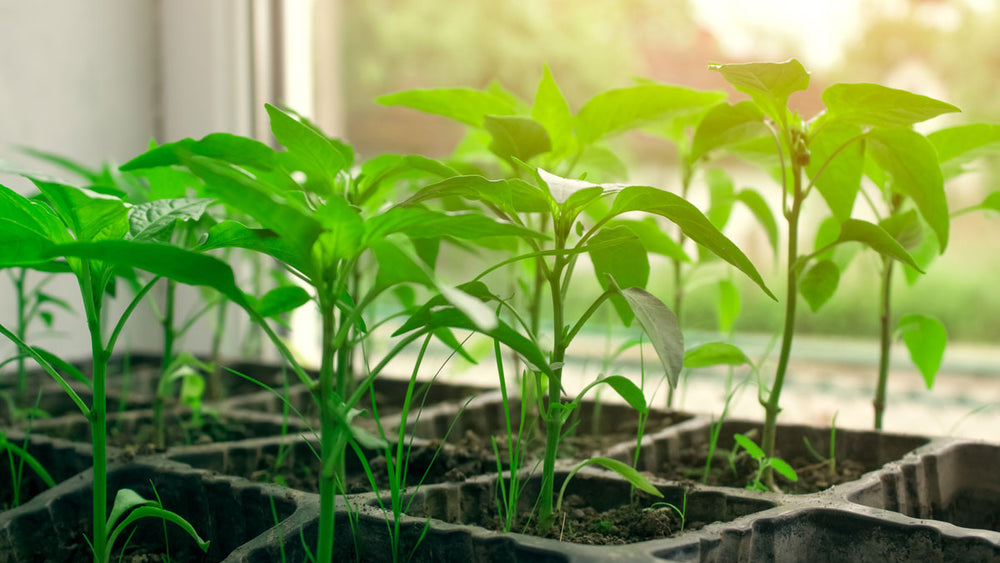 4 Low FODMAP Herbs for an IBS-Friendly Kitchen Garden
Published on Tuesday, April 04, 2023 by
---
Flavoring food on a Low FODMAP diet doesn't have to be difficult. 
A balance of flavor-- salty, bitter, umami, sour, and sweet -- will keep your gut-friendly food delicious and interesting. 
With your spice cabinet, a window or patio, and a few potted herbs you can enjoy delicious food through the entire Low FODMAP journey and beyond. Check out Monash University's guide to Low FODMAP herbs and spices for ideas and pick options that complement your favorite cuisine to cook.

Here are four of my favorite Low FODMAP herbs to grow at home: 
#1- Basil. Both Sweet Basil and Thai Basil are Low FODMAP even at 1 cup--which would be a lot of basil.
Thai basil is spicy with a hint of licorice while sweet basil is mild. Sweet basil is more common in Italian dishes, while Thai basil is more common in Thai and Vietnamese cuisine. 
Thai basil shines and you will not miss FODMAPs in Monash University's Thai green curry or Chef Dédé Wilson's Low FODMAP Pho Bo at FODMAP Everyday. For sweet basil, check out Chef Dédé Wilson's Low FODMAPs Gazpacho at Fody Foods and dietitian Em Schwartz's Low FODMAP basil pesto at Fun Without FODMAPs. 
Basil can be grown in a pot on a sunny patio, or even inside in a sunny spot. (I grew sweet basil in my dorm in California as a nutrition student!) The trick with basil is to not let the soil get too wet or too dry. Check out this guide by gardening expert Kerry Michaels on the Spruce for more basil-growing tips. 
#2- Cilantro. Cilantro is a Low FODMAP herb that brings out citrusy and bright flavors.
You'll find it in Latin American, Asian, Mediterranean, and Middle Eastern recipes and more. I especially love cilantro in tacos and curries. Chef Dédé Wilson's Low FODMAP Pho Bo spotlights both cilantro and thai basil.  
Cilantro can be grown in a pot in a slightly cooler spot on the patio. Check out garden expert Marie Iannotti's guide to growing cilantro here. 
#3- Rosemary. Rosemary is a great year-round Low FODMAP spice. In the cold, it adds complexity to soups and stews.
In the heat, it is wonderful to flavor fish--or even as a skewer for grilled shish kebabs. It is often used in Spanish, French, and Italian recipes. Make special fancy Hasselback potatoes with rosemary using this recipe by dietitian Em Schwartz. 
Check out Marie Iannotti's guide for rosemary here. Rosemary needs a sunny spot but can be grown indoors under the right conditions. 
#4- Parsley. Both Italian and curly Parsley are Low FODMAP.
Italian parsley adds a pleasant, peppery bitterness to Mediterranean meals and more, while curly parsley is more muted. 
Parsley goes well in pasta and salads, or with roasted or grilled veggies. Parsley is also a main herb used in chimichurri--which I could put on anything. Check out this Low FODMAP chimichurri recipe by dietitian Em Schwartz at Fun Without FODMAPs. 
Choose your favorite parsley then check out Marie Iannotti's parsley growing guide here. 
Don't forget to get yourself some garlic-infused oil for the bitter and buttery versatility of garlic minus the high FODMAP content. Make it yourself, or purchase it so that you never have to miss it and can pair it with all the fresh herbs you grow. 
And if you've got a sweet tooth, don't forget to make some savvy swaps using my guide to Low FODMAP sweeteners.