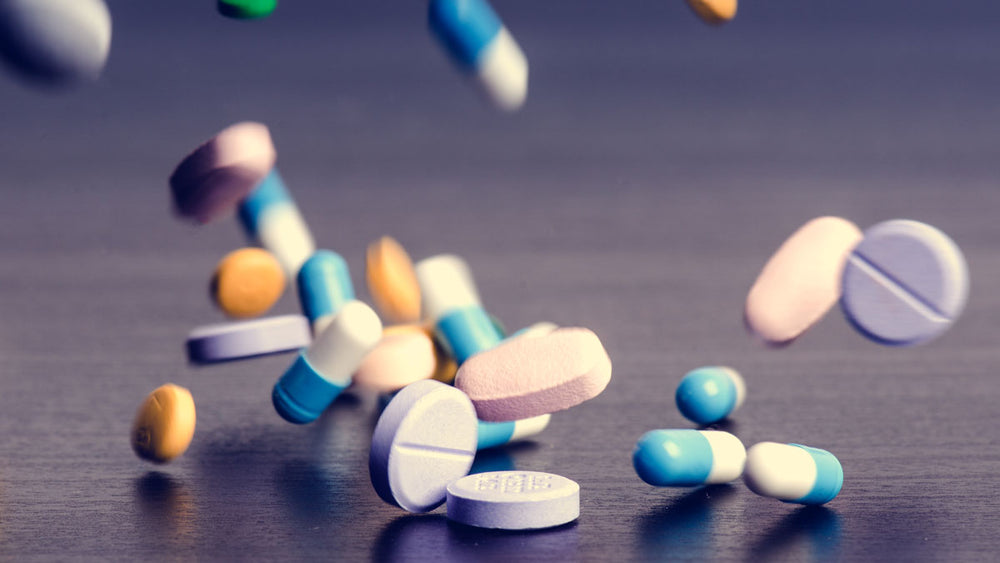 Weight Loss Medications and Unpleasant GI Side Effects
Published on Tuesday, November 08, 2022 by
---
Have you taken or currently taken medications to promote weight loss? 
This has become a fairly recent method to assist with weight loss in addition to lifestyle and diet modification. 
However, there may be some side effects to these medications that are not so pleasant that your prescriber may not tell you about.
Diarrhea and gastrointestinal upset are common side effects among these types of drugs. 
And if you're just trying to live on with your normal life, it can make it challenging when these unpleasant GI side effects sneak up without warning.
The Food and Drug Administration (FDA) has approved 5 drugs for the long-term treatment of obesity and 4 drugs for short-term use. A few of these medications are highlighted below along with an explanation of how they might affect your GI health:
Orlistat (Xenical, Alli) is one of the drugs approved for weight loss and it works by preventing digestion and absorption of fat. Symptoms of maldigestion and malabsorption are:
-          Increased gas/flatulence, typically foul smelling
-          Abdominal bloating and cramping
-          Increased bowel urgency and frequency
-          Diarrhea or loose stools
-          Floating and oily stools
It is recommended that patients avoid a high-fat diet to help limit some of these side effects while on Orlistat. Since the main goal of this drug is to prevent fat absorption, an option (drug-free) would be to consult a Registered Dietitian to help you follow a low in saturated fat and nutrient-dense dietary plan.
Liraglutide (Saxenda), another drug approved for weight loss, also may produce some unpleasant gastrointestinal side effects such as nausea, vomiting, diarrhea, and constipation. This is also common with Phentermine treatment.
Metformin, which is a first-line antidiabetic drug, has also been used off-label for weight management. It has well-known gastrointestinal side effects such as diarrhea. I have met many people on this medication that typically complain of diarrhea once starting this drug.
Some people rely on the assistance of medications to aid in weight management, a decision made by themselves and their medical care team. Given some of the side effects of these medications, they may be hard to take and can result in frustration leading to someone giving up on their weight loss journey. 
These medications may exacerbate your symptoms if you have irritable bowel syndrome or irritable bowel disease. 
If this is you and you want to find ways to manage your weight talk with a Registered Dietitian to learn more about how to control your weight through nutrition and physical activity. Together you may be able to find ways to make modest progress on your weight loss (the risks of losing too much weight too fast will be discussed in a future article), which over time will be impactful for your health and help you achieve sustainable weight loss that lasts a lifetime.
Katimbwa, D. A., Oh, J., Jang, C. H., & Lim, J. (2022). Orlistat, a competitive lipase inhibitor used as an antiobesity remedy, enhances inflammatory reactions in the intestine.

Applied Biological Chemistry

,

65

(1).

https://doi.org/10.1186/s13765-022-00712-y

 

RxList. (2020, May 20).

Xenical (orlistat 120 mg): Uses, dosage, side effects, interactions, warning

. RxList. Retrieved October 17, 2022, from

https://www.rxlist.com/xenical-drug.htm

RxList. (2020, September 22).

Alli (orlistat 60 mg): Uses, dosage, side effects, interactions, warning

. RxList. Retrieved October 17, 2022, from

https://www.rxlist.com/alli-drug.htm

RxList. (2022, June 24).

Saxenda (liraglutide [rdna origin]) injection): Uses, dosage, side effects, interactions, warning

. RxList. Retrieved October 18, 2022, from

https://www.rxlist.com/saxenda-drug.htm

RxList. (2021, October 12).

Glucophage, glucophage XR (metformin hcl): Uses, dosage, side effects, interactions, warning

. RxList. Retrieved October 19, 2022, from

https://www.rxlist.com/glucophage-drug.htm

 

Podar, D.-M., Tero-Vescan, A., Stacescu, S., & Hancu, G. (2019). The Associated Risks of On-Label and Off-Label Drugs Used in Obesity.

Public Health and Management

,

24

(1), 23–26.

Topaloglu, O., & Sahin, I. (2021). Pharmacological treatment of obesity in clinical practice.

Medicine Science | International Medical Journal

,

10

(2), 651.

https://doi.org/10.5455/medscience.2021.05.151

RxList. (2020, May 20).

Xenical (orlistat 120 mg): Uses, dosage, side effects, interactions, warning

. RxList. Retrieved October 20, 2022, from

https://www.rxlist.com/xenical-drug.htm