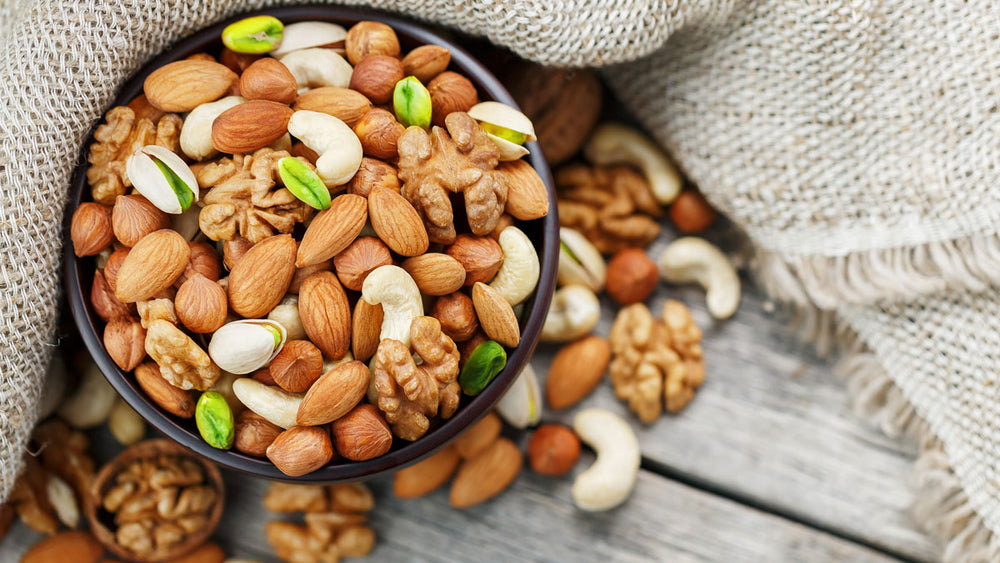 The Surprising Health Benefits of Nuts
Published on Friday, October 28, 2022 by
---
Eating nuts regularly may be just what the Doctor ordered!
Nuts have many health benefits. Almonds, peanuts, walnuts, and cashews all contain magnesium, fiber, protein, and other essential vitamins and minerals, and monounsaturated and polyunsaturated fats.
The fact that nuts are easy to transport and do not need refrigeration also makes them a very appealing snack for those on the go.  
Nuts can improve metabolic health!
Since nuts are a high-fat food, this might surprise you: there is good evidence that nut consumption can benefit your metabolic health and your waistline! Several studies have found measurable benefits from a daily serving of nuts to the diet. Here are some specific examples:
How much should I eat? Is there a "best" type of nut?
Nuts are calorie dense, so a small serving goes a long way. Specifically, ¼ cup is a serving size, and evidence supports that this is sufficient to reduce your risk of cancers and cardiovascular disease. Any more than that serving size is likely counterproductive. Nuts contain chemicals that can irritate the GI tract, such as tannins and phytates. Further, nuts are fatty foods and high levels of any dietary fat can produce diarrhea.
The nutrient content of different species of nuts varies widely. Walnuts, for instance, contain the highest levels of the Omega-3 fatty acid Alpha Linoleic Acid (ALA) of any nut – and a recent review found that dietary ALA consumption was linked to lower all-cause mortality. Almonds, in contrast, contain virtually no omega-3 fats (though almonds are loaded with magnesium, protein, and monounsaturated fat). So ideally, mix up your nuts for variety.
Alternatives for Allergies
Unfortunately nuts aren't for everyone. Peanut and tree nut allergies are common, affecting about 1.8% of the U.S. population. Most people with peanut or tree nut allergies can consume seeds without provoking an immune response. Seeds, such as sunflower, chia, pumpkin, and flax provide an option to obtain a lot of the same nutrients that are found in nuts (magnesium, omega-3 fats). Fatty fish, such as salmon and sardines provide another option to get omega-3 fats as well.