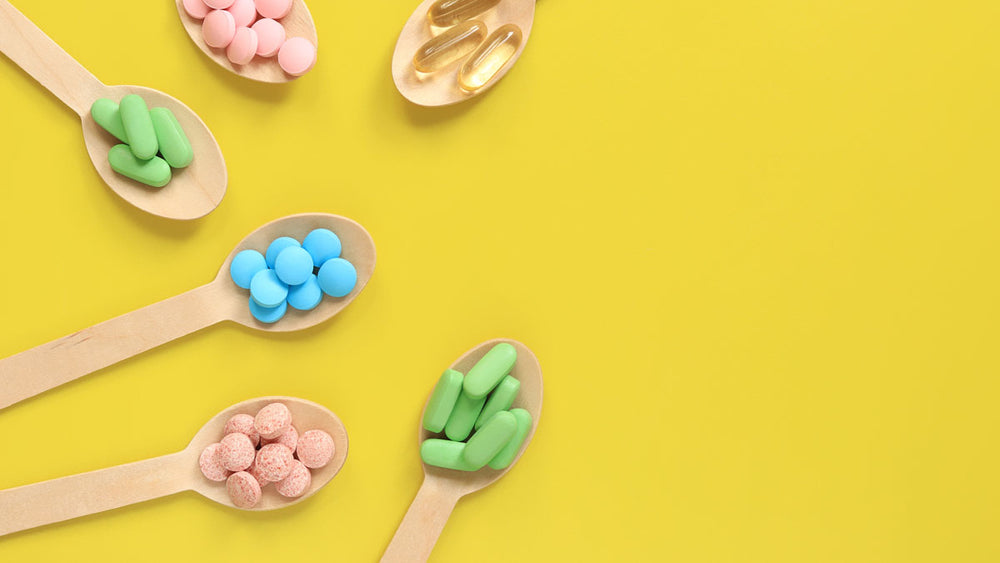 Smart Supplement Shopping: Essential Tips for Making the Right Choices
Published on Thursday, September 07, 2023 by
---
Key Tips for Choosing the Right Supplements: From Forms to Quality Assurance
Are you someone who finds yourself in the vitamin and mineral supplement aisle asking, "Where do I even start?" It can be very hard and overwhelming when you are given so many choices. 
The goal of this article is to give insight into a few key tips when looking for supplements.
Supplements are available in many forms, including tablets, capsules, powders, gummies, drinks, and even energy bars. Given this wide array of options, you might feel overwhelmed and either skip buying supplements altogether or select something without really knowing if it's the right option for you.
To aid consumers, the National Institute of Health's Office of Dietary Supplements has a great resource – a dietary supplement fact sheet. This resource provides comprehensive information on supplements, covering essential aspects such as: 
What it is

How effective it is

How safe it is to take

What interactions it may have with medications

Interactions with food, herbs, and supplements

How it is used

Other names it may go by 

Methodology 
Another really helpful resource is this supplement tracker. It is a very easy way to keep track of what you are taking, including the dose and reason for taking it. You can print it off, fill it out, and carry it to your doctor's appointments so that everyone knows what you are taking.
Did you know?
A 2019 AARP survey found that consumers' top concerns were the effectiveness, safety, and purity of ingredients found in supplements. Do you find yourself in this same category of questioning quality and quality control?
Well, surprisingly, the U.S. Food and Drug Administration (FDA) does not determine whether dietary supplements are effective before they are marketed, unlike with medications and food, so I can see where the hesitancy can come from regarding quality. 
Although the FDA doesn't regulate supplements, they have established good manufacturing practices (GMPs) that companies must follow to help ensure dietary supplements' identity, purity, strength, and composition. GMPs can help prevent contamination or wrong packaging/labeling of a product and even adding the wrong ingredient into a supplement. Fortunately, the FDA does periodically inspect facilities that manufacture supplements. 
If you are someone who wants to know that what you are taking has passed rigorous testing, several independent organizations offer quality testing. Products that pass those tests can then display a seal of quality assurance that indicates the product was properly manufactured, contains the ingredients listed on the label, and does not contain harmful levels of contaminants. Here are these independent organizations: 
ConsumerLab.com

- Brands that pass can have a CL seal of approval on the product labels. Their mission is to help consumers and healthcare professionals find the best quality health and nutrition products through independent testing and evaluation.

NSF International

- Products that have passed this will have an NSF mark. Their mission is to improve human and planet health.

U.S. Pharmacopeia

- These products will have a USP-verified mark on their label. It was formed in 1820 with the goal of helping protect people from being harmed by inconsistent or poor-quality preparation. 
It should be noted that these seals do not guarantee that a product is safe or effective but provide reassurance that the products have undergone further testing. 
Before starting any new supplement, I highly encourage you to speak to your doctor or a registered dietitian to ensure it is appropriate for you to take. Although most supplements have a low risk of causing harm to the average person, there are still chances that they could. 
Some supplements can increase the risk of bleeding or, if taken before surgery, can change your response to anesthesia. Some supplements can also interact with some medications. For example, if you are iron-deficient but take a multivitamin that contains calcium, you would want to take this separately from your iron supplement since calcium can interfere with your ability to absorb iron.
I always say "diet over supplements," yet I acknowledge that supplements can greatly benefit certain individuals. I trust these tips will prove valuable the next time you find yourself on the supplement aisle. 
U.S. Department of Health and Human Services. (n.d.).

Dietary supplement fact sheets

. NIH Office of Dietary Supplements.

https://ods.od.nih.gov/factsheets/list-all/

  

Rainville, C., & Mehegan, L. (2019, August 14).

Brain Health and Dietary Supplements Survey - AARP

. AARP.

https://www.aarp.org/content/dam/aarp/research/surveys_statistics/health/2019/brain-health-and-dietary-supplements-report.doi.10.26419-2Fres.00318.001.pdf

  

U.S. Department of Health and Human Services. (2023, January 4).

Office of dietary supplements - dietary supplements: What you need to know

. NIH Office of Dietary Supplements.

https://ods.od.nih.gov/factsheets/WYNTK-Consumer/