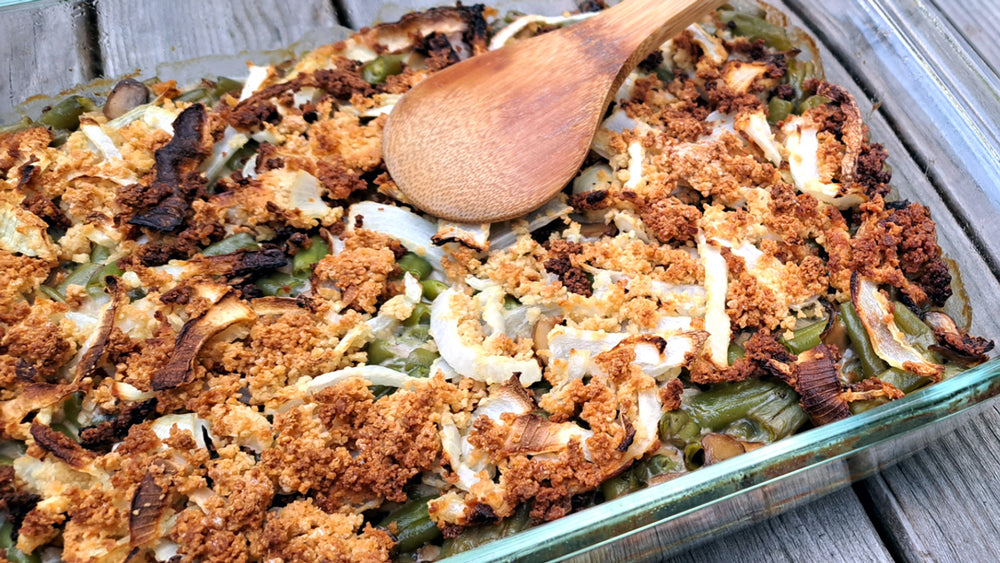 Savor the Flavor: Dairy-Free Green Bean Casserole
RECIPE
Published on Monday, November 13, 2023 by
---
A Holiday Favorite: Green Bean Casserole - Made from Scratch (Gluten-Free and Dairy-Free)
Bring back an old family favorite but with more flavor when you make it from scratch.  Don't throw together a bunch of processed ingredients anymore to make this holiday favorite when fresh ingredients have so much more flavor!  
I have even offered an ONION-FREE alternative topping that's just as delicious in the recipe alternatives below. This recipe is gluten- and dairy-free, but you can easily use alternative ingredient options to tweak it to your taste.  
I love mixing things up, so almost everyone has an option. Enjoy this traditional dish in a whole new way!
Recipe Alternatives to Personalize Your Green Bean Casserole:
Let's explore some exciting twists to enhance your culinary adventure with green bean casserole. These tips and variations will add flair to your dish and cater to different tastes and dietary preferences. Whether you're looking for creative substitutes or a hearty transformation into an entrée, we've got you covered. 
Swap out the onions with chives.

Just chop up about 1/4 cup of fresh chives (they should be tiny) and toss them into the mushroom sauce when you sprinkle in the nutmeg. 

When it comes to flour,

if you're using gluten-free (GF) flour, you'll need roughly a 3:2 ratio of flour to oil, whereas regular flour follows a 1:1 ratio. If you prefer non-GF flour, consider using just 2 tablespoons.

Not a fan of cooking with white wine?

No worries! You can achieve a similar flavor profile by replacing the wine with chicken stock and a dash of vinegar. About 1 tablespoon of apple cider vinegar, white vinegar, or lemon juice should do the trick.

Don't fancy onions (or can't tolerate them)?

Try this alternative topping recipe: Mix 2 cups of GF Panko breadcrumbs, 1 tablespoon of fresh chopped chives, 1/4 teaspoon of organic garlic powder, 1/4 teaspoon of salt, and 6 tablespoons of melted salted dairy-free (DF) butter (or regular cow's milk butter if you're not dairy-free). 

Love green bean casserole but want it to be the star?

Cook up 1 pound of Italian ground sausage before you dive into the mushrooms. After draining the grease, set the meat aside. When you reach step 7 in the recipe, toss the sausage into the green beans and mushrooms, stir it all together, and proceed with the rest of the directions. Voilà, now it's an entrée! (If you're skipping meat, consider adding a can of rinsed, drained Great Northern Beans instead.)
Please refer to the full recipe below for more detailed information and step-by-step instructions on these recipe alternatives. Enjoy!
[[ recipeID=recipe-8lo7mczi0, title=Dairy-Free Green Bean Casserole ]]
Baker, D. (2023, February 9). Easy gluten-free fried onions. Minimalist Baker.

https://minimalistbaker.com/easy-gluten-free-fried-onions/