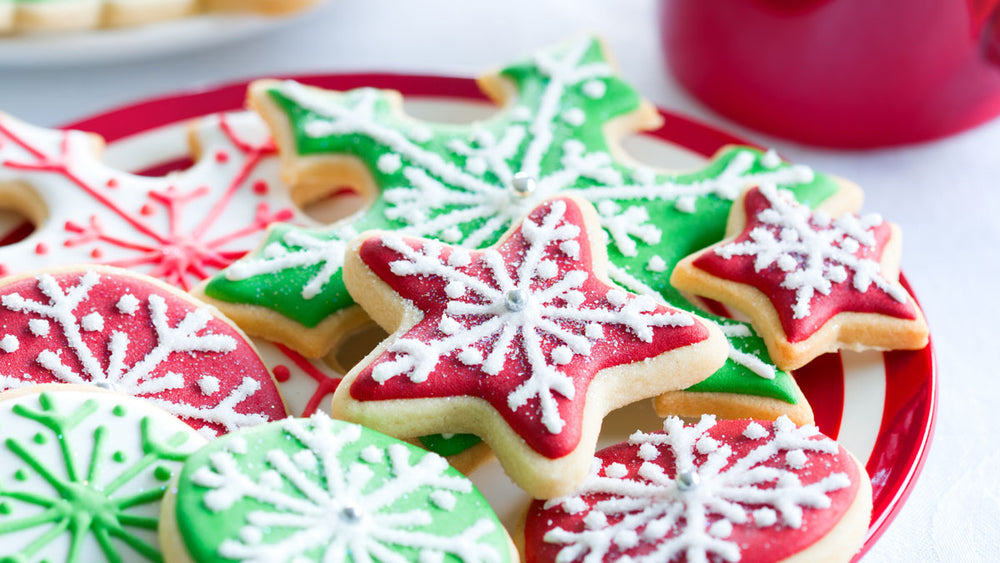 5 Holiday Ingredient Swaps for Low-Lactose or Dairy-Free Diets
Published on Tuesday, December 13, 2022 by
---
Your holiday celebrations will be extra cheerful if everyone can enjoy the festivity!
For some people who need low-lactose or dairy-free accommodations to their diet, it can be rough navigating family gatherings and merrymaking without proper planning. 
Let's go over some basics here (since for some, a dairy allergy can be quite serious!):
Dairy is made of:
Fat- aptly named milk fat 

Carbohydrate - a sugar called lactose

Protein - both casein and whey 

Water 

Vitamins, minerals, and trace elements
A dairy-free diet avoids dairy entirely. One might follow a dairy-free diet for health reasons, such as an immune hypersensitivity or allergy to dairy, or personal reasons such as veganism. 
Symptoms of milk allergy can widely vary according to the
National Library of Medicine
, but may include: 
Anaphylaxis,

a medical emergency requiring immediate medical attention

and involving difficulty breathing, facial flushing, itching, and swollen throat

Rapid onset symptoms: Wheezing, hives, itching or tingling around the mouth or lips, swelling of the lips, tongue or throat, cough or shortness of breath, or vomiting

Slower onset symptoms: diarrhea, hematochezia, abdominal cramps, colic
A lactose-restricted diet limits the amount of dairy carbohydrates, but not necessarily the other components. 
An individual may follow a low-lactose diet because of lactose malabsorption and intolerance caused by lactase non-persistence, a normal, healthy genetic phenotype where lactase activity decreases after birth according to a 2019 review in Gut. Or, one may follow a low-lactose diet because of secondary lactose malabsorption resulting from intestinal damage. 
The 2019 review noted that celiac disease, GI infections, systemic sclerosis, inflammatory bowel disease, and malnutrition-caused environmental enteric dysfunction all damage the intestine in ways that can reduce lactase action. This leads to lactose malabsorption, and subsequent intolerance and fermentation. Lactose fermentation has benefits, but individuals with IBS may report more severe symptoms even at lower to moderate lactose doses according to the authors. 
Bloating

Diarrhea

Abdominal pain

Gas

Nausea

Stomach "growling" or "rumbling"

Vomiting
How do you know if a dairy-free or low-lactose diet is right for you? 
Your healthcare team and dietitian will be able to help you navigate the appropriate testing which may involve laboratory tests, breath tests, and/or dietary elimination and challenge testing. The Low FODMAP diet actually includes a lactose restriction and challenge. According to the Low FODMAP experts at Monash University, individuals with IBS and lactose intolerance have four main options: 
Reduce portion sizes but continue to include lactose-containing dairy 

Choose lactose-free dairy

Take supplemental lactase with lactose-containing foods

Choose dairy alternatives
If you are following a low-lactose or dairy-free diet this holiday season, check out these five low-lactose or dairy-free swaps for common holiday treats!
There is no reason to miss out on occasional holiday foods modified for a dairy-free or low-lactose diet, but be sure to limit portion sizes of calorie-, fat-, and sugar-dense fun foods. Fun foods modified to avoid IBS or lactose intolerance symptoms can still contribute to poor blood sugar control or weight gain when over-consumed.
1. Instead of eggnog, which uses whole milk and heavy cream, try…
Lactose-free ingredient swap: lactose-free milk or cream. Organic Valley makes a lactose-free half-and-half, which may be useful.  
Dairy-free: full-fat coconut milk and/or macadamia, oat, or almond milk.
2. Instead of hot chocolate or mocha, which uses milk, try..
Low-lactose dairy ingredient swap: lactose-free milk. 
Dairy-free: macadamia milk, almond milk, soy milk, oat milk, or water.
3. Instead of macaroni and cheese, which uses butter, milk, and cheese, try…
Low-lactose dairy ingredient swap: hard or aged cheeses such as cheddar and lactose-free milk or cream, and regular butter. 
Dairy-free: try avocado oil, broth, nutritional yeast, and blended vegetables like The Real Food Dietitians in their amazing version! Alternatively, you can use dairy-free nut-based cheeses and milk, olive or avocado oil, or dairy-free butter. 
4. Instead of mashed potatoes, which often use milk and butter, try…
Low-lactose dairy ingredient swap: lactose-free milk and regular butter.
Dairy-free ingredient swap: nut milk (or broth) and olive oil (my personal favorite!) or dairy-free butter. Bonus tip: Try a Low FODMAP-friendly garlic-infused olive oil like this recipe by Low FODMAP expert Registered Dietitian- Kate Scarlata.
5. Instead of dulce de leche, which uses milk, try…
Low-lactose dairy ingredient swap: lactose-free milk.
Dairy-free: Medjool date paste or coconut condensed milk. Note: keep servings small due to the content of sugar and other FODMAPs.