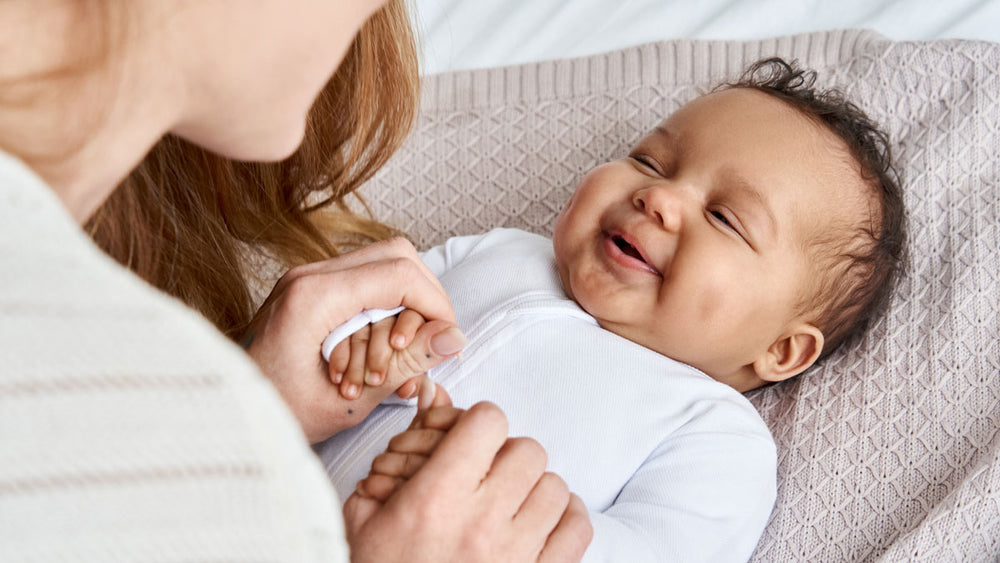 Pediatric Disorders of the Gut: A Review
Published on Monday, December 19, 2022 by
---
When it comes to parenting, we all want to know that we are doing the right and the best thing for our children.
As a parent, I know how frustrating it can be with what seems like the lack of interventions (medication-wise) for infants/children with gut-related disorders. 
So, I decided to look at an expert narrative review, conducted by Nurko et al., that addresses the current recommendations regarding the role of food and pediatric disorders of gut-brain interactions (DGBIs) -such as infant reflux, IBS pain, and constipation. I wanted to know if what is really being recommended works and what the research has to say.
Here is a recap.
Infant regurgitation
Regurgitation/reflux is one of the most frequent DGBIs in children. For a more in-depth review of reflux in infants, read here. For infant regurgitation, medications are not typically recommended, but dietary interventions are, which I will review below:
Smaller and more frequent feedings: Jadcherla et al. found that this intervention decreased the amounts of gastroesophageal reflux (GER) events.
Thickening of the formula: Thickening formula can be done by adding cereal, rice, and other similar products or by commercially made products – a study done by Penna et al. showed no difference in reflux when comparing thickening with cereal, etc vs commercially made products.

Cereal, rice, etc: Salvatore et al. found that compared to the standard formula, adding thickening agents helps to significantly decrease reflux, however, no real changes were seen in irritability, improved sleeping, cough, and choking.
Commercial products: Multiple studies found a decrease in regurgitation with the use of commercially thickened products.
Elimination of cow's milk protein: Omari et al. found that by avoiding products made with cow's milk protein (whey and casein) in those infants with an allergy, vomiting frequency decreased significantly.
Pain-predominant DGBI (IBS)
Low FODMAP diets: Studies completed by Chumpitazi et al. and Dogan et al. found less frequent stomach pain in those children who followed a Low FODMAP diet. For information on the elimination phase of a Low FODMAP diet, check out 

this

article. For information on the challenge phase of a Low FODMAP diet, check out 

this

article.
Fiber: Studies showed varying outcomes with fiber. Some show an improvement with soluble corn fiber, others show no difference in pain, while other studies show that psyllium fiber has a significant decrease in the frequency of abdominal pain. Another study found that those who benefited from fiber had >5 grams of soluble fiber per day.
Lactose challenge: After reviewing multiple studies, there was no significant difference in those children with IBS with pain when eliminating lactose from the diet.
Functional constipation
To learn more about functional constipation in children, read here.
Increased fluid intake: No difference in stool output if the children were drinking adequate water in the first place, but an increase in the fluid amount may be helpful if the child is not drinking enough water to start with.
Fiber: No difference found.
Cow's milk elimination: Several studies found that eliminating cow's milk helped to reduce the frequency of constipation.
I hope this article can help to give you peace of mind knowing that you are doing all that you can for your children when it comes to gut-related issues.
Nurko, S., Benninga, M. A., Solari, T., & Chumpitazi, B. P. (2022, June 1).

Pediatric aspects of nutrition interventions for disorders of gut-brain interaction

. The American journal of gastroenterology. Retrieved November 19, 2022, from

https://www.ncbi.nlm.nih.gov/pmc/articles/PMC9169765/

 

Jadcherla, S. R., Chan, C. Y., Moore, R., Malkar, M., Timan, C. J., & Valentine, C. J. (2012). Impact of feeding strategies on the frequency and clearance of acid and nonacid gastroesophageal reflux events in dysphagic neonates. JPEN. Journal of parenteral and enteral nutrition, 36(4), 449–455.

https://doi.org/10.1177/0148607111415980

 

Penna, F. J., Norton, R. C., Carvalho, A. S., Pompeu, B. C., Penna, G. C., Ferreira, M. F., Duque, C. G., Couto, J., Maia, J. X., Flores, P., & Soares, J. F. (2003). Comparação entre uma fórmula infantil pré-espessada e fórmula de espessamento caseiro no tratamento do refluxo gastroesofágico [Comparison between pre-thickened and home-thickened formulas in gastroesophageal reflux treatement]. Jornal de pediatria, 79(1), 49–54.

Omari, T., Tobin, J. M., McCall, L., Savage, K., Ferris, L., Hammond, P., Kritas, S., Quinn, P., Abu-Assi, R., Moore, D., Davidson, G., Gold, M., & Heine, R. G. (2020). Characterization of Upper Gastrointestinal Motility in Infants With Persistent Distress and Non-IgE-mediated Cow's Milk Protein Allergy. Journal of pediatric gastroenterology and nutrition, 70(4), 489–496.

https://doi.org/10.1097/MPG.0000000000002600

 

Salvatore, S., Savino, F., Singendonk, M., Tabbers, M., Benninga, M. A., Staiano, A., & Vandenplas, Y. (2018). Thickened infant formula: What to know. Nutrition (Burbank, Los Angeles County, Calif.), 49, 51–56.

https://doi.org/10.1016/j.nut.2017.10.010

 

Chumpitazi, B. P., Hollister, E. B., Oezguen, N., Tsai, C. M., McMeans, A. R., Luna, R. A., Savidge, T. C., Versalovic, J., & Shulman, R. J. (2014). Gut microbiota influences low fermentable substrate diet efficacy in children with irritable bowel syndrome. Gut microbes, 5(2), 165–175.

https://doi.org/10.4161/gmic.27923

 

Dogan, G., Yavuz, S., Aslantas, H., Ozyurt, B. C., & Kasirga, E. (2020). Is low FODMAP diet effective in children with irritable bowel syndrome?. Northern clinics of Istanbul, 7(5), 433–437.

https://doi.org/10.14744/nci.2020.40326