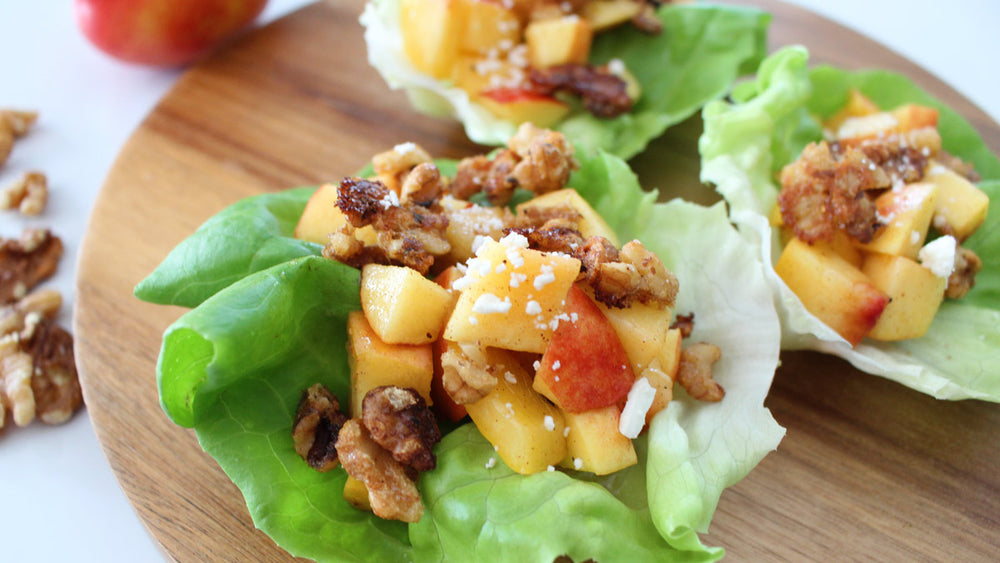 Peach Cobbler Salad Lettuce Wraps
Published on Friday, September 29, 2023 by
---
Celebrate the Delight of Peaches: Peach Cobbler Salad Lettuce Wraps
Peaches. The all time summer treat! Peaches are one of my favorite summer fruits; they are so sweet and juicy. 
Peaches can be paired with something savory, made into a pie, or a combination of sweet and savory! For this recipe, which is brand new, I decided to do both sweet and savory. These Peach Cobbler Salad Lettuce Wraps combine a little cobbler taste, a little salsa taste, and a lot of peach flavor!   
My main goal with this recipe was to make something delicious that was GERD-friendly, but my second goal was to create a finished product that was easy to eat. Biting into a fresh peach is super delicious, but I always get peach juice all over me when I'm eating one. These little wraps tuck all the ingredients inside, so the juice of the peaches is caught by the lettuce, not your shirt!
Peaches are a GERD-friendly fruit. They are also full of phytochemicals, which are free radical-fighting antioxidants. Furthermore, peaches contain flavan-3-ols, which are associated with improved cardiometabolic health, which is important since many adults do not consume enough of these compounds.
Tips for Making the Perfect Lettuce Wraps
While cooking the test batch for this recipe, I used Bibb lettuce, which made these wraps into little "two bite boats," which is perfect for an appetizer. Romaine would be the best choice if you're looking for a sandwich-like wrap. To give the wrap some additional protein beyond the walnuts, grilled shrimp, chicken, or tofu would be a great addition!
When it comes to candied walnuts (I love having candied nuts at home!), if walnuts are not your favorite nut, any other nut would be delicious. Once you get the hang of it, you'll add candied nuts to your favorite salads. I chose fall flavors to make a more "cobbler" taste for the seasoning on these particular candies. 
The red onion and jalapeno give these lettuce wraps a bit of contrast to the sweetness from the peaches but are optional ingredients that can be excluded if they are your dietary trigger. Another generally well-tolerated option would be to slice up the tops of green onions and add these to the recipe for some added flavor.
[[ recipeID=recipe-8lmhucqpl, title=Peach Cobbler Salad Lettuce Wraps ]]