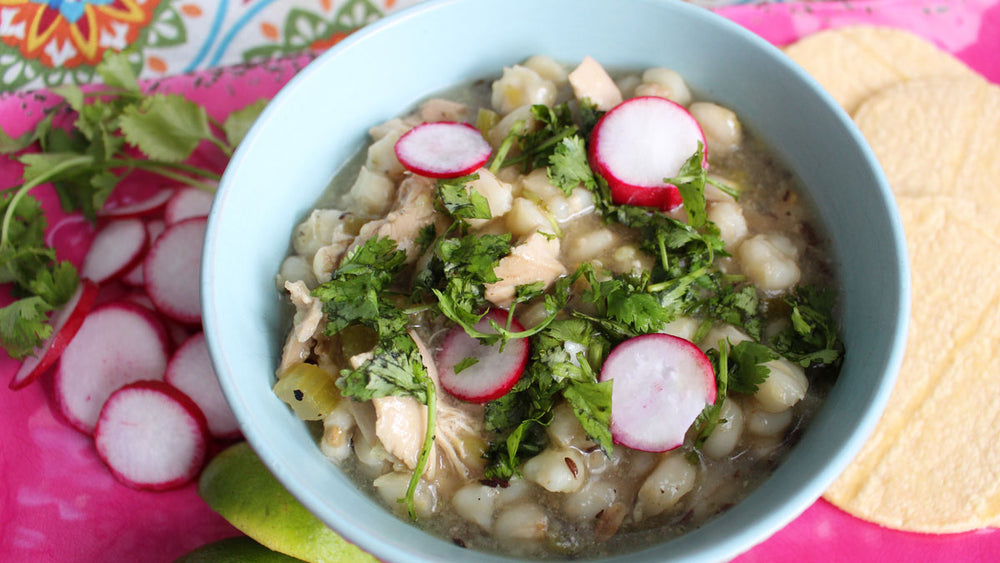 Chicken Pozole
RECIPE
Published on Wednesday, July 05, 2023 by
---
Pozole is a traditional soup dating back in Mexico to the Aztecs. 
Corn was considered a sacred vegetable, and it is the second star of this soup. The first time I had Pozole was at a local Mexican restaurant. That pozole was made with slow-roasted pork, a rich stock, and hominy. Fresh radishes, cilantro, lime, and tortillas were served on the side! I was in soup paradise. It took me a while to try to mimic this delicious soup; I was a little nervous; the soup was that good! For this recipe, I'm using chicken thighs instead of pork. Pork takes longer to cook, at least 3-4 hours. While this soup, from start to finish, takes roughly one hour.  
Hominy is a crucial part of pozole. 
Hominy is dried field corn that is soaked in a solution of alkali. This is called nixtamalization. This process has been used for centuries. It extends the corn's shelf life, making it easier for us to digest the nutrients. Hominy is an excellent source of protein, which is not something that is usually talked about with corn. Hominy can be purchased either dry or canned. For this recipe, I recommend using the canned variety. Hominy can be found in the canned vegetable section of the grocery store or the Hispanic food section.  
Typically, pozole has garlic and onion. My new go-to substitute is sauteed celery with fennel. This gives that garlic or onion tang to any dish. If you are watching your sodium intake, make this recipe with a reduced-sodium chicken broth and forgo the additional bouillon cubes (or add one instead of 2).
[[ recipeID=recipe-8lixe8xnj, title=Chicken Pozole ]]