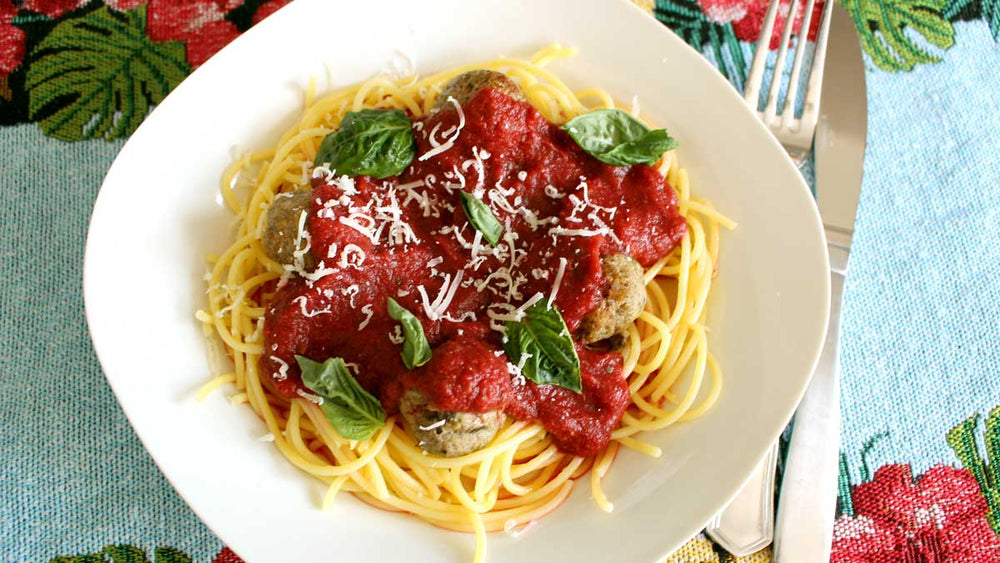 Turkey Meatballs and Tomato-Free Pasta Sauce
RECIPE
Published on Wednesday, August 02, 2023 by
---
GERD can make you miss out on some of your favorite foods.
One of them being spaghetti sauce. Traditional spaghetti sauce consists of tomato as the number one ingredient and garlic. Both of which are GERD triggers. I wanted to make a spaghetti sauce without GERD triggers, one that mimicked a traditional and delicious sauce. After researching and testing, I did it! I am beyond excited to share this brand-new GERD-friendly recipe!
The main components of the sauce base are beets, carrots, and celery. Do not get turned off by the beets. I promise the sauce doesn't have a strong beet flavor. If someone didn't know that they were in the sauce, they probably would never know.  
I like to refer to beets as "the candy of the Earth''. Essentially that is what beets are. In Michigan, white sugar will typically be beet sugar, not sugar cane, since the environment is more suited to growing beets than sugar cane. Beets are a super root! Loaded with minerals. One mineral that stood out to me was copper. One cup of beets gives us 11% of our daily copper needs. Copper is needed for our cells to communicate with each other efficiently. Beets are also packed with fiber, folate, potassium, iron, vitamin C, and phytonutrients (where they get their vibrant red color from!).
I recommend making this recipe in a two-day process. On day one, you will roast the beets and the carrots. Depending on the size and the age of the beets, roasting time could be anywhere from two to four hours! So, you will want to check them after two hours. The beets will be a little more than fork tender, not mushy, but not al dente. Remove the aluminum foil and cool on the counter before placing them in the refrigerator. I waited until the next day to peel off the skin; this method worked really well. Don't waste the beet water! Save that to incorporate into the sauce the following day!
On day two, you will create the finished dish with the meatballs, pasta sauce, and spaghetti or pasta of your choice! The red wine vinegar and Dijon mustard in this recipe give the sauce that tomato bite, and if you are concerned they might be a GERD trigger, please understand the amounts used in this recipe are so minimal they should not elicit a response; however, if you want to err on the side of caution, you can exclude them.  
This recipe uses Smoke 'N Sanity Seasonings, which provide the taste of garlic WITHOUT the garlic! These seasonings have the Monash University Low FODMAP Certification. They are a gut-friendly addition to any cuisine for those with GI sensitivities looking to add familiar flavors to their dishes. Head to the SnS website and use the coupon code SNSRD15 for 15% off any of their products!
[[ recipeID=recipe-8lkimezvp, title=Turkey Meatballs with Tomato-Free Pasta Sauce ]]
Beets, raw. Beets, raw nutrition facts and analysis. (n.d.).

https://www.nutritionvalue.org/Beets%2C_raw_nutritional_value.html

 

Find certified low Fodmap Foods. Certified Low FODMAP products | Monash FODMAP - Monash Fodmap. (n.d.).

http://www.monashfodmap.com/ibs-central/i-have-ibs/certified-products/