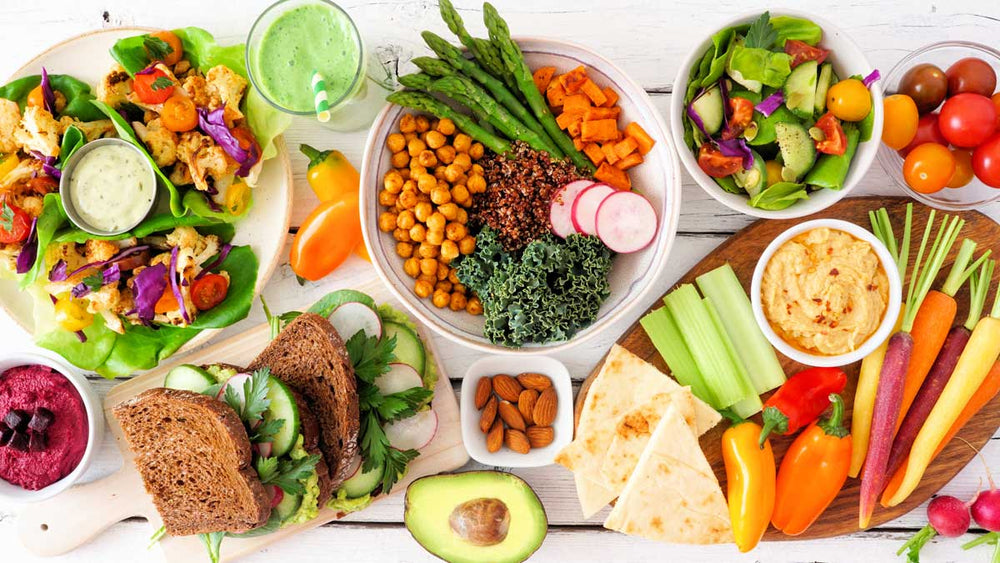 Meeting Your Protein Needs on a Plant-Based Diet
Published on Tuesday, June 06, 2023 by
---
When you think of plant foods, you may not initially think of protein. 
In reality, there are many protein-containing plant foods! If you are new to a plant-based diet, we have created some tips to help you meet your protein needs effortlessly. 
But first, how much protein do you need? The simple answer is that it varies. Protein needs depend on age, sex, activity levels, medical history, and health goals. 
For a healthy, sedentary adult, 0.8g of protein per kilogram of body weight is usually sufficient to prevent a protein deficiency. Of course, this is just a starting point. If you are still determining your specific goal, I suggest you ask your doctor or registered dietitian. 
Like any goal, once you have a target in mind, it is helpful to have an action plan to back it up. Let's go over some strategies that you may find beneficial to adopt. 
Power your morning with a protein-packed breakfast.
Protein helps keep us full and satisfied longer, which is especially helpful at breakfast to curb cravings and keep us focused until lunchtime. If you eat oatmeal for breakfast, sprinkle nuts and seeds on top and prepare it with soy milk instead of water. If you usually grab a pastry to-go, try making homemade nut muffins. 
Snack smartly.
Every snacking opportunity is an opportunity to nourish our bodies. Pair fruit with nuts or nut butter, munch on crunchy edamame, or try chickpea hummus and veggies for a protein punch. 
Swap refined grains with whole grains such as quinoa or wheat berries.
We know that the Dietary Guidelines for Americans recommends choosing whole grains due to their increased fiber and micronutrient profiles, but they also contain more protein than their refined grain counterparts. Quinoa has 2g more protein than white rice, and oatmeal has twice as much protein as grits.
Experiment with whole-food meat alternatives.
If you've never tried cooking with tofu or tempeh, perhaps this is your sign to be adventurous. I enjoy a tofu stir-fry; tempeh is excellent instead of meat on a sandwich. Foodguides has a great tofu sofritas bowl recipe to inspire your next kitchen session. 
Include pulses daily.
The pulses category includes beans, lentils, and peas. These versatile foods are so easy to sneak into dishes, from soups to casseroles to salads. The best part is that they are inexpensive and easy to prepare. I like to keep canned beans on hand, and I schedule at least one lentil-based dish each week, such as this one. 
Include a variety.
Protein is made up of building blocks called amino acids. Of the 20 amino acids, your body makes 11 of them on its own. That means we need to get the additional 9 through our diet. If you consume a variety of plant-based protein sources, you are likely getting each of the amino acids. Aim for a different protein source at each of your meals. To help ensure this, I recommend keeping the pantry stocked with various nuts and seeds that can be sprinkled or paired with a wide variety of dishes. I also rotate which type of legumes I prepare and alternate which soy foods I add to my grocery list each week. 
To help you get the most protein bang for your buck, we've created a chart of some plant-based foods and their protein content. Which ones are you choosing, and which ones might you try in the future? 
| Food | Serving Size | Protein (grams) |
| --- | --- | --- |
| Tempeh | ½ cup | 16 |
| Tofu | ½ cup | 10 |
| Lentils | ½ cup | 9 |
| Pumpkin Seeds | 1 ounce | 9 |
| Soymilk | 1 cup | 8 (average) |
| Black or Pinto Beans | ½ cup | 8 |
| Chickpeas | ½ cup | 7 |
| Peanut Butter | 2 Tablespoons | 7 |
| Kamut | ½ cup | 6 |
| Almonds | 1 ounce | 6 |
| Pistachios | 1 ounce | 6 |
| Flax Seeds | 1 ounce | 6 |
| Sunflower Seeds | 1 ounce  | 6 |
| Wheat Berries | ½ cup | 6 |
| Cooked Peas | ½ cup | 5 |
| Chia Seeds | 1 ounce | 5 |
| Quinoa | ½ cup | 4 |
| Oatmeal | ½ cup | 3 |
If you are following a Low FODMAP eating plan, you may be interested in checking out these Low FODMAP Plant-Based Protein Alternatives!
Lonnie, M., Brunstrom J.M., Corfe, B.M., Green, A.M., Watson, A.W., et al. (2018). Protein for life: Review of optimal protein intake, sustainable dietary sources, and the effect on appetite in ageing adults.

Nutrients

. 10(3):360.

https://www.ncbi.nlm.nih.gov/pmc/articles/PMC5872778/

Dietary Guidelines for Americans. (2020). Dietary Guidelines for Americans 2020-2025. Retrieved May 8, 2023, from

https://www.dietaryguidelines.gov/sites/default/files/2020-12/Dietary_Guidelines_for_Americans_2020-2025.pdf