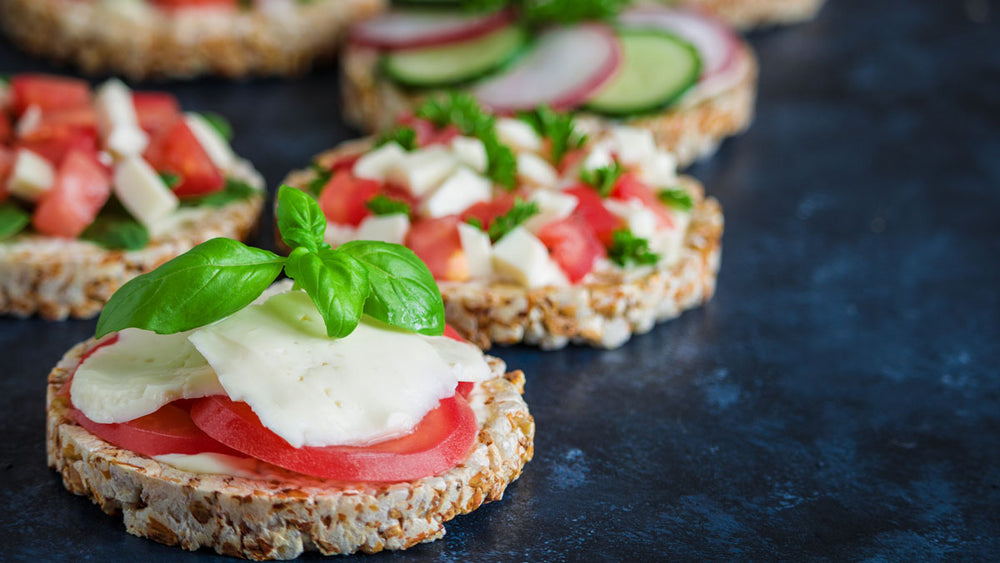 Low FODMAP Elimination Phase Snack Ideas
Published on Thursday, January 27, 2022 by
---
Preparation is the key to success during the elimination phase.
Need some snack ideas before you start the Low FODMAP diet elimination phase? Take some stress off and look through some of these choices:
Eggs Florentine Muffins
-
These are my absolute favorite to batch cook and eat for breakfast throughout the week because they are so delicious, but they also make a great snack too. All you need is a dozen eggs, a bag of spinach, and some parmesan cheese, and if you want to be really fancy, you can chop up a Roma tomato and crush up a few gluten-free crackers for the topping. 
Cook down the spinach in a separate pan; spray the muffin tins with a non-stick spray; make a nest in the bottom of each of the 12 muffin tins with the spinach and crack an egg in them. Top with parmesan, tomato, and a sprinkle of crackers. Bake at 350 F for 20 minutes.
Quinoa Salad
-
This salad is so versatile because you can make it sweet or savory depending on your flavor preference. If you are someone who prefers a sweeter quinoa snack, make about 3 cups of cooked quinoa and add in some kale, walnuts, maple syrup, chopped carrots, or spaghetti squash. Add a dash of cinnamon and turmeric or curry for some added flavor.
If you want a more savory quinoa salad- add cucumbers, tomatoes, bell peppers, radishes, parsley, scallions (the green part), feta cheese, lemon juice, red wine vinegar, and some garlic-infused oil. 
Chia Pudding
-
This is a great snack if you can do it right. I'm not going to lie, the first time I made this it turned out super runny and I almost gave up. But then I did a little more research and tried again and was hooked on it. I make a pretty decent-sized batch because I'm not the only person in the house who eats it, so you'll be able to snack on this all week if you want to.
The recipe is 1 can of light canned pure coconut milk, 6 TBSP of chia seeds, 2 TBSP maple syrup, and 1 TBSP vanilla extract. Mix in a bowl and let sit overnight to enjoy! You can top it with bananas, raspberries, strawberries, or my favorite…more coconut.
Mason Jar Salads
-
Of course, you can completely control the ingredients that go into a mason jar salad and these can be prepped in advance to be enjoyed on the go as part of a meal or a snack. Check out some additional tips here for keeping them fresh.
Think about adding some Low FODMAP vegetables such as bell peppers, carrots, cucumber, kale, olives, radishes, tomatoes, arugula, red cabbage, and the green part of scallions to make it flavorful and visually appealing.
Caprese Rice Cakes
-
Rice cakes are a fun snack option because you can do so much with them, but most people stick with a fruit and peanut butter combination. Branch out and give the Caprese a shot by putting tomato, mozzarella, basil, and a drizzle of balsamic vinegar on your next rice cake for an unexpected trip to flavor town.
Some FODMAP Products to Check Out:
Low Fodmap Protein Bars, Made with Four Simple Ingredients, Gut Friendly IBS Friendly Snacks, Amazing Taste, Fodmap Approved (12 Bars, Nuts About You)
Low FODMAP Certified Vegan Protein Nut Bars | Peanut Butter Chocolate Quinoa, 12 Count