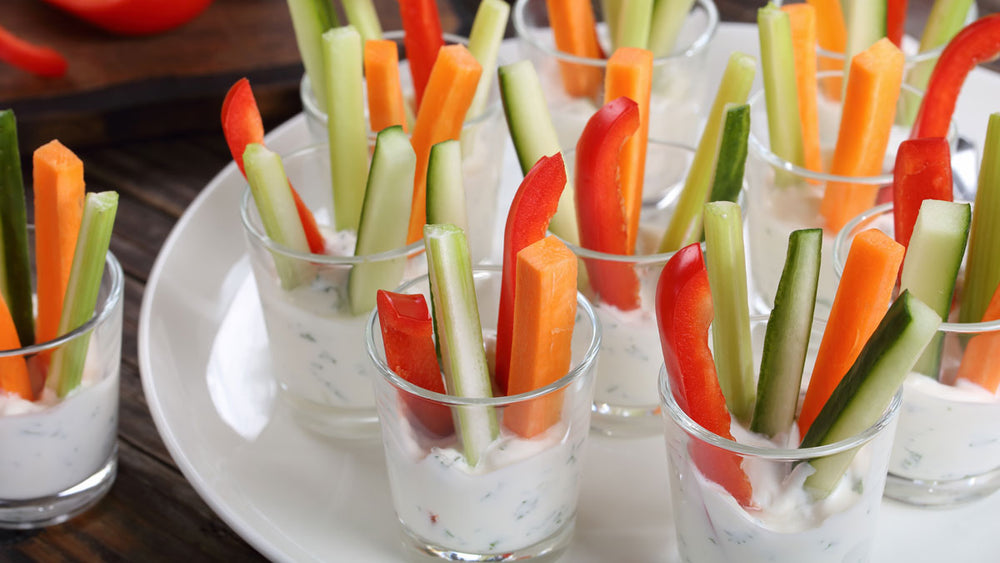 FODMAP Friendly Snacks: Dips, Wraps, Crackers & Sweets
Published on Thursday, November 18, 2021 by
---
It's always good to have some snack ideas on hand for when the stomach starts talking
The low-FODMAP diet has provided symptom relief for many people who suffer from Irritable Bowel Syndrome (IBS) but sometimes finding FODMAP-friendly snacks can either be tough or repetitive. If you are following a FODMAP-friendly eating plan, try some of these snack ideas as a way to keep you on track and symptom-free!
I'm what you would consider a "dip" person. I love a good dip.
There are so many vegetables that are low-FODMAP to pair with a good dip: bell peppers, carrots, celery, cucumbers, radishes, tomatoes, zucchini...as well as FODMAP-friendly crackers. The key is making a dip that meets your needs. The great news is that you can start with some lactose free plain yogurt and add one of these seasonings to make a tasty dip:
If you are in the mood for something a little more filling, you could always go with a chicken caesar salad wrap using a gluten-free tortilla, lettuce (Romaine lettuce is preferred), grated Parmesan cheese, grilled chicken (or pre-packaged), and some low-FODMAP certified caesar salad dressing. Not a caesar salad fan? No problem! You can give this low-FODMAP certified balsamic vinaigrette dressing a spin.
Other suggestions for a quick snack include FODMAP-friendly crackers (we have several suggestions on our site- search our selection) and cheese. Low-FODMAP cheeses include Brie, Colby, Cheddar, feta, goat, Havarti, mozzarella, Parmesan, Pecorino Romano, and Swiss. 
Additional toppings for crackers include FODMAP-friendly nut butters (be careful of cashews and pistachios which are high in FODMAPs, as well as limiting low-FODMAP nut butters to 1-2 TBSP per serving). If you're a banana fan, here's a walnut butter to try.
When it comes to snack cravings, I tend to lean on the salty side of the spectrum but live with someone who is the complete opposite and craves sweets. If you have a sweet-tooth or want to add a treat to your special someone's lunch box, here are some FODMAP-friendly treats to satisfy those sweet cravings:
Gluten Free by Glutino Chocolate Vanilla Creme Cookies
Katz Gluten Free Vanilla Crème Cakes