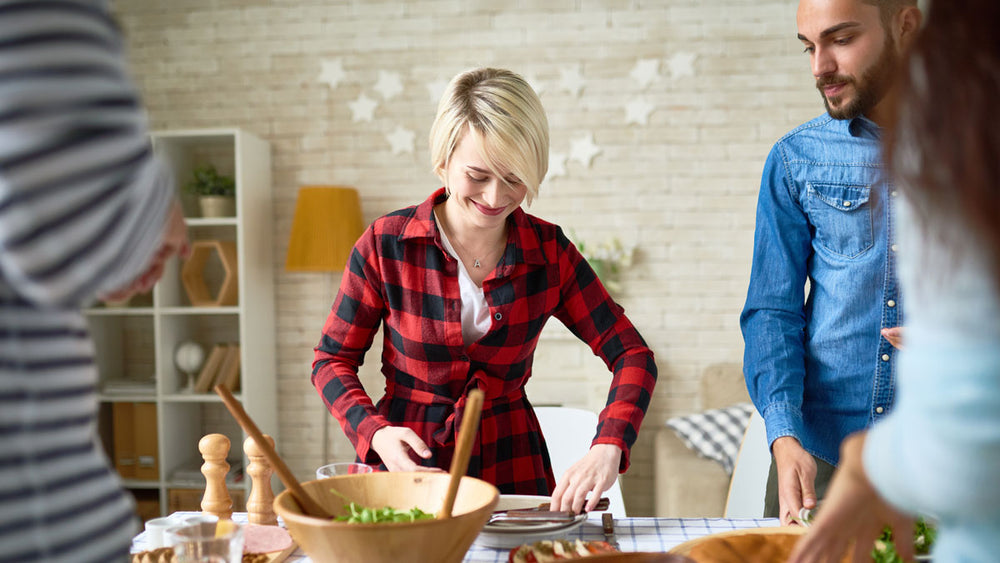 Enjoying Heartburn Free Holidays: Tips for Preventing Discomfort
Published on Wednesday, November 15, 2023 by
---
Stay Festive and Heartburn-Free: Holiday Tips for Relief and Prevention
As the holiday season approaches, the allure of indulgent festive treats becomes irresistible, often deviating from our usual dietary habits. For those with GERD and acid reflux, navigating this season's culinary delights can be particularly challenging. The abundance of high-fat, sugary, and spicy holiday foods can trigger uncomfortable symptoms. Fear not! This article is your guide to mastering essential tips to savor the season while effectively managing GERD and acid reflux. Keep reading to unlock the key strategies for a symptom-free holiday season.
1. Stay Active for Better Digestion
Physical activity helps promote digestion. Stay consistent with your exercise routine even during the holiday season if it's something you typically engage in. Make sure to keep up your fitness routine to help promote the digestion of meals. This movement will help limit some of the reflux symptoms you may experience. If you generally do not exercise, consider walking after meals and finding some activity that makes you feel good! Always avoid lying down after eating meals (I know- turkey hangover!) and make sure to sit at a 90-degree angle for at least an hour after eating to reduce chances of reflux occurring.
2. Avoid Overeating to Prevent Discomfort
Stick to portion sizes that you can tolerate. If you can't resist trying Aunt Sally's cheesy macaroni and cheese, make sure it's an amount that you know you can handle. I recommend just having a few bites on your plate to satisfy your desire vs consuming a large portion if it is something that you do not normally eat.
3. Pace Yourself for Optimal Digestion
Take time to enjoy the food you are eating. Many people munch throughout the day at holiday gatherings, which could be to your advantage if you have reflux. Chew food well and take breaks between bites when you sit down for a meal. Digestion of food mechanically starts in your mouth. Savor flavors and foods. Eating slowly also gives your stomach time to work on digesting food and telling you when you've had enough to eat. Listen to these cues. Mindfulness with your body will save you a lot of trouble and heartache (heartburn) later in the day.
4. Time Your Meals Strategically
Eat larger meals earlier in the day. Not everyone is in charge of meal time, but IF you have a say in the time of day the family meal is occurring, make sure to recommend earlier (12 pm-4 pm), which is the optimal time for eating a larger meal. This time frame will give you time to digest that meal before bedtime. Please refer to tip 1 for more information.
If you are not in control of the mealtime and know that you will have to eat later, limit portion sizes of foods and get some light movement after the meal. Avoid lying down for at least 1-2 hours before bed. 
5. Steer Clear of Triggering Beverages
Caffeine and alcohol are well-known triggers for reflux and, during the holidays, are common beverage choices offered at family gatherings and social gatherings alike. Be aware of your tolerance of these beverages. Limiting caffeine (coffee, tea, chocolate) will help manage reflux symptoms. Instead of choosing alcoholic beverages, consider GERD-friendly mocktails. Remember that some drinks may contain peppermint or mint during the holidays, another common trigger for reflux.
6. Choose Comfortable Attire
Find something to wear that makes you feel great about yourself and is comfortable when eating. Avoid tight-fitting clothes around your abdomen. If you plan on dressing up for the holidays, choose a flowy dress, blouse, loose-fitting shirt, and pants that give you a little wiggle room. Tight clothing can restrict your body and make it more uncomfortable if you're already experiencing unpleasant GI symptoms. 
7. Limit High-Fat Foods
Watch out for foods that are high in fat. These foods are another common trigger for people with GERD. Unfortunately, many holiday-inspired meals contain "comfort" foods like macaroni and cheese, hash brown casseroles, gravies, casseroles, high-fat desserts, etc. I will never tell anyone to avoid these altogether, but limiting your intake of them is important. Refer to my note on portion control/mindfulness and knowing your limits. It's okay to indulge in something you don't usually eat, but be aware of what you tolerate.
GERD-Friendly Holiday Food Ideas
Oatmeal Apple Crisp: Higher in fiber and lower in fat. 
Cheesecake Bite Sampler: Smaller portions so you can still enjoy this classic dessert without paying the price after eating a large piece.
Roasted Asparagus or Green Beans: Be light on the oil, but this is an excellent option instead of the heavy casseroles.
Whole Grain Rolls: A healthy alternative to buttery biscuits.
Cranberry Fruit Salad/Fluff: Choose low-fat Greek yogurt instead of cool whip/heavy whipping cream to mix with fresh chopped cranberries and add fun mix-ins like pecans and coconut flakes. The yogurt may help soothe the acidity of the cranberries and allow you to tolerate this holiday favorite!
Lean Protein Options: To limit fat on your protein options, choose skinless, lean portions of the turkey or chicken. Be mindful of portions of ham.
GERD-Friendly Beverages: Choose a nice apple-ginger tea or hot apple cider to drink instead of coffee/hot chocolate. Sip on GERD-friendly mocktails. 
Navigating the Holiday Season
It IS possible to survive the holiday season by successfully controlling your personal acid reflux or GERD dietary triggers and making minor lifestyle adjustments to help manage your symptoms. I hope some of these tips help you navigate your choices and feel empowered to enjoy the season! As always, contact your healthcare provider if you have any additional questions.
Clinic, S. (n.d.).

7 GERD Tips for the Holidays | The Surgical Clinic

. The Surgical Clinic.

https://thesurgicalclinics.com/gerd-tips-for-holidays/

Harvard Health. (2023, May 22).

9 at-home treatments for acid reflux

.

https://www.health.harvard.edu/newsletter_article/9-ways-to-relieve-acid-reflux-without-medication

Stone, C. (2019, September 23).

Tips to beat holiday heartburn

. American Gastroenterological Association.

https://gastro.org/press-releases/tips-to-beat-holiday-heartburn