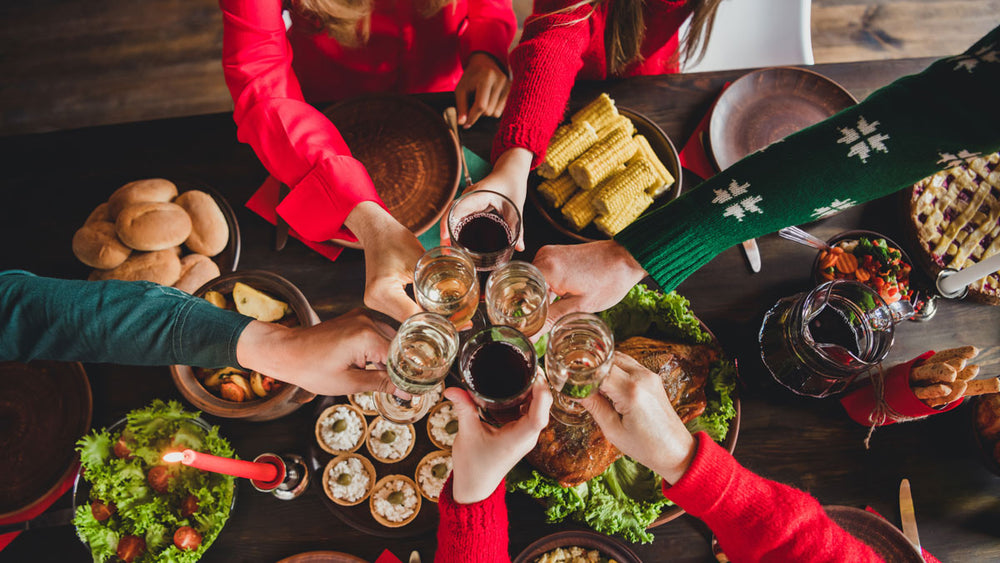 Dietitian-Approved Holiday Survival Guide: 6 GERD-Friendly Foods
Published on Thursday, November 16, 2023 by
---
Feast-Worthy GERD-Friendly Foods for Your Holiday Gatherings
So, your family is coming over for Thanksgiving dinner. On one hand, you're ecstatic to see your family members, siblings, parents, cousins, etc. On the other hand, this means you have countless diets, allergens, and intolerances to account for. 
Well, I have a tasty surprise for you! I have asked some of our Foodguides contributors (also registered dietitians) what their favorite GERD-friendly foods are and how they would incorporate them into holiday dishes. Local grocery stores carry these items, and you can use them in many recipes. I'm sure your family and friends with GERD will thank you.
Versatile Potatoes: A GERD-Friendly Delight
According to Foodguides Expert Contributor Haley McGaha, RDN, CSO, LD, potatoes are an excellent choice since "they are so versatile and can be prepared many different ways." Potatoes can be prepared by baking, boiling, or mashing, making them an excellent ingredient for holiday dishes, and can be customized to suit GERD-friendly dietary needs.
Acorn Squash: A Low-Acidity Flavor Sensation 
Dietitian Haley McGaha also recommends acorn squash for its flavor and how "easy it is to prepare" (which we all need during the hubbub of the holidays). Acorn squash is generally low in acidity, reducing the risk of heartburn caused by consuming acidic foods. They are also high in vitamins and minerals, which protect your health during the holiday season. Try this delicious Stuffed Acorn Squash with Candied Apples and Nuts recipe from Foodguides contributor Chef Lisa Green! 
Salads: Crisp and Varied Choice for Healthy Digestion
According to Dietitian Haley McGaha, salads are a healthful choice for their "crispness and variety," so you will definitely be able to find one that fits your family's preferences. She prefers this recipe: Apple Pecan Fall Salad by SimpleJoy.com, which you should try yourself! The fresh vegetables and leafy greens in salads support healthy digestion and are often rich in dietary fiber, which can help reduce the likelihood of overeating.
Sweet Potatoes: Naturally Sweet and Nutrient-Rich
Dr. Allison Koch also provided her favorite GERD-friendly holiday foods. She recommends sweet potatoes for their natural sweetness (which means you don't have to add sugar to enjoy them!) and their nutrients. "With vitamins A and C that support eye health and a healthy immune system, sweet potatoes are something we can all use during the busy holiday season!"
Green Beans: Fiber-Rich and Flavorful Additions
Dr. Koch selected green beans for their "good source of fiber" and their "low-calorie, low-fat, and low-sodium" profile. She also mentioned, "Green beans are a good source of dietary fiber and an excellent addition to your holiday meals to keep your digestive system on track. They can also add color to your plates and flavor to your palate through steaming or roasting with some fresh herbs."
Cranberry Sauce: A Sweet Tooth's Delight
For those with a sweet tooth, Dr. Koch recommends citrus-free cranberry sauce, an "excellent topping for meat and poultry instead of heavier gravies, which can trigger GERD symptoms when paired with other higher-fat foods." Cranberry sauce is also "naturally low in calories and fat and rich in antioxidants."
Happy Holidays and Healthy Eating from Foodguides
What are you planning to cook for the holidays? Are you going to use any of these GERD-friendly items? Let us know on social media! Also, if you have other questions to ask our experts, don't hesitate to contact us @foodguideshelp on X, Facebook, and Instagram.
From our Foodguides family to yours, happy holidays and healthy eating!