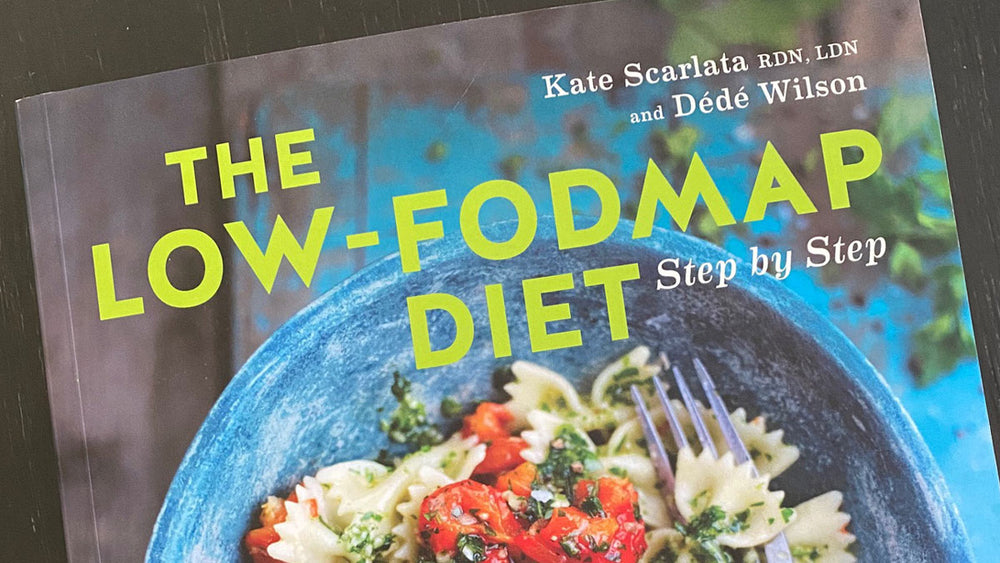 Book Review- The Low-FODMAP Diet: Step by Step
Published on Tuesday, December 21, 2021 by
---
A book for anyone looking to solve their tummy trigger mystery.
There are so many food and nutrition books available to consumers and during my career as a Registered Dietitian, I have been very careful to only recommend the ones that I feel are the real deal. The Low-FODMAP Diet: Step by Step by Kate Scarlata RDN, LDN and Dédé Wilson is one of those books that is the real deal. It is a wonderful resource for both individuals who are considering the Low-FODMAP diet, as well as a reference for those who continue to monitor their triggers.
It's important to mention that Kate Scarlata is an "OG" Registered Dietitian in the FODMAP community. She is well-respected by other professionals and is known as being one of the pioneer RDNs in building awareness to the benefits of the Low-FODMAP diet to people with digestive disorders. 
There are so many things I absolutely love about this book. 
The book starts off with a completely, easy to understand introduction to common gastrointestinal (GI) disorders to set the foundation for moving into FODMAPs themselves. After going through an explanation of FODMAPs, you move into some beautiful charts that clearly list the low, moderate, and high FODMAP foods, as well as some additional information.
Now, my favorite part of the book is the information that is provided on the second phase of the Low-FODMAP diet, which includes the "Challenges". Although the elimination phase of the diet has been a common issue for many people (just figuring out what foods to eat on a Low-FODMAP diet), the challenges phase (also known as the reintroduction phase), is truly more complicated if not completed correctly. This is where this book is so helpful!
The book also includes a Low-FODMAP shopping list and a 7-Day Low-FODMAP menu plan. There are also examples of a vegan and vegetarian menu. But you will not be completely left in the dark when it comes to menu planning because beyond all of the education and reference materials in this book, there are also 130 recipes. 
Let's talk about the recipes for a minute.
This part of the book is really where Kate and Dédé bring it. If you have ever thought "I wish I could eat that but I'm on a gluten-free or Low-FODMAP diet", you haven't looked at these recipes because whatever you're craving is probably in there. The good stuff is in there.
The recipes in the book are marked by icons to decipher if they are quick to make (30 minutes or less), easy to make (prepped in less than 15 minutes/low skill), and are marked totally gluten-free, totally dairy-free, totally vegetarian, and totally vegan where applicable. There are also notes from Kate and Déde and post-FODMAP challenge phase option notes throughout various recipes. 
My personal favorite recipes from this book include:
Tortilla Soup with Chicken & Lime

Baked Mac 'n' Cheese

Quinoa Oat Granola with Coconut

Chocolate Walnut Brownies
If you're looking for a great book to have on hand for a resource or for some tasty gut-friendly recipes, check out The Low-FODMAP Diet: Step by Step by Kate Scarlate RDN, LDN and Dédé Wilson. 
Make your pantry gut-friendly with some awesome staples:
Anthony's Organic Turmeric Root Powder, 2 lb, Curcumin Powder, Gluten Free & Non GMO
Anthony's Organic Buckwheat Flour, 3 lb, Grown in USA, Gluten Free, Vegan