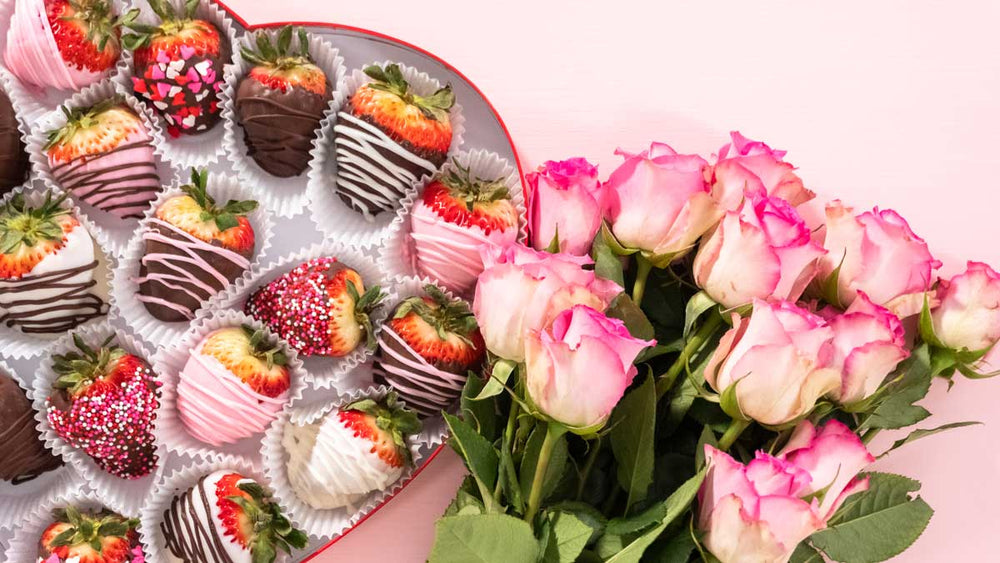 5 Low FODMAP and Gluten-Free Chocolate Valentine's Day Treats
Published on Tuesday, February 14, 2023 by
---
What is Valentine's Day without a little sweetness?
When you or your Valentine need a gluten-free or Low FODMAP diet on Valentine's day, choosing the wrong chocolate treat can invite symptoms that ruin the romance.
Non-food gifts and fun dates are great--but is there a way to still enjoy a chocolate treat? Absolutely!
Chocolate is naturally gluten-free and dark chocolate is Low FODMAP in a serving of 30 grams according to Monash University research.
However, chocolate treats could be sweetened with a high FODMAP sweetener or conceal other high FODMAP ingredients including, but not limited to:
Sweeteners: High fructose corn syrup, honey, sugar alcohols, agave, molasses, fructose, isomalt
Fruit: Most dried fruit, others including but not limited to currents, cherries, apricot, prunes, blackberries
Nuts: Pistachios, cashews
Dairy: Lactose-rich dairy 
Grains: Refined wheat flour or blends made from wheat, barley, or rye or legume-based flours
Additives: Inulin, chicory root
Moreover, even chocolate treats without gluten-containing ingredients can be contaminated with enough gluten to trigger an autoimmune reaction in people with celiac disease if processed on equipment used for foods that contain gluten. 
Thankfully, there are plenty of ways to enjoy chocolate on Valentine's Day even on a gluten-free or Low FODMAP diet. 

Here are five of my favorites: 
1. Dark chocolate
Good news--you can go completely classic and gift a dark chocolate bar with flowers! Try some of these delicious options:
High-quality dark chocolate can also be a great low-added-sugar treat option. The American Heart Association suggests limiting added sugars to less than 6 teaspoons (25 grams) for women and children, and to less than 9 teaspoons (36 grams) for men--regardless of FODMAP content. While many desserts exceed a day's serving of added sugar, the chocolate bars above contribute only 3 - 13 grams of added sugar per serving. 
2. Flourless Chocolate Cake
This is an elegant choice on any Valentine's Day menu. Check out Fody Foods' Flourless Chocolate Cake, or Monash University's "Flourless" Chocolate Olive Oil Cake. 
Pay attention to the (small!) serving size for flourless chocolate cake. Rich desserts such as these can be Low FODMAP in the right serving, but still trigger GI symptoms when overeaten due to either high-fat content or overdoing FODMAPs.
3. Hot chocolate
This is the perfect treat for snuggling up by a romantic fire. Check out dietitian Tara Rochford's Low FODMAP French Hot Chocolate for a fancy option--or simply warm up a mug of your favorite dairy-free gluten-free chocolate milk. 
For a Low FODMAP diet, look for a lactose-free or dairy-free chocolate milk or cocoa sweetened with Low FODMAP sweeteners such as sugar, maple syrup, or stevia, and made without chicory or inulin. 
4. Chocolate-covered strawberries
These are my personal favorite dessert for Valentine's Day! A serving of about 5 medium strawberries is Low FODMAP according to Monash University's retested results for strawberries in 2021, so stick with five or fewer strawberries or mix in other Low FODMAP fruits, such as kiwi or pineapple. 
Drizzle or dip with some melted chocolate chips from a gluten-free/FODMAP-friendly brand such as Enjoy Life.  
5. Brownies or chocolate chip blondies
These are easy, down-to-earth, treats--and they're not difficult to make gluten-free and Low FODMAP. Check out dietitian Kate Scarlata's Dark Chocolate Congo Bars (blondies) or Monash University's Double Chocolate Brownies.
Happy Valentine's Day and Enjoy Your Chocolatey Treat!