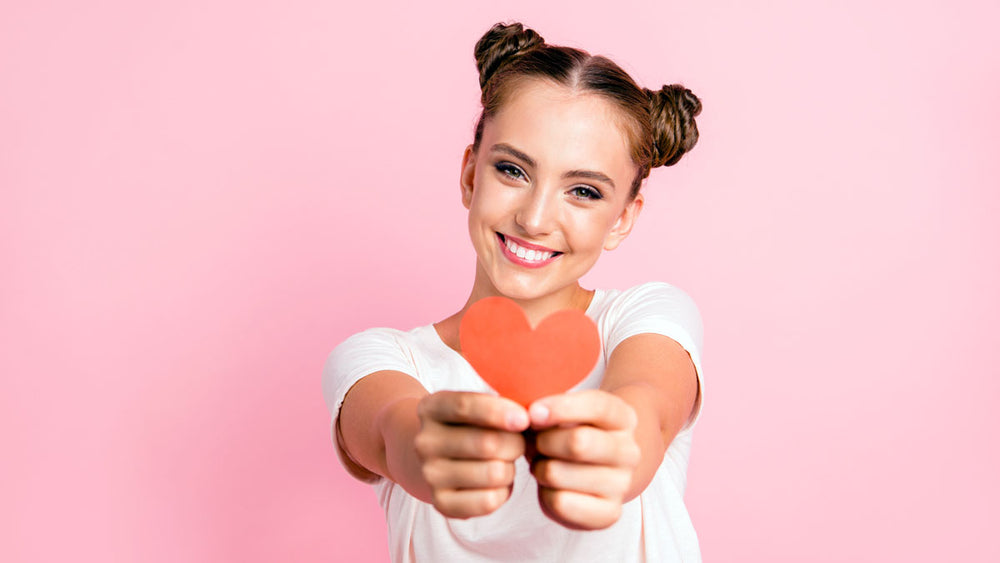 10 Gluten-Free Valentine's Day Ideas
Published on Thursday, February 09, 2023 by
---
If you or your loved one follows a gluten-free diet, planning for Valentine's Day may seem like anything but a
bella notte
.
And you aren't alone: a  gluten-free diet for celiac disease can have a moderate-to-major impact on dating according to a 2022 study by researchers at Columbia University. 
Why? A gluten-free diet for someone with celiac disease has to be strictly gluten-free: gluten-free pasta cooked in gluten-contaminated pasta water or sweet potato fries fresh from a gluten-contaminated fryer can trigger his or her autoimmune reaction against intestinal cells that sends plans for romance painfully up in flames. 
But not to worry! Here are 10 Valentine's Day ideas for all the romance without the gluten:
1. Enjoy dinner at a restaurant with a gluten-free kitchen.
When you are used to asking "what can I eat" from a paired-down restaurant menu, it's a special treat to simply ask "what do I want to eat" from the whole menu.  
A "dedicated gluten-free" search on Find Me Gluten Free will show you gluten-free restaurants and bakeries. Call ahead to be sure that they have not changed their kitchen protocol. 
2. Have fun being active indoors.
Roller skating, dancing, ice skating in a rink, and rock climbing at a gym. 
3. Bundle up for an active outdoor date.
Go hiking, skiing, skating, snowshoeing, sledding, or for a romantic walk by the beach or the river. 
4. Go to an escape room, play, musical, or movie.
Don't forget the popcorn and a gluten-free sweet!
5. Set the table, light the candles, and serve a romantic meal at home.
Pick a decadent entree that doesn't leave your fingers covered in the sauce--like these:  
Note: to convert these to Low FODMAP, swap garlic for garlic-infused oil and onions for green onion tops--or eliminate for fresher breath
6. Write a handwritten note on fancy paper.
There is something so romantic about a love letter. Bonus points for writing a poem. 
7. Thoughtful non-food gifts.

 
A bouquet of their favorite flowers with a sweet hand-written note
A houseplant or potted herb. Check plants for pet toxicity using

ASPCA's list

before gifting to pet parents; as a dog mom of a scavenging puppy, some of my non-toxic favorites are

pansy orchids

and

basil

An audiobook subscription such as

Audible

 

A favorite book with a personalized note or a book club subscription
Tickets to a local theater for the thespian
A gift card to

ThredUp

for the thrifting-enthusiast 
8. Subscriptions that simplify the gluten-free diet for gluten-free newbies.
The Gluten-Free Plan on PrepDish is a go-to inexpensive meal planning subscription that takes the stress out of meal planning and prepping for someone new to gluten-free. Many meal delivery kits are improving their gluten-free selection--but be sure to call ahead before gifting to check about celiac-safe gluten-free procedures. 
9. Personalized Coupons with an expiration date.
Set an expiration date for next Valentine's day et voila--you have a year's worth of pre-planned fun. You can make coupons for any of the ideas above and more. 
10. Gluten-free pampering.
A spa day or gift card, a massage, or gluten-free personal care products. 
According to experts in a 2020 article in Gastrointestinal Disorders, gluten ingestion in oral and dental products is a concern, but little data is available on purely topical gluten exposure in people with celiac disease. As a precaution, I encourage people with celiac disease to look for gluten-free oral, dental, and facial products, as well as anything, applied over large areas of skin (for example, lip balm, lipstick, toothpaste, hand cream, makeup, facial cosmetics, massage oil, and lotion).