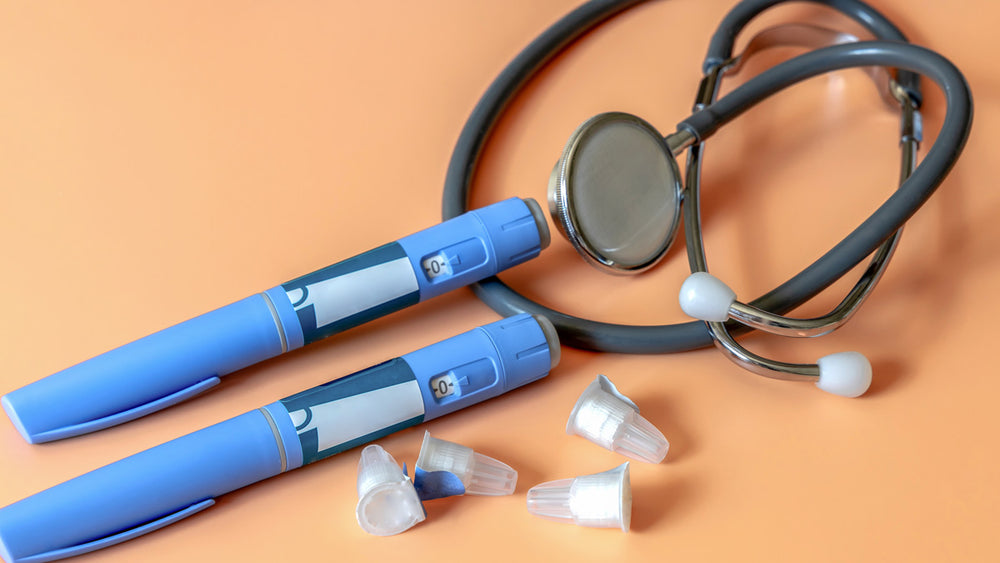 Understanding Semaglutide: Medication, Digestive Health, and Side Effects
Published on Friday, November 10, 2023 by
---
An Introduction to Semaglutide and Its Impact on Digestive Health
Have you met semaglutide? Of course, you may be more familiar with this medication by one of its two brand names: Ozempic or Wegovy, FDA-approved for diabetes management and obesity management. There are currently approximately 340 million people in the United States, and in 2023 alone, about 1.7% of those individuals received a prescription for semaglutide.
These medications are available only by prescription and are discussed in the news by everyone from billionaires to social media influencers. A quick search on Facebook reveals hundreds of groups dedicated to procuring, using, discussing, or deriding these medications. I am here to share some facts and make this subject easier to understand in a series of articles.
What is Semaglutide, and How Does It Work?
Semaglutide is in a class of medication called "glucagon-like peptide-1 receptor agonists" or GLP-1 agonists. To break this lengthy word down: "glucagon" is a hormone that your pancreas makes to help regulate your blood sugar levels; "peptides" are short chains of proteins called amino acids that work as chemical messengers between cells; a "receptor agonist" initiates a physiological response at the receptor site, in this case, initiating the release of insulin to lower blood sugar. 
All this means that semaglutide lowers blood sugar levels by imitating the response of the naturally occurring hormone GLP-1 and stimulating insulin secretion. The way that semaglutide works to help people lose weight needs to be more clearly understood. Semaglutide delays and decreases the speed at which food moves and empties from the gastrointestinal tract, inhibits food intake, increases the amount of urine produced, and, specifically, the amount of salt excreted in the urine. 
The Role of Semaglutide in Type 2 Diabetes Management and Weight Management
Initially, semaglutide was approved by the Food and Drug Administration (FDA) in 2017 under the brand name Ozempic for the treatment of type 2 diabetes. Semaglutide was approved a few years later, in 2021. under the brand name Wegovy, for the treatment of adults with a body mass index (BMI) of 30 (obesity) or greater or BMI of 27 (overweight) or greater with at least one weight-related comorbid condition; this could be high blood pressure, type 2 diabetes, high cholesterol, sleep apnea, etc. The same pharmaceutical company, Novo Nordisk, based in Copenhagen, Denmark, manufactures both brand names.
Results of a study evaluating the data of more than 23,000 diabetic patients who used semaglutide were presented at the European Association for the Study of Diabetes annual meeting on October 2, 2023. They showed that six months after starting treatment, people on semaglutide Hgb A1c levels decreased an average of 0.77%, and these decreases were maintained over three years. 
In a study of 1,961 adults specifically examining weight loss in individuals prescribed semaglutide for weight loss, 66% of adults lost 10% or more of their starting weight, and 48% of adults lost 15% or more of their baseline weight. For about 1 in 3 adults, the response was to lose about 20% of their baseline weight. In numerical terms, if someone weighs 232 lbs. at baseline and loses 20% of their weight, they will have lost 46 lbs. and weigh 186 lbs. 
The only difference between the two branded names of semaglutide is the doses that the prefilled injection pens come in. Both are injected once a week into the skin of the abdomen, thigh, or upper arm, following aseptic cleaning techniques. 
The two FDA indications mentioned above continue to be the only indications for which insurance companies will usually pay. This is why there is a booming cash-based business for "off-label" prescribing of semaglutide. This has led to many cash-based businesses selling semaglutide to individuals who do not meet the FDA criteria of having a BMI over 30 or over 27 with additional weight-related comorbid conditions. These individuals may also have their medication "compounded" or mixed with another drug or vitamin(s) and, therefore, do not receive the medication in its original packaging. 
For both diabetes and weight loss, the patient must initiate treatment with semaglutide at a low dose of 0.25 mg, injecting it once a week for four weeks. This gradual introduction helps the body adapt to the medication and reduces the occurrence of side effects. At this time, the dose is increased stepwise every four weeks as needed/tolerated (0.25 mg to 0.5 mg to 1 mg to 1.7 mg or 2 mg, then 2.4 mg). Ultimately, the only difference is the maximum weekly dose approved by the FDA for diabetes is 2 mg, and for weight loss, it is 2.4 mg. 
Digestive Health Concerns
Anticipating Gastrointestinal Side Effects: What to Expect and How to Address Them.
Some side effects are more common than others, occurring in more than 5% of people when taking semaglutide. Mostly, these are related to its digestive mechanism of action and may include constipation, diarrhea, indigestion, bloating, belching, abdominal pain, nausea, and vomiting. Other common side effects reported are hypoglycemia, headache, fatigue, and dizziness.
The good news is that most side effects decrease over time as an individual's body gets used to the medication. For the side effects that remain, eating smaller portions, drinking clear, fresh fluids, and increasing fiber intake are some lifestyle adaptations that can be of benefit. 
The Scary Stuff: Understanding the Severe and Rare Side Effects
While some side effects occur very rarely, they can be severe when they occur, so it is essential to be aware of them.
About 1% of semaglutide users developed gastroparesis, also called "stomach paralysis." There is also the risk of developing a non-mechanical blockage of the small intestine called an ileus. 
In lab studies, this class of medication causes thyroid tumors in rats. Without additional long-term studies, researchers cannot ascertain whether humans face a similar risk. So, at this time, if you have a personal or family history of certain types of thyroid or other endocrine cancer, semaglutide will likely not be recommended for you. 
There is also an increased risk of pancreatitis when taking semaglutide. Once again, if you have had pancreatitis in the past, semaglutide is likely not going to be recommended for you to try. If you already have diabetic retinopathy and start semaglutide, the risk of complications related to the retinopathy increases. There is also a risk of acute kidney injury and worsening of chronic kidney failure when taking semaglutide. 
All these are considered rare adverse effects of semaglutide. Still, it is always vital that anyone prescribing medication knows your complete history and any other medicines or supplements you may be taking.
Can Semaglutide Affect Your Mental Health?
Recently, semaglutide, along with other drugs in the same class of medications, has come under scrutiny for potentially increasing the risk of depression and suicidal ideation. It's important to note that these side effects appear to affect only a very small percentage of patients. The United States FDA monitors reports and will ultimately decide whether to add additional warnings to the medication label.
The European equivalent of the FDA launched an investigation based on concerns regarding the potential mental health side effects in July 2023 and have stated they expect to conclude their investigation by the end of November 2023. Patients who experience these side effects have described suicidal thoughts, anxiety, feelings of panic, feeling scared, feeling depressed, and even hallucinations. 
These symptoms typically begin when the medication starts or when a dose is increased and then cease when the medication is stopped. If you are taking semaglutide and experiencing any of these symptoms, immediately let your healthcare provider know, as you may need to stop the medication. And always, if you feel like you may harm yourself or others, then call 911.
When to Consult Your Healthcare Provider
As with any medication, I will always tell you to consult your healthcare provider ANY TIME you have questions or concerns! 
But, with semaglutide, there are some extra words of advice. Because of the art and science that may need to go into managing side effects… or maybe your dose needs to be increased more slowly… or not increased as high as everyone else's… I encourage you to reach out to your provider as soon as you have a question or concern. 
Also, be proactive if considering starting semaglutide in asking how to handle side effects. If you are starting the medication, talk to your provider about how to control side effects and whether any medications may help or if your treatment will be adjusted to manage side effects.
I hope you are feeling better informed about this popular medication. In my next article, we will talk about nutrition Interventions with semaglutide, strategies for diabetes management and weight loss, and more specific interventions for side effect management.