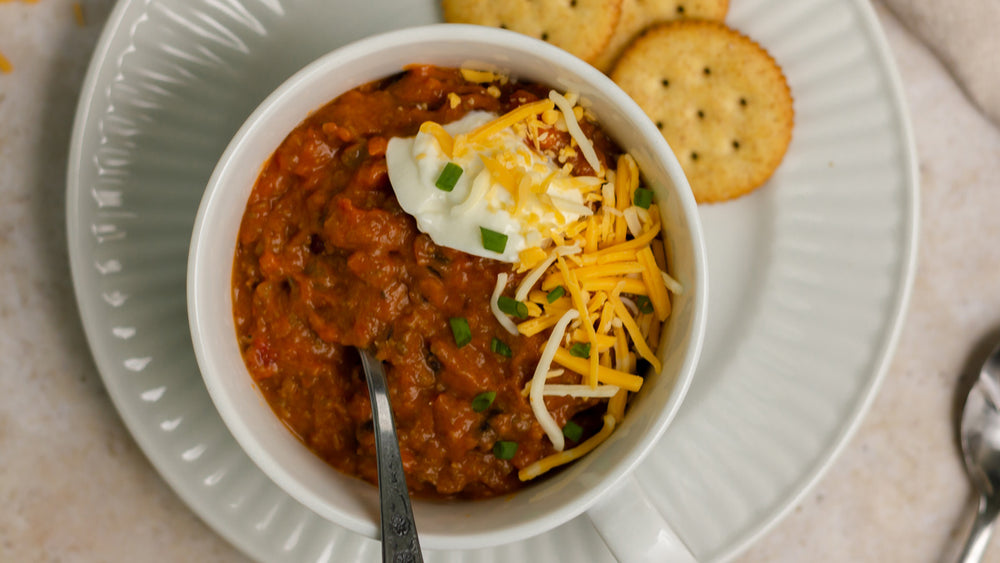 Low FODMAP Autumn Turkey Chili
RECIPE
Published on Friday, October 20, 2023 by
---
Low FODMAP Autumn Turkey Chili: A Cozy Fall Comfort Food
Our Low FODMAP Autumn Turkey Chili is the ultimate fall comfort food that will warm your heart and satisfy your taste buds as the leaves start to change. 
With a delightful medley of autumnal ingredients like hearty butternut squash and earthy spices, this chili captures the essence of the season. The rich, savory flavors and cozy aroma make it the ideal choice for those crisp, chilly evenings when you're craving a hearty, tummy-friendly meal. Whether you're hosting a gathering with friends or simply looking to indulge in the flavors of fall, this recipe's seasonal charm will have you reaching for seconds!
Is Pumpkin Puree Low FODMAP?
One of the unique autumnal ingredients that lend this Low FODMAP Autumn Turkey Chili its distinct seasonal charm is the addition of pumpkin puree. According to Monash University, pumpkin puree is considered Low FODMAP in servings of up to 2.65 ounces (1/3 cup). This means that a small amount of pumpkin puree can generally be included in Low FODMAP recipes without causing digestive distress for individuals following a Low FODMAP diet. Pumpkin not only enhances the flavor but also contributes to the hearty, comforting appeal of the dish. 
Health Benefits of Pumpkin Puree
Pumpkin puree offers a wide array of health benefits, making it a nutritious addition to your diet. It's packed with vitamins A and C, contributing to a healthy immune system and promoting good skin health. Additionally, its fiber content aids in digestion, making it a wise choice for those with sensitive stomachs.
The canned items, such as diced tomatoes and pumpkin puree, offer the convenience of year-round access to essential nutrients, ensuring that you can enjoy the flavors of autumn's bounty even when the season wanes. Plus, these canned ingredients retain their nutritional value, providing a hearty dose of vitamins and minerals while adding depth and creaminess to the chili, making it a satisfying and health-conscious choice for fall comfort food.
Serving Suggestions
For a well-rounded meal, consider serving the Low FODMAP Autumn Turkey Chili alongside some complementary dishes and garnishes. Cornbread, a classic pairing, is a fantastic choice to provide a delightful contrast to the hearty flavors of the chili. Fresh green salad with a light vinaigrette can add a refreshing touch. As for garnishes, opt for FODMAP-friendly cheese or a dollop of sour cream for added creaminess, and sprinkle with sliced green onions (green parts only) for an extra burst of flavor. 
Storage Tips
When it comes to storing and reheating your leftover Low FODMAP Autumn Turkey Chili, a few simple steps can keep it fresh and flavorful. First, allow any remaining chili to cool to room temperature. Then, transfer it to an airtight container and store it in the refrigerator for up to three days. If you plan to enjoy it later, this chili also freezes well. Simply place it in a freezer-safe container, leaving a bit of room for expansion, and it can be stored in the freezer for up to three months.
When it's time to reheat, you can gently warm it on the stovetop over low to medium heat, stirring occasionally, or use the microwave, adding a splash of water if it has thickened too much during storage. With these storage and reheating tips, you can savor the comforting flavors of autumn any time you desire a hearty meal without the hassle of cooking from scratch.
Make It Your Own!
Personalization is the key to making this Low FODMAP Autumn Turkey Chili your own. Feel free to tailor the recipe to suit your unique taste preferences and dietary requirements. If you enjoy a spicier kick, consider adding a pinch of red pepper flakes or extra chili powder during the cooking process.
On the flip side, if you prefer a milder flavor profile, simply reduce the amount of chili powder or omit the canned chopped green chiles. To add more texture and variety, you can also experiment with different Low FODMAP vegetables, such as potatoes or carrots. The beauty of this chili recipe lies in its flexibility, allowing you to create a personalized, comforting dish that suits your palate and dietary needs, all while embracing the delicious essence of autumn.
[[ recipeID=recipe-8lndhto7v, title=Low FODMAP Autumn Turkey Chili ]]