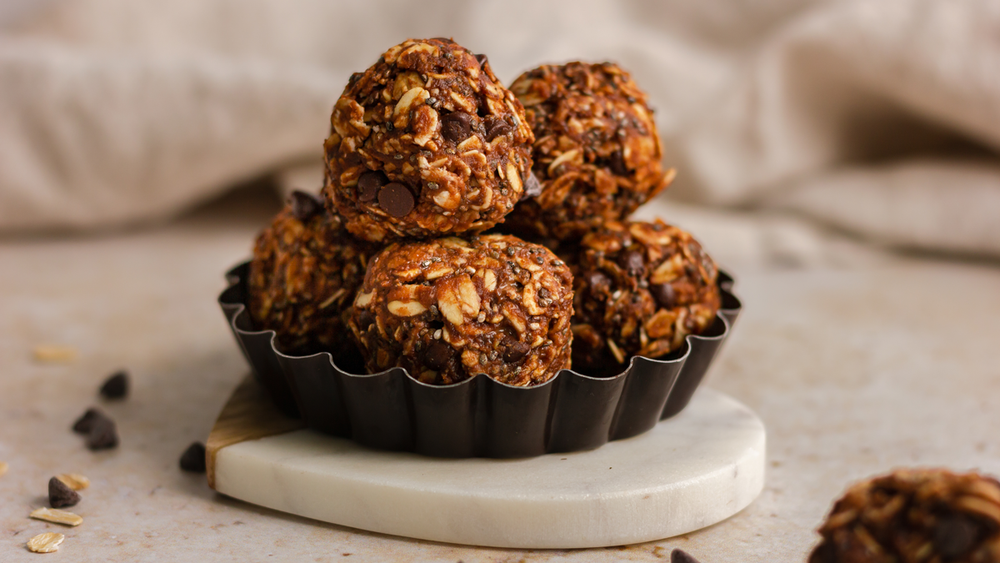 Low FODMAP Peanut Butter Chocolate Energy Balls
RECIPE
Published on Friday, September 15, 2023 by
---
Low FODMAP Peanut Butter Chocolate Energy Balls: A Delicious & Digestion-Friendly Snack
Energy balls, these bite-sized wonders, have earned their reputation as the ideal snack for those who value both taste and nutrition. 
Combining convenience with a burst of flavors, energy balls pack a punch to keep you fueled throughout the day. Whether you're hustling at work, squeezing in a workout, or simply craving a satisfying nibble, energy balls offer a balanced blend of macronutrients and an array of customizable ingredients that cater to various dietary preferences.
Ingredient Choices for a Low FODMAP Diet
Navigating a Low FODMAP diet can be a challenge, but the right ingredient choices make it manageable and enjoyable. Each component has been thoughtfully selected in these Low FODMAP Peanut Butter Chocolate Energy Balls to align with the dietary requirements. From opting for gluten-free rolled oats for a gentle fiber source to using Low FODMAP peanut butter for creaminess and a dash of dark chocolate chips for indulgence, every element creates a snack that's easy on the stomach.
Customization and Variations
One of the beauties of energy balls is their adaptability to individual tastes and preferences. Don't hesitate to get creative with your energy ball concoctions! Consider incorporating Low FODMAP chopped nuts like macadamia or pecans for added crunch or introducing dried fruits such as banana chips or shredded coconut for a burst of natural sweetness. By experimenting with different combinations, you can find the perfect balance of flavors and textures that suit your unique palate.
Check out these flavor combinations:
Tropical Delight:

Add unsweetened shredded coconut and chopped macadamia for a tropical twist. Roll in coconut for extra texture.

Zesty Orange Infusion:

Mix in orange zest and finely chopped macadamia nuts for a citrusy kick. Roll in orange zest and ground macadamia nuts.

Raspberry Cocoa Sensation:

Fold in freeze-dried raspberry powder and dark cocoa powder for a fruity twist. Dust with raspberry powder before serving.
Tips for Successful Preparation
Creating Low FODMAP Peanut Butter Chocolate Energy Balls is a straightforward process, but a few tips can ensure your preparation is seamless. When mixing the ingredients, keep in mind that the texture should be slightly sticky and cohesive for easy rolling. Adjust the amount of pure maple syrup to achieve the desired consistency if needed. Chilling the mixture before shaping the balls makes it more manageable and enhances the flavors as they meld together. And remember, don't rush the process – taking your time yields the best results.
Storing and Enjoying
Once you've crafted your Low FODMAP Peanut Butter Chocolate Energy Balls, the next step is to savor them or share them with friends. Store the energy balls in an airtight container in the refrigerator to maintain their freshness. These portable bites are perfect for an on-the-go snack, a quick pick-me-up between meals, or a post-workout refuel. Embrace the flexibility of enjoying them whenever you need a boost, knowing each bite aligns with your dietary goals and contributes to your overall well-being!
[[ recipeID=recipe-8llxugtp5, title=Low FODMAP Peanut Butter Chocolate Energy Balls ]]