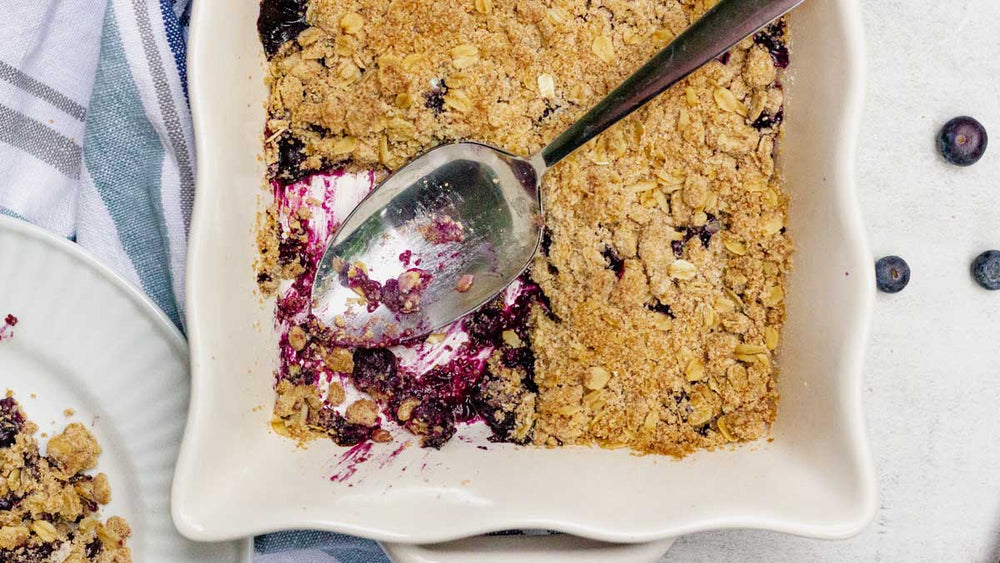 Low FODMAP Blueberry Crisp
RECIPE
Published on Wednesday, June 07, 2023 by
---
As the summer heat settles in, there's nothing quite like indulging in a delightful dessert that perfectly captures the season's essence. 
However, if you're following a Low FODMAP diet or have a sensitive stomach, finding a sweet treat that won't wreak havoc on your digestion can be challenging. But fear not…we have the perfect solution for you. Get ready to savor the flavors of summer with our mouthwatering Low FODMAP Blueberry Crisp recipe. Bursting with juicy blueberries and crowned with a delectable oat topping, this dessert not only caters to your dietary needs but also embodies the spirit of sun-kissed days and warm summer nights. 
Challenges of Enjoying Desserts on a Low FODMAP Diet
While a Low FODMAP diet can be beneficial for individuals with digestive sensitivities, it often poses challenges when it comes to enjoying desserts. Traditional desserts often rely on ingredients that are high in FODMAPs, such as wheat, rye, and barley flours, which can cause digestive distress. Additionally, sweeteners like honey, agave syrup, and high-fructose corn syrup are commonly used but are high in FODMAPs.
Additional challenges with enjoying desserts may include:
Hidden sources:

Desserts can also contain hidden sources of FODMAPs that may not be immediately obvious. Ingredients like inulin, fructooligosaccharides (FOS), and certain artificial sweeteners, which are commonly found in processed desserts, can trigger symptoms in individuals on a Low FODMAP diet.

Limited Store-Bought Options:

Pre-made desserts and baked goods are often made with ingredients that are high in FODMAPs, making it challenging to find suitable options at the grocery store. Many commercially available gluten-free products, for example, may still contain high-FODMAP ingredients like honey or high-lactose dairy.

Recipe Modification:

Modifying dessert recipes to adhere to a Low FODMAP diet requires careful consideration and substitution of high-FODMAP ingredients. Finding suitable replacements that maintain the desired taste and texture can be time-consuming and challenging.

Social Constraints:

Enjoying desserts can also be challenging in social settings, where traditional options may not align with a Low FODMAP diet. Attending parties, gatherings, or events that feature a wide array of desserts can make it difficult to find suitable alternatives or navigate ingredient lists.
Despite these challenges, it's essential to remember that adhering to a Low FODMAP diet doesn't mean sacrificing all indulgences. With some creativity and ingredient knowledge, it's possible to create delicious desserts that are gentle on the stomach and allow you to enjoy the sweeter side of life. Our Low FODMAP Blueberry Crisp recipe is designed to satisfy your dessert cravings while keeping digestion in check!
Benefits of Blueberries
Blueberries are more than just a delightful addition to your summer desserts. They are a nutritional powerhouse that offers a plethora of health benefits. From their seasonal delight to their digestive support and potent antioxidant properties, blueberries have earned their status as a superfood. Whether you're looking to enhance your immune system, support your digestive health, or simply enjoy a delicious treat, incorporating blueberries into your diet is a smart choice. So, let's dive deeper into the incredible benefits of blueberries and discover why these little wonders deserve a prominent place on your plate.
Incorporating blueberries into your desserts not only adds a burst of flavor and natural sweetness but also offers a wide array of health benefits. Whether you have IBS or simply want to enjoy a nourishing treat, blueberries are a fantastic addition to your Low FODMAP dessert repertoire. 
Savor The Taste Of Summer 
Our Low FODMAP Blueberry Crisp recipe not only satisfies your sweet tooth but also offers a host of health benefits. By using blueberries as the star ingredient, you're indulging in a seasonal delight that supports your digestive health, provides a rich source of antioxidants, and contributes to overall well-being. This recipe allows you to enjoy a delicious dessert while adhering to your dietary needs, making it a win-win situation. Give this recipe a try and savor the flavors of summer while nourishing your body! 
[[ recipeID=recipe-8lhyxj1ng, title=Low FODMAP Blueberry Crisp ]]