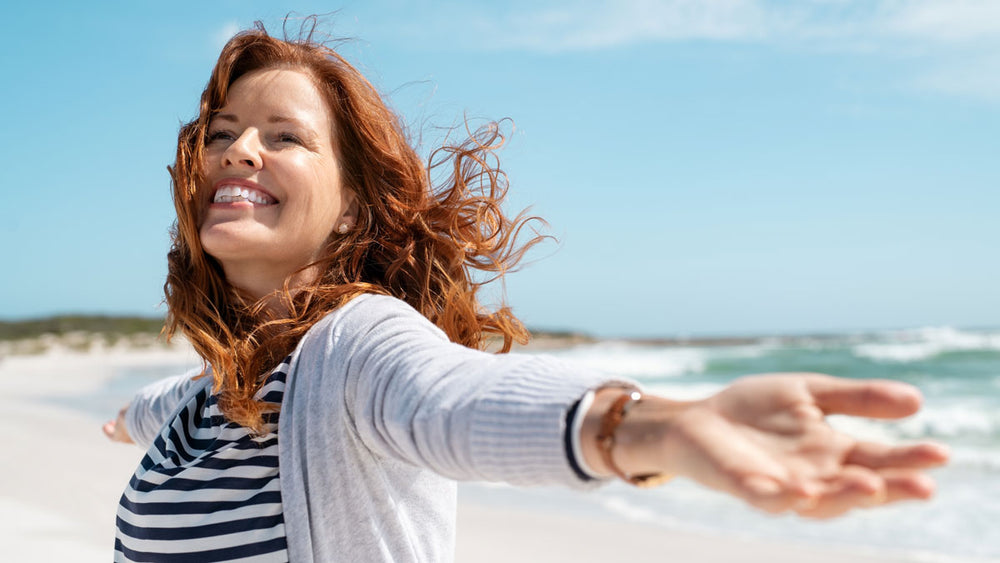 5 Positive Well-Being Tips for IBS
Published on Wednesday, September 13, 2023 by
---
Exploring the Impact of IBS on Positive Well-Being: Insights and Strategies
Does IBS feel heavy for you? If so, you're not alone. People living with IBS experience diminished positive psychological well-being, according to a 2023 systemic review.
Well-being is tricky to define, but the simplest description is judging life positively and feeling good. Good health, positive social relationships, and availability and access to resources contribute to well-being, and it is important to note that other factors like genetics, environment, personality, age, gender, income, or employment could affect well-being, too. 
According to the 2023 review, people living with IBS may experience less resilience, positive affect, self-efficacy, and emotional regulation. Let's explore how this experience might affect someone with IBS. 
The essence of resilience is rising to the challenge and growing as a result. More formally, resilience can be described as the achievement and result of effectively acclimating to demanding life situations, particularly by cognitive, emotional, and behavioral adaptability to external pressures and internal needs, according to the American Psychological Association (APA). Someone with diminished resilience could feel overwhelmed and struggle to cope with the challenging reality of managing IBS symptoms during travel, dinner parties, dates, holidays, or daily life. 
Confidence that you can achieve the goals that you set is self-efficacy. In other words, self-efficacy is the personal perception of one's ability to perform effectively in a specific context or achieve desired outcomes. Someone with IBS and low self-efficacy might doubt their ability to implement their own goals and provider recommendations for IBS management, leaving them feeling helpless, frustrated, and stuck.  
Positive affect is the inner emotional condition that arises upon achieving a goal, averting a potential danger, or finding contentment in the current situation. Someone with diminished positive affect could feel disinterested in activities or relationships they normally enjoy, possibly to the detriment of their self-care or IBS management routine. 
Emotional regulation allows us to manage emotions to respond appropriately in the moment or "to modulate an emotion or set of emotions," according to the APA. Someone with IBS and difficulty with emotion regulation might experience difficulty coping with stress--to the detriment of digestion--or may struggle with outbursts, impulsivity, and mood swings that make it hard to implement IBS management recommendations and maintain positive social relationships for support. 
Positive psychological interventions for IBS require further research, but if you recognize a struggle with any of these, reach out to a qualified counselor or therapist for assistance. You are worth putting in the effort to promote your well-being. 
Here are five simple ways to promote well-being today:
1. Get connected and cultivate strong social relationships. Strong relationships are one of the strongest predictors of well-being. Support from your relationships can help you navigate and grow through the challenges of IBS. One simple way to begin is at the table: sit down at meal times with family, friends, or coworkers rather than eating alone. 
2. Just breathe. Breath exercises are an easy way to practice mindfulness and engage the gut-brain connection right now. Mindfulness involves learning to observe thoughts, emotions, and current experiences without making judgments or immediate reactions to them, and mindfulness-based therapy has been used to reduce symptoms of IBS with some success. 
3. Practice gratitude. A quick way to start a gratitude practice is with a 5-minute gratitude journal each morning. Dispositional gratitude is correlated with well-being. 
4. Set realistic goals. One surefire way to feel discouraged is to set unachievable goals-- a bad habit for self-efficacy. Instead, try setting SMART goals to make one small improvement at a time. 
5. Talk to trustworthy providers, and don't delay seeking help for mental health. Trying to DIY a Low FODMAP diet without a dietitian or living with anxiety in isolation will not help your stress. Talk to your doctor, dietitian, and qualified therapist or counselor, and get the support you need.