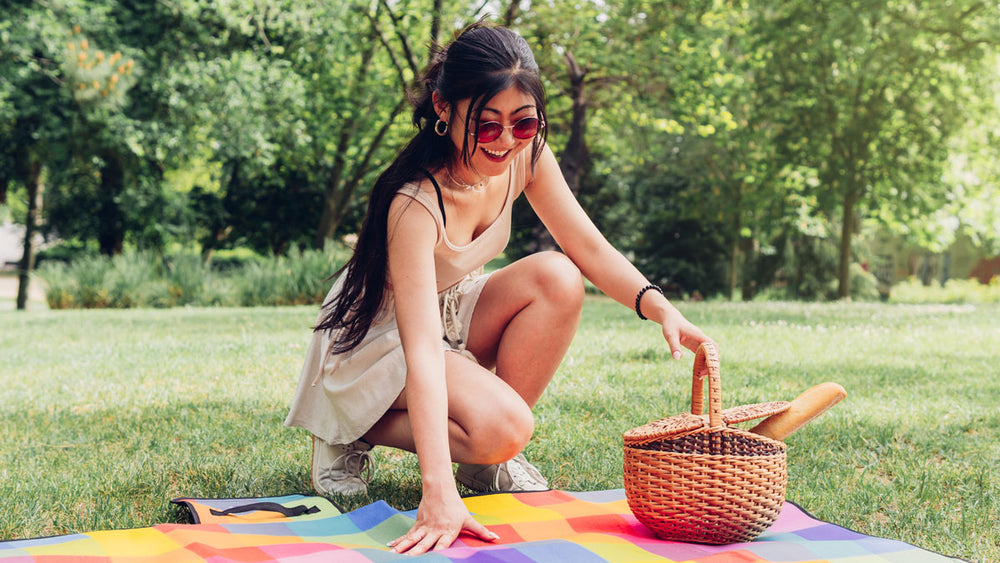 5 Gluten-Free and FODMAP-Friendly Picnic Ideas
Published on Friday, April 21, 2023 by
---
Enjoying the warm weather but not sure how to make your picnic IBS-friendly and gluten-free? 
These picnic ideas will help you design a Low FODMAP meal that everyone will enjoy. 
Be sure to choose menu items that work for where you'll be eating and your style of picnic, whether it involves a grill, a hike, a beach blanket, or picnic tables. Plan a simpler menu, and pay attention to portions to avoid triggering IBS symptoms with more FODMAPs than intended. 
Don't forget to pack dishes, drinks, napkins, utensils, and a way to wash your hands!
1. Wraps. Packable and pre-portioned--these could be the perfect picnic food.
2. Refreshing Low FODMAP fruit. (Portions are from Monash University data). 
Berries: Blueberries, Strawberries (up to 5 medium berries), raspberries (up to ⅓ cup)

Cantaloupe (up to 3/4 cup)

Honeydew (up to ½ cup)

Kiwi fruits (up to 2 small fruits)

Mandarins or oranges (up to 1 medium fruit)

Pineapple (up to 1 cup). Try sprinkling with lime juice or chili powder for a surprising twist!
3. Hearty salads with grains and veggies.
Corn is gluten-free and Low FODMAP at ½ cobb of sweet corn or 1 cup canned, and gluten-free whole grains like quinoa and brown rice are Low FODMAP according to Monash University. 
4. A side of slaw for flavor and crunch.
Keep serving to ½ cup or less and double check any sauces like mayo for hidden high-FODMAP garlic and onion powder. 
5. A cold drink! 
Fruit and Mint

Infused Water

by dietitian Kate Scarlata

Iced unsweetened Low FODMAP teas: ginger, green tea, white tea, or mint tea are great options

Lavender-Mint Iced Tea

by dietitian Kate Scarlata is an elevated Low FODMAP Arnold Palmer for a special celebratory sweet drink. 
Don't forget to keep cold food below 40°F and hot food above 140°F, and discard food that sits out for more than 2 hours. The FDA's guide to food safety for outdoor eating is a great resource to help you keep your picnic fun and food-poisoning-free. 
Check out 7 IBS Food Safety Mistakes and What to Do Instead for more on why food safety matters so much for IBS.