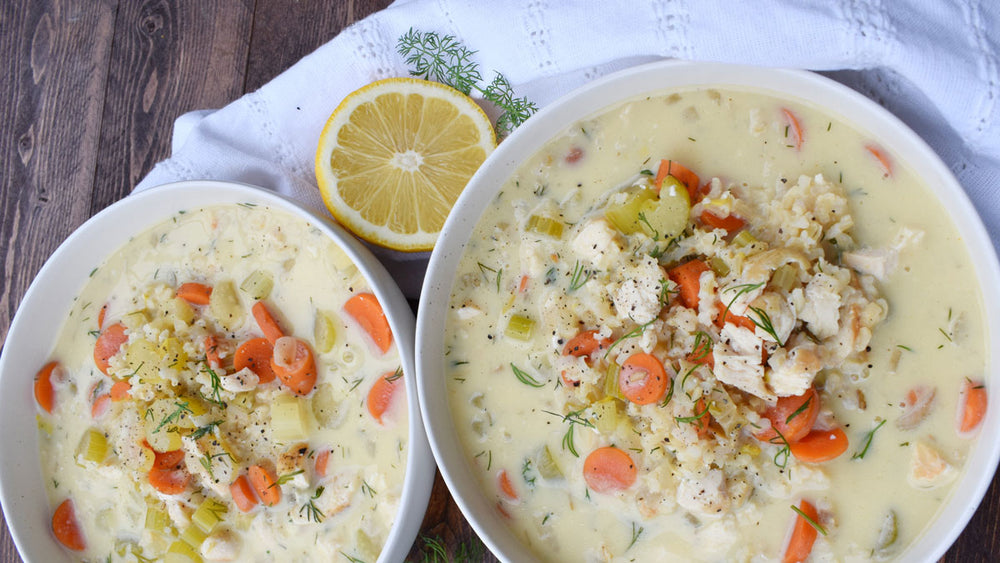 Sensational Soups: Chicken Lemon
RECIPE
Published on Tuesday, January 25, 2022 by
---
A healthy and fresh choice to keep you cozy this time of year!
On a freezing January day, this Chicken Lemon Rice Soup is sure to warm you right up! Made healthy with brown rice and added vegetables like celery and carrots and lean chicken breast, this soup is a great choice after enjoying holiday eating. 
I always order Chicken Lemon Rice Soup whenever I see it on a menu. It is so delicious and this version is honestly even better. With a little more lemon flavor for those who love lemon, like I do, it is so tasty. Really, this meal is a complete meal on it's own but if you want to pair it with bread or a Greek salad, you certainly can do so. 
Making this soup is fairly easy but it does require a bit of patience. During the step where you add the broth to the egg mixture it is very important to do it slowly and so is the step where you add the egg mixture into the pot of soup. Take your time so the eggs do not scramble. This happened to me years ago and I got nervous to make the soup again. Don't worry, as long as you follow the directions, it will turn out awesome.
This soup may not be very GERD-friendly due to the lemon, however if lemon is not a trigger for you then give it a try! It is Low-FODMAP with the use of green onions instead of regular onions and garlic. Feel free to skip the black pepper if you cannot tolerate it but if you can tolerate onions and garlic, I recommend using those in this recipe for additional flavor. 
And remember to choose FODMAP-friendly broths when you are making your soups such as the ones mentioned in the Sensational Soups: Zuppa Toscana recipe. If you are like me and forget to grab the fresh dill at the grocery store and often have to make a second trip, try out one of these self-watering mason jar herb growing kits and have fresh dill to snip when you need it.
Cozy up with a delicious bowl of chicken lemon rice soup today! It really reheats well all week. 
[[ recipeID=recipe-8kxt2wlr8, title=Chicken Lemon Rice Soup ]]