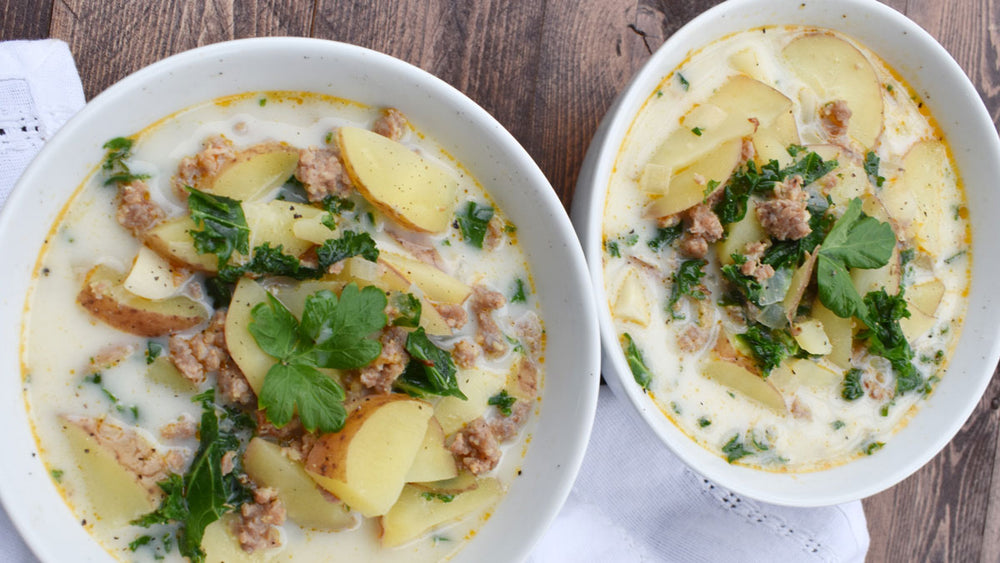 Sensational Soups: Zuppa Toscana
RECIPE
Published on Thursday, January 13, 2022 by
---
Is there anything more comforting than a bowl of hot soup on a cold day?
This Zuppa Toscana is very similar to the Zuppa Toscana served at Olive Garden but is made healthier at home. Loaded with sausage, potatoes and kale, this is a simple soup that is loaded with a lot of flavor.
You can serve this soup with a delicious salad or a slice of bread for a meal that the whole family will love. This pot of soup serves about 8 people so if you're serving it to a smaller family, there will be plenty of leftovers. The soup reheats really well and makes awesome on-the-go lunches for work days.
A Friendlier Look at the Ingredients for Zuppa Toscana:
-Ground mild Italian sausage- feel free to buy the spicy kind if you can tolerate it, but look for Italian sausage that is made without onions and garlic or make your own.
-Red potatoes- yellow potatoes work just as well if you have those on hand.
-Green onion powder- you can find this online for those who cannot tolerate onions or garlic for flavor. It is not 100% needed but is tasty. You can sub 1/4 cups chopped green onions instead.
-Low-sodium chicken broth- broth is high in sodium and buying a lower sodium version is a slightly healthier choice. Choose a low-FODMAP friendly broth such as this or these broth concentrates.
-Kale- kale is wonderful in a soup because it doesn't get soggy like spinach does and keeps some of its texture.
-Milk- use whatever kind of milk you can tolerate. 2% milk works great or you can sub for lactose-free milk.
-Heavy whipping cream- typical zuppa toscana recipes call for a lot more heavy cream but I wanted to try it with milk and it worked out just as delicious so I did a combination of the two.
To make this recipe more friendly for people with GERD, you can use ground turkey sausage instead of the pork sausage or you can rinse the pork sausage to remove additional fat. If you can tolerate garlic, onions and black pepper, feel free to add those to your soup for flavor. To make this soup more Low-FODMAP friendly, you can use dairy-free or lactose-free milk and dairy-free heavy whipping cream if lactose is a trigger for symptoms. 
[[ recipeID=recipe-8kxt2fvqr, title=Zuppa Toscana Soup ]]