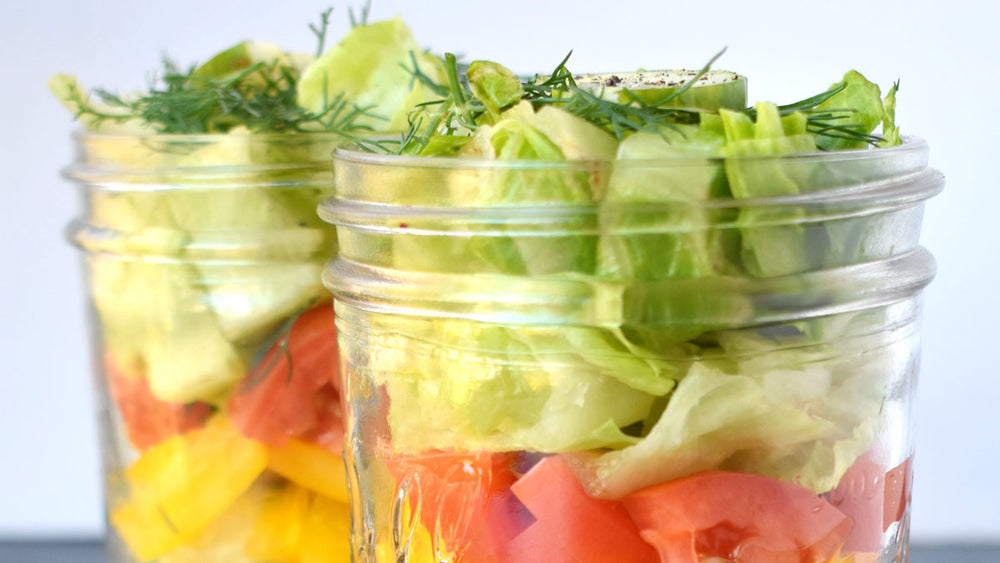 Healthy Salads: Greek Salad Mason Jars
RECIPE
Published on Tuesday, January 04, 2022 by
---
The way these ingredients are stacked preserve their freshness
You know the days when you want a nutritious meal but don't have a lot of time (or desire) to make it? These Greek Salad Mason Jars are perfect for those days! Prep these a few days ahead of time and enjoy them throughout the week. There are a number of toppings that you can add to your jars depending on what you like and what you can tolerate. Follow along for tips!
With it being the new year, people are looking for healthier options and meal prepping is a great way to ensure that you have healthy foods on hand to help meet your goals. This salad is packed with vitamins, minerals and fiber and is a great meal to have on standby.
The Key to Crisp Mason Jar Salads
There are a couple key tips for mason jar salads. Put the salad dressing on the very bottom of the jar so it doesn't get all of the other ingredients wet. Next, layer any wet ingredients like beets, tomatoes or cucumbers. Top off with more dry vegetables or toppings like chicken, peppers, carrots, etc. Finally, put the lettuce on top. The main ingredient that you want to stay crisp is the lettuce, so always put that on top of your jar. Cover with a lid and store in the fridge and these will easily last for a few days.
Greek Salad Mason Jar Ingredient Options
-Lettuce- romaine works the best but spinach or iceberg lettuce would work too
-Tomatoes- if you can tolerate tomatoes, use them! If not, you can easily skip
-Cucumber
-Bell peppers- any color of bell peppers work well
-Protein- chickpeas work well (if you can tolerate) or grilled chicken
-Feta cheese
-Kalamata olives
-Canned beets
-Fresh dill
-Quick homemade Greek dressing or your favorite bottled version
These are great for taking to lunch at work or for eating at home. If you take them to work, bring a paper plate or bowl to pour the salad onto to eat. These salad jars don't have beans or chicken for protein but feel free to add them to make it a complete meal. Or pair it with soup or a sandwich.
[[ recipeID=recipe-8kwpft2qa, title=Greek Salad Mason Jars ]]