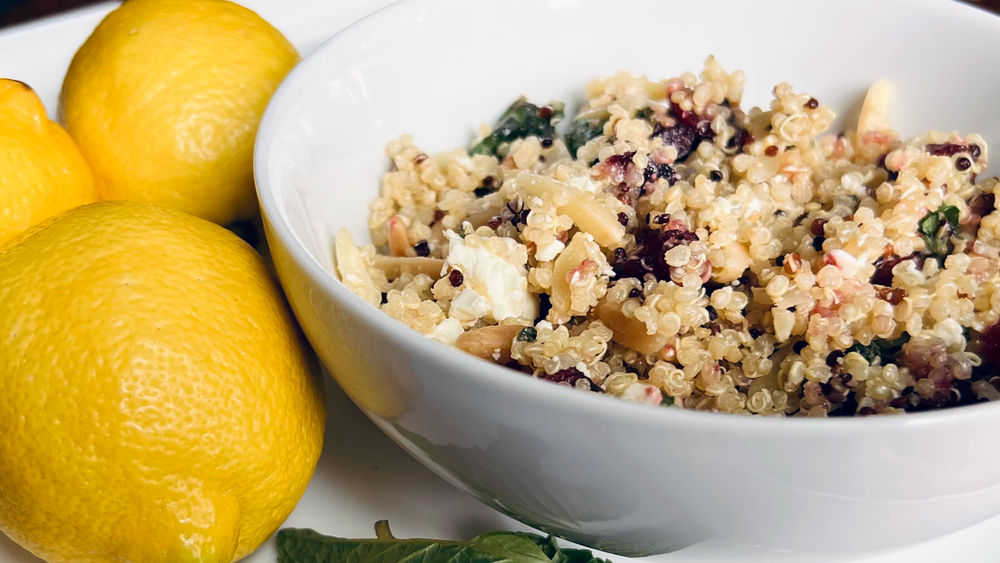 Mediterranean Quinoa Salad
RECIPE
Published on Thursday, June 23, 2022 by
---
When we hear the word salad, we most always think of a traditional green salad with lettuce, tomatoes, cucumbers, peppers, etc.
But a salad doesn't have to be lettuce based and it really doesn't even have to be cold. A salad is just a mixed dish, right? Raw ingredients are common, but warm salads are on menus everywhere, and I personally love it!
This Mediterranean Quinoa salad can be served warm or cold, as a side or as your main dish. This version is both gluten-free and acid reflux, GERD and IBS friendly. The quinoa in this salad is a wonderful protein choice for vegetarians. I typically serve this salad with grilled salmon, but it would also be delicious with chicken, shrimp, steak or your favorite vegan or vegetarian protein. 
This is one of those salads you can bring to a cookout and once people try it, you will be surprised how many will be asking for the recipe! Expect an empty dish on the way home, it really is that tasty. If you are taking this salad on the go, garnish it with some celery and carrots to make it look stunning on the platter.
[[ recipeID=recipe-9l460416a, title=Mediterranean Quinoa Salad ]]