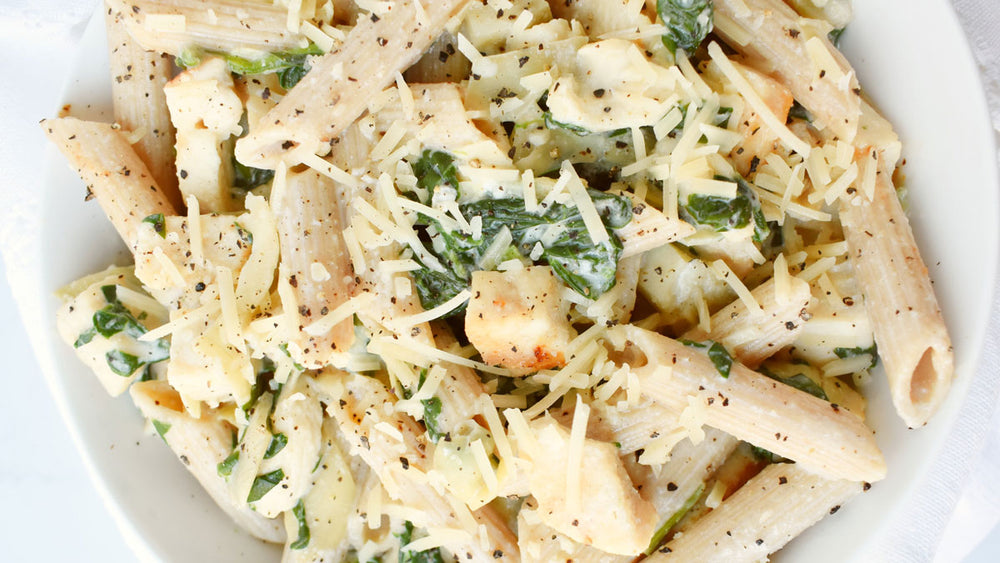 Main Dishes: Gluten-Free Spinach, Artichoke & Chicken Pasta
RECIPE
Published on Wednesday, February 16, 2022 by
---
A Recipe Friendly for Everyone.
If you love spinach artichoke dip (and doesn't everybody?), you're going to love this spinach, artichoke & chicken pasta. It has been on my list of recipes to make for at least 5 years and for some reason, I didn't get around to making it until now. Well, that was a mistake! This pasta is so delicious, my whole family of 5 loved it and deemed it worthy of getting added to our regular rotation of recipes!
For those following a Low-FODMAP diet, make sure you use lactose-free milk, gluten-free pasta and skip the garlic powder and black pepper. For those following a GERD diet, skip the garlic powder if it bothers you and use skim milk if the fat in 2% milk bothers you. This dish can be enjoyed on a variety of diets!
Spinach, artichoke & chicken pasta is creamy and oh- so delicious! It is a crowd pleaser. I served a large pan of this pasta to my in-laws, kids and husband- along with a big salad and fresh baked bread and it was a hit. Almost everyone in our group of 7 had seconds. This pasta reheats really well. I made it ahead of time and then reheated it about 5 hours later and it reheated just as nicely which is great if you want to make it ahead of time or enjoy it for leftovers.
Another major benefit of this dish, it is ready in just 20 minutes. What could be better than that? It's easy enough to make on a weeknight but is fancy enough to enjoy for a date night at home as well. I would definitely serve this to my husband for a cute date night by the fireplace. 
[[ recipeID=recipe-9kzeg7zx0, title=Gluten-Free Spinach, Artichoke & Chicken Pasta ]]