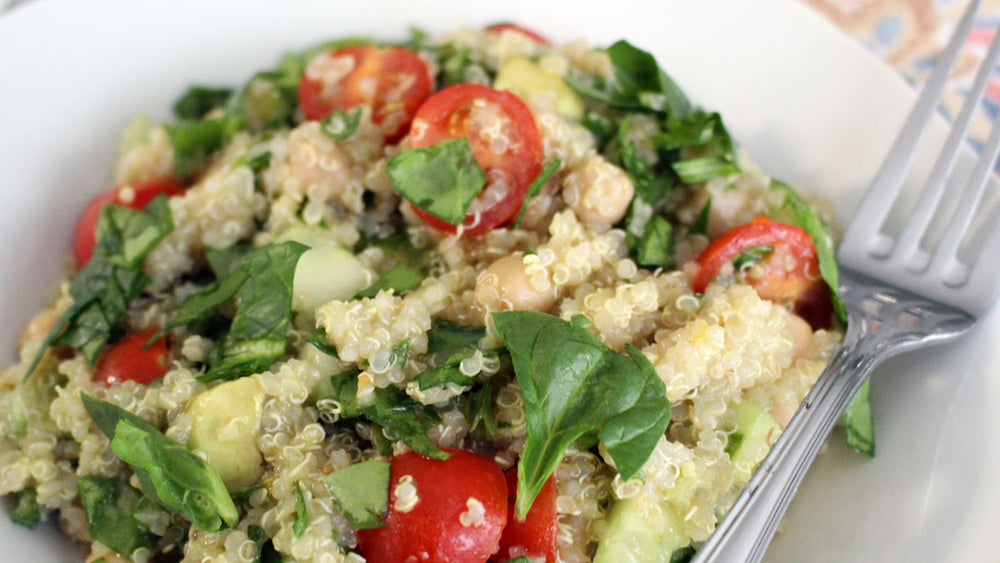 Low FODMAP Zesty Quinoa Salad
RECIPE
Published on Monday, April 17, 2023 by
---
Spring is approaching and so are all the BBQs, picnics, and potluck gatherings. 
While this is generally well received, it can be an intimidating invitation for people with GI issues. In these situations, I often suggest bringing a safe dish that you can eat. If you suffer from GERD or IBS/IBD this recipe is an easy, and delicious option that is also Low FODMAP.
What is especially nice about this salad is that it can be a side dish, or you can add a protein to make it the main event. Once you combine all the ingredients, it is a rainbow of colors, especially if you use tri-colored quinoa or multicolored tomatoes. I often have people asking me for the recipe or special requesting it as the dish I bring to pass. 
This is a versatile dish as you can add or remove ingredients easily based on preference and flavor. 
I have swapped out the quinoa for gluten-free pasta, added bell peppers with the tomatoes, and omitted the cucumber, as requested by a friend who doesn't like them. If tomatoes are a trigger for you, simply swap them out and add something else! You can't go wrong with 4 grams of fiber per serving and loaded with vitamins and minerals from plant-based foods. 
I often add chicken sausage or garbanzo (chickpea) beans to kick up the protein content when making this a main dish. It also pairs nicely with some balsamic marinated chicken breast, or you can add some hummus to give it a lovely Mediterranean twist. No matter how you spin it you can't go wrong with this salad.
[[ recipeID=recipe-8lfttlomr, title=Low FODMAP Zesty Quinoa Salad ]]