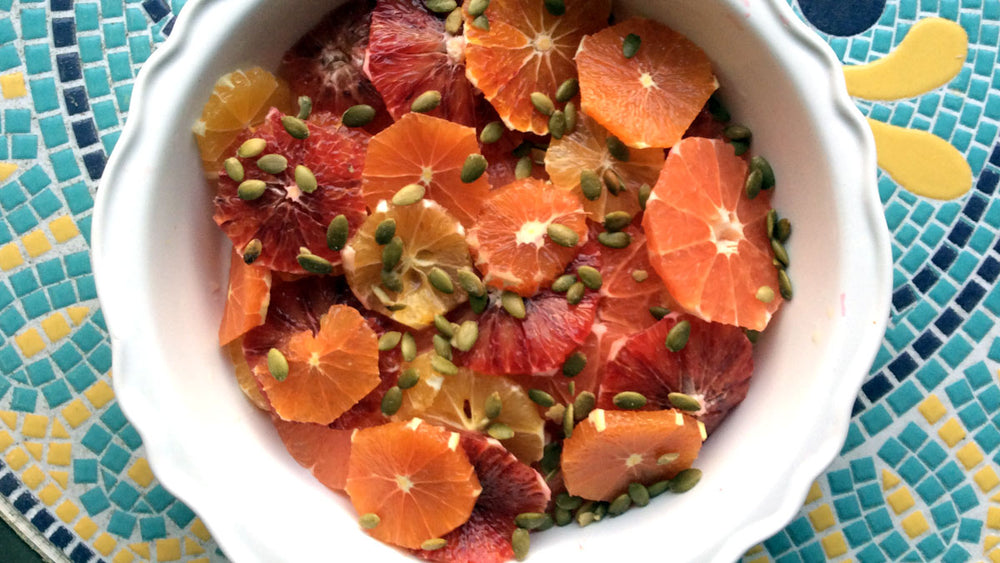 Low FODMAP Citrus Salad
RECIPE
Published on Friday, November 11, 2022 by
---
Winter is coming… which means citrus season is here!
Choosing seasonal produce for your region means getting top-quality produce that doesn't need to take a plane, a boat, and a truck to reach you--you can get it from your local farmer or even your own garden.
That means it is great for the environment--and your budget.

Citrus fruits are well known for providing plenty of vitamin C, an important nutrient for gut health. But there are many other bioactive and beneficial compounds in various citrus fruits according to a 2022 review in Antioxidants such as: 
Phenolic compounds: flavonoids, phenolic acids, and coumarins

Terpenoids: limonoids and carotenoids 

Pectin

vitamin E

Selenium

Zinc

Copper

Iron

Manganese
This simple side salad is quick to put together and is a great way to celebrate citrus season in all its nutritious glory.
It pairs very well with seafood and Mediterranean flavors and adds a bright contrast to a savory meal. Plus, if you have never roasted pepitas in the fall --just try it and your home will thank you. They smell SO GOOD!
Best of all for those with IBS? Citrus fruits are Low in FODMAPs, and so is this salad. However, for those with GERD, it might be best to skip this one if citrus worsens your symptoms. 
If you are at the beginning of your Low FODMAP diet journey, consider making a larger batch of simple Low FODMAP dressings like the one in the recipe, or another Low FODMAP dressing like these by FODMAP expert dietitian Kate Scarlata to use throughout your elimination phase. Having a delicious dressing or two on hand for easy salads and marinades just makes life easier (and tastier).
[[ recipeID=recipe-8l9odn6up, title=Low FODMAP Citrus Salad ]]
Saini, R. K., Ranjit, A., Sharma, K., Prasad, P., Shang, X., Gowda, K., & Keum, Y. S. (2022). Bioactive Compounds of Citrus Fruits: A Review of Composition and Health Benefits of Carotenoids, Flavonoids, Limonoids, and Terpenes.

Antioxidants (Basel, Switzerland)

,

11

(2), 239.

https://doi.org/10.3390/antiox110202392