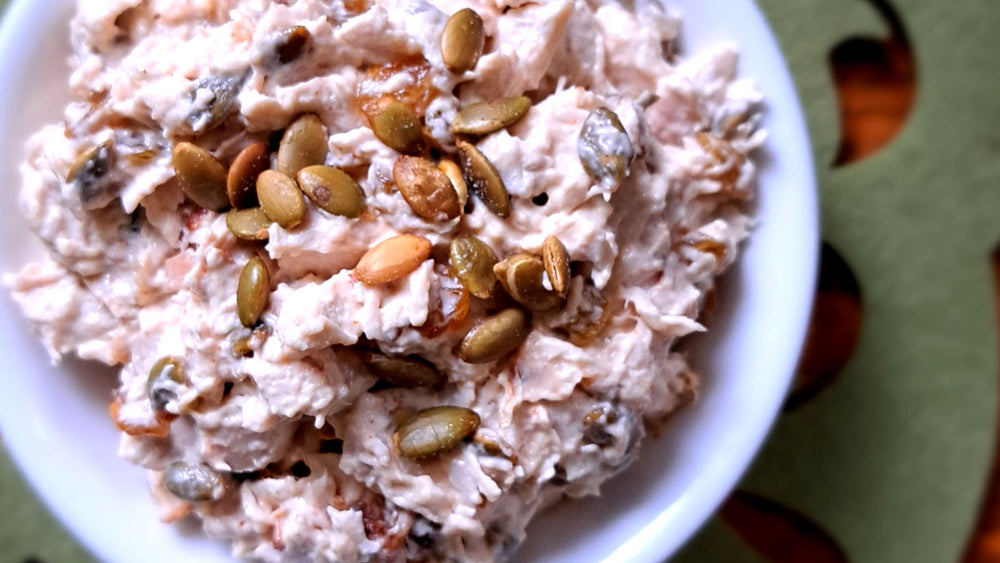 Summer Chicken Salad with Pumpkin Seeds
RECIPE
Published on Monday, June 26, 2023 by
---
Ignite your summer feasts with a tantalizing chicken salad that will have your taste buds dancing!
This summer salad is a delicious quick meal for your next picnic, camping trip, or lunch with friends. You can quickly whip it up next time you have leftover chicken breasts from a previous dinner or recipe. Prepare to embark on a culinary adventure, where each bite transports you to a realm of summer bliss. This chicken salad recipe is your passport to a symphony of flavors and a surefire way to make your summer gatherings unforgettable.
Tips for Preparing the Perfect Summer Chicken Salad
Chicken breasts contain less omega-6 (inflammatory) fats than chicken thighs, which is why they are often favored by nutritionists. While skinless chicken breasts are often considered the healthier portion of the bird, chicken thighs have great tenderness and richness. Both are delicious and add value to a dish when cooked properly. Chicken thighs contain connective tissue that breaks down when cooked slowly at a low temperature (around 350 degrees Fahrenheit for 45-60 minutes), while chicken breasts can get dried out if you cook them for that long. 
In my experience, chicken breasts taste best when cooked with the skin on and the bone in. You can always remove the skin and the bone before serving or before adding it to a recipe. Another excellent method for cooking chicken breasts is brining, marinading, or tenderizing the meat before cooking so they don't become tough. Cooking chicken breasts quickly at a higher temperature usually works well (450 degrees Fahrenheit for about 15-20 minutes). You can try this baked lemon chicken recipe from one of my favorite chefs, Ina Garten.
If you don't have leftover chicken breasts, you can buy a rotisserie chicken and cut off the chicken breasts. Another easy option is using a large 12.5 oz can of chicken (drained) from your pantry. There are so many options. I also included a list of fun ingredient alternatives to help you tailor the dish to your personal tastes.
Instead of chicken, mash up some canned, drained chickpeas.

Instead of pumpkin seeds, try sunflower seeds, roasted walnuts, or roasted slivered almonds.

Instead of golden raisins, try cranberries or fresh green grapes.

You can omit the seeds or nuts entirely if someone has a food allergy.

Instead of mayonnaise, use

Vegenaise®

if someone has an egg allergy.
Serve this refreshing summer chicken salad in a dazzling buffet-style spread, allowing your guests to savor every bite alongside their favorite crackers. Alternatively, create individual bowls nestled on a bed of fresh spring mix, a stunning presentation that will entice everyone's taste buds. 
 [[ recipeID=recipe-8lina0e1u, title=Summer Chicken Salad with Pumpkin Seeds ]]
Ina Garten Bio & Top Recipes. (2014, January 16). Lemon chicken breasts. Food Network.

https://www.foodnetwork.com/recipes/ina-garten/lemon-chicken-breasts-recipe-1923711