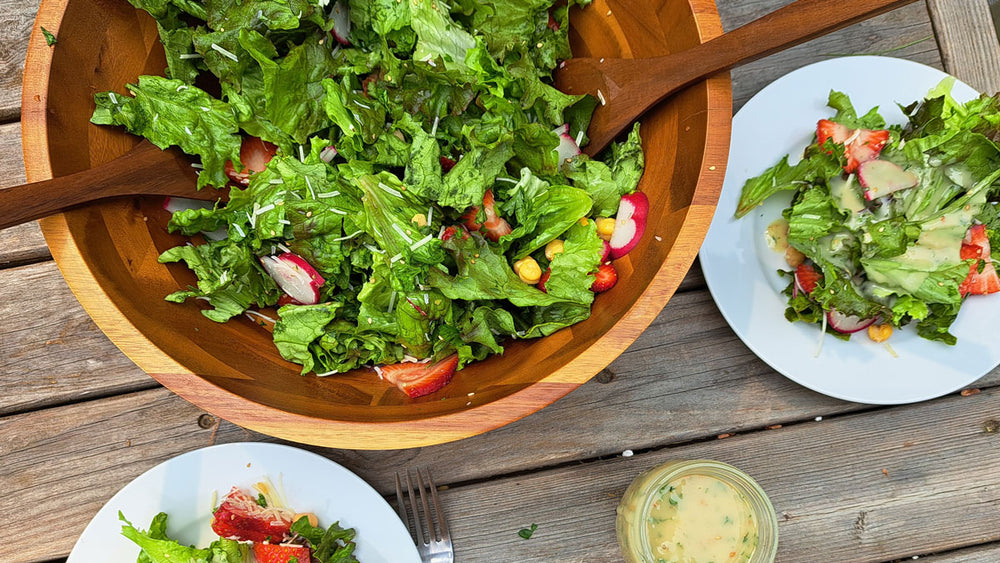 Strawberry Sesame Salad
RECIPE
Published on Tuesday, July 25, 2023 by
---
It's summertime, and this strawberry salad with creamy sesame dressing is perfect for a sunny day outside.
This salad has everything: crunch from the radishes and the fresh lettuce, chewy texture from the strawberries and chickpeas, smooth creaminess, and a balance of bitter, sour, and sweet in the dressing. This will be a popular side dish for any meal. You can add more protein by serving it with warm, grilled salmon, pork, or chicken. I also listed more ingredient alternatives to try at the bottom of the page.
My dad isn't a big fan of fruit in his salad. Maybe you aren't, either. But I wouldn't want you to miss out on this amazing creamy sesame dressing (the real showstopper of the whole thing). Make this sesame dressing in place of the ranch packet next time you toss together a simple house salad of your own; it's very easy and really pleases the palate.  
You can make the sesame dressing warm, too, with cooked garlic and onion (instead of the dried powdered version). Cook the vegetables on low until tender; add the remaining ingredients, whisk in ½ cup plain yogurt (or plain almond milk yogurt for dairy-free). Then serve it warm over marinated pork tenderloin. We were licking the plate (while no one was looking, of course).  
Recipe Alternatives:
Instead of Parmesan cheese, try goat cheese crumbles or crisp, warm bacon pieces.

Honey is higher in fructose than table sugar. If you have IBS, you may tolerate brown sugar instead of the honey ingredient.

Instead of onion and garlic powder, make the dressing the day before with fresh chives and freshly chopped garlic. Let it rest overnight in the refrigerator so the flavors meld.

If you have a sesame allergy, omit the sesame, and add plain Greek yogurt.

If you have a milk allergy, omit the Parmesan cheese, and add bacon.

If you want more crunch, and can have wheat or gluten, try adding crunchy sourdough croutons.

For more protein and healthy fats, add a piece of grilled salmon.
Whether you are looking for an easy summer salad or a new exciting salad dressing for your own, this is a great option.
[[ recipeID=recipe-8ljrgbggf, title=Strawberry Sesame Salad ]]
Plain almond dairy-free yogurt alternative: Silk®. Silk. (n.d.).

https://silk.com/plant-based-products/dairy-free-yogurt-alternatives/plain-almond-dairy-free-yogurt-alternative/

 

Ina Garten Bio & Top Recipes. (2014, July 2). Herb-marinated pork tenderloins. Food Network.

https://www.foodnetwork.com/recipes/ina-garten/herb-marinated-pork-tenderloins-recipe-1948375