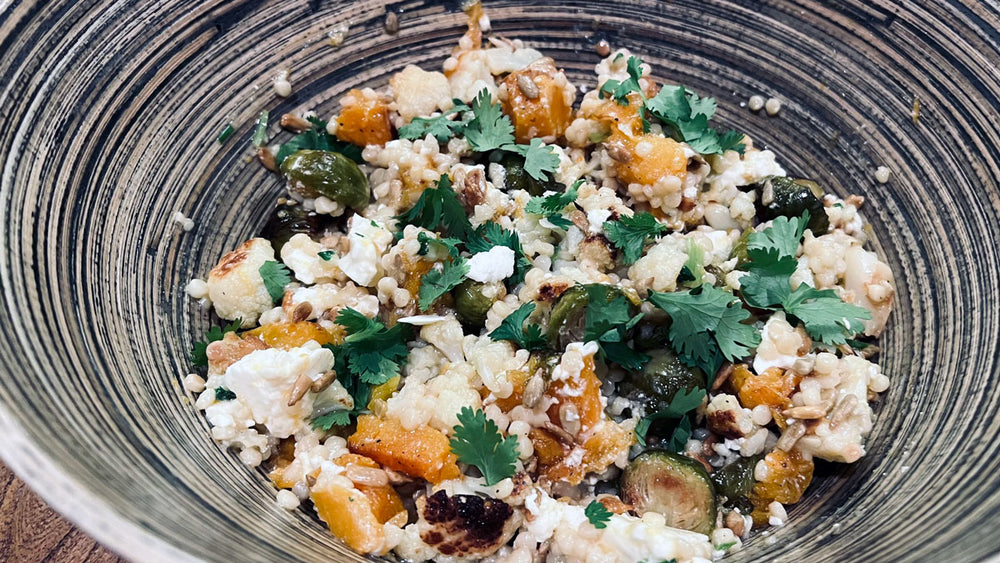 Roasted Vegetable Couscous Salad
RECIPE
Published on Monday, November 07, 2022 by
---
I love salads of all kinds. 
Traditional garden salads, Greek salad, Caesar salad, I'll eat them all! 
But lately, I have really enjoyed making and eating grain-based salads, full of vegetables, protein, leafy greens, and a creamy dressing.
Maybe it's because we have officially reached Fall here in MA, but I've found these heartier salads to be filling and delicious. 
This roasted vegetable couscous salad checks all the boxes.
It has a variety of colors from all the roasted vegetables, is full of fiber from the vegetables and the couscous, and can be topped with your favorite protein or eaten just as is. I love this with grilled chicken or roasted salmon, but it would also be good with shrimp or baked tofu. 
This GERD-friendly salad also has a sweet and creamy dressing that cannot be substituted. Trust me, making this one from scratch is worth it!
[[ recipeID=recipe-8l9sjip4v, title=Roasted Vegetable Couscous Salad ]]