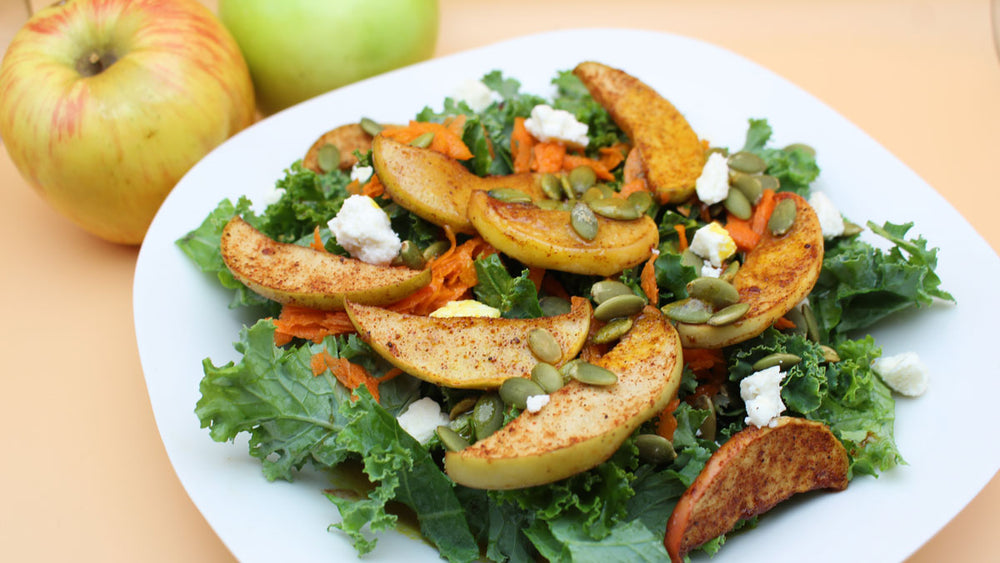 Roasted Apple and Kale Salad
RECIPE
Published on Thursday, October 20, 2022 by
---
Spring and summer are not the only seasons to make delicious salads in.  
Fall is full of delicious produce to create a fresh and unique salad. 
This salad uses my favorite fall fruit, the apple.
There are many different varieties of apples, but my favorites are Honeycrisp or Granny Smith. They are both firm and slightly tart. When roasted- these apples don't turn to complete mush, so they hold their own with the crunchy kale in this salad. Kale is a hearty green that has a fairly long refrigeration life. There are many different varieties of kale, but for this particular salad, I like using the most common one, the curly leaf. It is inexpensive, found in almost every grocery store, and delicious! 
Cotija cheese is mild Mexican cheese, similar to feta. I like the salty taste and crumbly texture to complement the apples. If you are feeling adventurous, a mild bleu cheese would taste great too! If you are unable to find Cotija and are not a fan of bleu cheese, feta would work just fine. Pepitas are also known as pumpkin seeds. They are a nutritious addition to any salad. If you can't find pepitas, any nut will be delicious. 
A Few Notes About This Recipe:
I would recommend a cheese grater to shred the carrot. The carrot adds a nice dash of color and additional vitamins to the salad. When creating this recipe, I decided at the last minute to put a dash of cayenne pepper on the apples, and I love it!  Just a little heat to compliment the sweetness (but this is completely optional). The same goes for the vinaigrette- if you know that cayenne pepper is a trigger for your acid reflux, just omit it from the recipe.
[[ recipeID=recipe-9l95u9equ, title=Roasted Apple and Kale Salad ]]