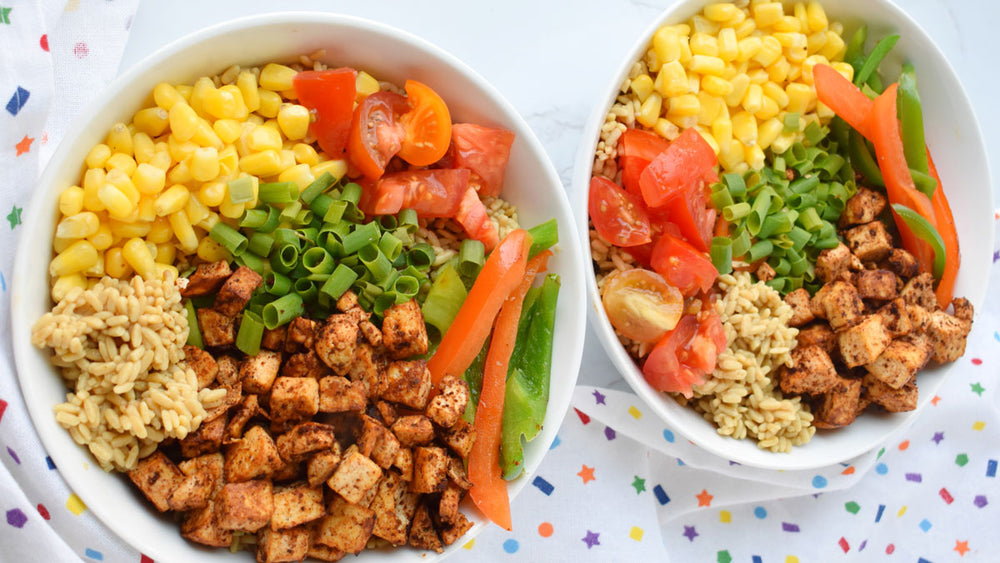 Main Dishes: Vegan Tofu Sofritas Bowls
RECIPE
Published on Wednesday, March 23, 2022 by
---
Have you had the sofritas (tofu) at Chipotle before? 
I get it pretty much every time we go and love the seasoning on the tofu. I wanted to make a copycat sofritas recipe at home and it turned out even better than I thought it would. This meal is naturally vegan and so full of flavor. Even if you're not vegan, you will enjoy this dish thanks to all the delicious and fresh flavors.
I made cilantro lime rice like the one that they serve at Chipotle. I kept it simple with lime juice, chopped cilantro and a little salt.
You can top your bowls with whatever ingredients you like. To keep this dish Low-FODMAP, you will want to keep the serving size of the corn to less than 1/4 cup per serving. 
You don't have to be a vegetarian or vegan to enjoy this dish! 
I like using a lot of the homemade spice mix on the tofu because when you're pan frying the tofu- it gives the tofu almost a crispy crust. It is delicious! I recommend pressing the water out of your tofu with a paper towel.
Also, you can dice your tofu the night before, put it in a container in the fridge and the water naturally comes out of the tofu where you can easily drain it out of the container. Cut your tofu into very tiny chunks so each part of the tofu can get crispy quickly. The spice mix was super easy to make with chili powder, cumin and if you can tolerate, a little cayenne pepper for some spice.
I topped these tofu bowls with corn, tomatoes, peppers and green onion. Feel free to add whatever toppings you like. Vegan sour cream (or low-fat regular sour cream if you eat dairy) would be great! A sprinkle of vegan cheese or some fresh guacamole would add flavor as well. You can't go wrong adding a bunch of tasty ingredients to these bowls!
[[ recipeID=recipe-9kzmwsl0e, title=Vegan Tofu Sofritas Bowls ]]