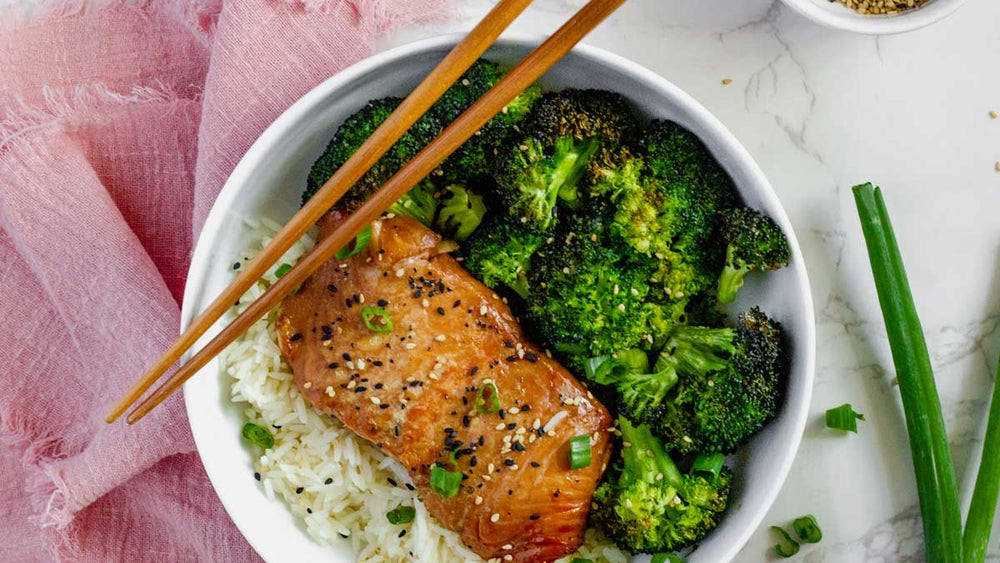 Low FODMAP Asian Glazed Salmon Bowl
RECIPE
Published on Wednesday, May 17, 2023 by
---
Bowl meals have become increasingly popular in recent years and for good reason! 
These meals are a convenient and customizable way to pack a variety of healthy ingredients into a single dish. For those following a Low FODMAP diet, bowl meals are an excellent option because they allow for a variety of Low FODMAP ingredients to be combined in one satisfying meal. With a Low FODMAP bowl meal, you can easily include protein, complex carbohydrates, healthy fats, and a variety of Low FODMAP vegetables, all in one dish. This not only ensures that you're meeting your nutritional needs but also helps to simplify meal planning and preparation. Plus, bowl meals are often easy to transport, making them a great option for those who are on the go or have busy schedules.
If you're looking for a healthy and delicious meal that's Low FODMAP, you can't go wrong with an Asian glazed salmon bowl. This recipe is packed with flavor and loaded with nutritious ingredients, making it an ideal choice for anyone looking to eat well while avoiding foods that can trigger digestive issues.
Salmon: A Nutritious Protein Source
Salmon is a highly nutritious food that is Low FODMAP and IBS-friendly. This fish is an excellent source of protein, omega-3 fatty acids, and vitamin D, making it a great addition to a balanced diet. Omega-3 fatty acids have been shown to reduce inflammation in the body, which is important for those with IBS or other digestive issues. Additionally, the Low FODMAP nature of salmon makes it a great choice for those following a Low FODMAP diet. By incorporating salmon into your meals, you can enjoy a variety of health benefits, while also ensuring that you're consuming a diet that is gentle on your digestive system.
Asian Glaze: Adding Flavor without FODMAPs
Sauces can be a hidden source of FODMAPs, as many of them contain ingredients that are high in these short-chain carbohydrates. Some of the most common high FODMAP ingredients in sauces include garlic, onion, honey, high fructose corn syrup, and wheat-based thickeners. To avoid FODMAPs in sauces, it's important to read labels carefully and look for Low FODMAP alternatives.
Some great options include sauces made with garlic-infused oil, maple syrup, tamari sauce, rice vinegar, and other Low FODMAP ingredients. You can also experiment with making your own sauces at home using Low FODMAP ingredients to ensure that your meals are both delicious and easy on your digestive system.
To add some zest to this recipe, we'll be using an Asian-inspired glaze that's free of FODMAPs. The glaze is made with sesame oil, maple syrup, soy sauce, rice vinegar, and grated ginger, which provides a sweet and tangy flavor to the dish.
Low FODMAP Vegetables: Adding Nutrients and Flavor
By adding vegetables to your bowl meal, you can create a colorful and visually appealing dish that is also nutrient-dense.  For those with IBS or other digestive issues, consuming a diet rich in Low FODMAP vegetables can help to reduce symptoms and promote overall digestive health. This recipe includes broccoli heads, a Low FODMAP vegetable that contains sulforaphane, a compound that has been shown to have anti-inflammatory and cancer-fighting properties.
You may customize your bowl and use other gut-friendly vegetables like shredded carrots, sliced cucumber, chopped bok choy, and bamboo shoots. Adding vegetables not only add flavor and texture to the dish, but also provide important vitamins, minerals, and fiber.
Base Options: Building Your Perfect Bowl
When it comes to building an Asian glazed salmon bowl, rice is a classic and Low FODMAP base option that pairs perfectly with the flavors of the dish. However, for those who are looking to switch things up, there are a variety of other Low FODMAP base options to choose from. Quinoa and potato are both great alternatives that are gentle on the digestive system and easy to prepare. Additionally, leafy greens such as spinach or kale can be used as a bed for the salmon and other vegetables, adding an extra dose of nutrients and fiber to the dish. 
[[ recipeID=recipe-8lh54idx4, title=Low FODMAP Asian Glazed Salmon Bowl ]]
U.S. Department of Health and Human Services. (n.d.). Office of dietary supplements - omega-3 fatty acids. NIH Office of Dietary Supplements. Retrieved April 30, 2023, from

https://ods.od.nih.gov/factsheets/Omega3FattyAcids-HealthProfessional/

Shepherd, S. J., Parker, F. C., Muir, J. G., & Gibson, P. R. (2008). Dietary triggers of abdominal symptoms in patients with irritable bowel syndrome: randomized placebo-controlled evidence. Clinical gastroenterology and hepatology: the official clinical practice journal of the American Gastroenterological Association, 6(7), 765–771.

https://doi.org/10.1016/j.cgh.2008.02.058

Ullah M. F. (2015). Sulforaphane (SFN): An Isothiocyanate in a Cancer Chemoprevention Paradigm. Medicines (Basel, Switzerland), 2(3), 141–156.

https://doi.org/10.3390/medicines2030141