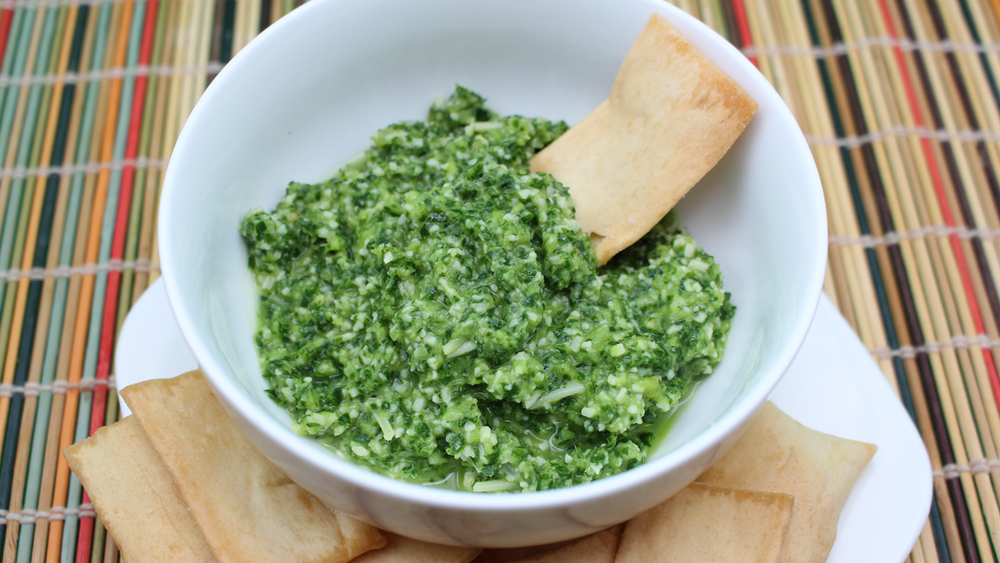 Kale Pesto
RECIPE
Published on Friday, January 27, 2023 by
---
When one thinks of Pesto, one of the first ingredients that comes to mind is garlic. 
Lots of garlic.  
This Pesto recipe has NO garlic but doesn't lack any of the robust flavors that a traditional pesto carries. Coming up with a pesto recipe without any garlic was definitely a challenge. After doing a little research, celery and fennel kept popping up, so I decided to give that flavor combination a try. I chose star anise rather than fennel seeds. 
Star anise has the same flavor profile, but the pieces are larger, so the possibility of over-flavoring the sauce with anise is harder to do. Anise is a very strong flavor, typically associated with black licorice. Don't let that scare you away, though. It provides just the right amount of bite that fresh garlic would have.
3 Tips for Optimal Kale Selection and Storage
The flavor peak for Kale is in colder seasons, though this wonderful vegetable is available year-round.
Avoid choosing Kale that is wilted, or has brown or yellow coloring.
Store Kale in the refrigerator for up to 5 days.

 
For this recipe:
If pumpkin seeds aren't your go-to, any seed/nut will work. Pine nuts are typically found in pestos, but they can be rather pricey. Also, toasting the nuts is my personal preference. I like the flavor that toasting brings out, but this step is not necessary. 
This sauce can be used on its own as a dip. I was eating it with tortilla chips, delicious! This sauce can also be put on chicken, shrimp, pork, and portobello mushrooms. The choice is yours!  
This pesto is delicious, GERD-friendly, and nutritious! 
[[ recipeID=recipe-8ld0jm7c2, title=Kale Pesto ]]