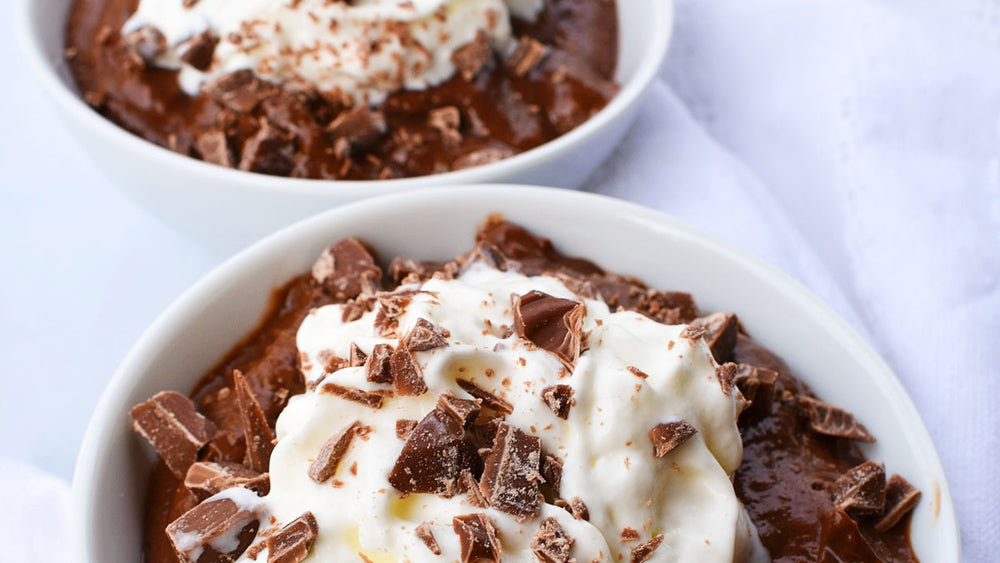 Healthier Treats: Chocolate Avocado Pudding
RECIPE
Published on Wednesday, February 09, 2022 by
---
Chocolate Avocado Pudding is almost one of those too good to be true recipes. 
It tastes super indulgent and delicious but is made with avocado. The chocolate is rich and maybe even more rich tasting than regular chocolate pudding. This Chocolate Avocado Pudding is the perfect dessert to make for Valentine's Day! Top with whipped cream, chopped chocolate and if you want, strawberries or raspberries.
This pudding is a favorite with a special story to go behind it. Right after I had my third baby, a family friend made us a delicious comforting meal which included this chocolate avocado pudding. It tasted rich and indulgent yet cool and refreshing. I could not believe it when she told me that it was made with avocado! It certainly doesn't taste like it and you can't see anything green so it feels hard to believe. It came at a time where small gestures meant the world!
This Chocolate Avocado Pudding has only 5 ingredients.
Regular homemade chocolate pudding has many more ingredients so I love the simplicity of this. It takes only 5 minutes to make. No cooking required. Just blend in a food processor or blender. 
While this pudding is still high in fat, it is full of healthy monounsaturated and polyunsaturated fats. Some studies show that eating avocado regularly can actually help keep cholesterol levels normal. Regular chocolate pudding is made with real cream and other ingredients high in saturated fat making this an overall healthier option.
This pudding is great for those looking for sweets with reduced trigger potential. It is made using lactose-free milk. You can also make it dairy-free by using your choice of dairy-free milk. Soy milk or almond milk works great. If you can tolerate regular milk, you can use that as well. It also uses maple syrup as a sweetener which is a better choice than honey if you are on a Low-FODMAP diet. 
Keep the portion size small if you are in the elimination phase of the Low-FODMAP diet. A 30g serving of avocado is considered Low-FODMAP, which is an 1/8th of an avocado, followed by Moderate-FODMAP at a serving of 45g or ¼ of an avocado.
[[ recipeID=recipe-8ky1ualr5, title=Chocolate Avocado Pudding ]]
Make it a delicious meal with these products:
Low FODMAP Certified Vegan Bolognese Sauce