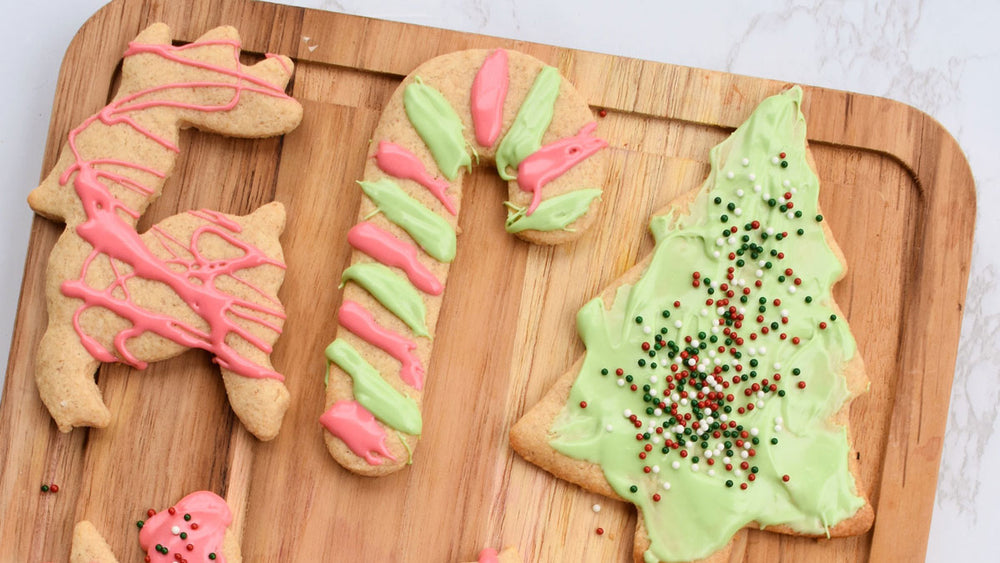 Healthier Treats: Sugar Cookies
RECIPE
Published on Tuesday, December 14, 2021 by
---
Looking for a lighter treat option to satisfy your sweet tooth?
Holiday baking can be so much fun! A simple cookie like sugar cookies are fun to decorate and cut out into holiday shapes. These healthier sugar cookies have less butter than a traditional recipe and are made with white-whole wheat flour. They have way less sugar than many sugar cookie recipes as well. They are wonderful for anyone (my kids love them!) and are a better choice than some other heavier desserts for people with GERD.
In even better news, the dough freezes well and can be enjoyed whenever you want for fresh baked sugar cookies anytime. Double or triple the recipe and freeze the dough to make into heart shapes for Valentine's Day or any other shape you like. 
Baking with white whole-wheat flour is a great choice because it is higher in fiber and nutrients than all-purpose flour. It bakes just like all-purpose flour and is lighter in color than regular whole-wheat flour. The reduced amount of butter used in these cookies keeps the recipe lower in saturated fat which can be beneficial for someone with GERD. They are by no means a health food at all but can be a lighter treat option.
Even though the cookies are lower in sugar, no one will be able to tell once you top them with your icing or frosting of choice. I made these sugar cookies with my kids and there were no complaints about them being lower in sugar or being healthier. They are a fun activity to do with kids or with any family members this holiday season. A wonderful tradition that is GERD friendly. My kids have fun mixing the ingredients, tasting the dough, rolling out the dough, cutting the cookies into shapes and after they bake, decorating them. Throw on some holiday music and have a great time.
[[ recipeID=recipe-8kwpe3u0s, title=Healthier Sugar Cookies ]]
This makes quite a large batch. You can cut it in half if you only want a little bit of cookies but I recommend making the entire batch and putting some of the dough in the fridge if you can't use it right away.
Want to make these a gluten-free option? Try these 1:1 gluten-free flour alternatives:
Bob's Red Mill Gluten Free 1-to-1 Baking Flour
Krusteaz Gluten Free All Purpose Flour 32 oz Resealable Bag with Krusteaz Pastry Knife