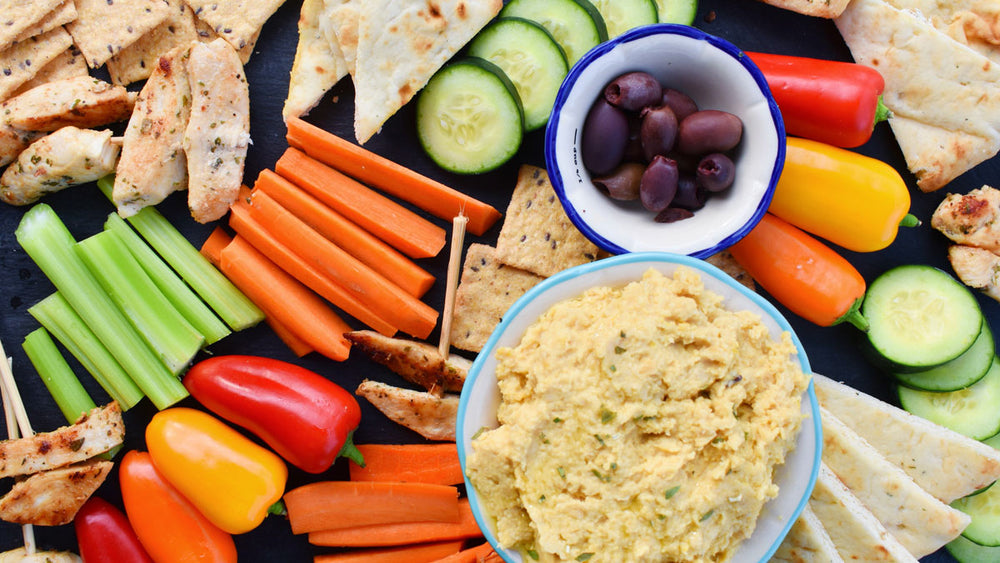 Friendly Snacks: Greek Loaded Hummus Board
RECIPE
Published on Thursday, March 10, 2022 by
---
Woo hoo! March Madness is almost here! 
This means that it is time for lots of delicious food (oh and I guess some basketball too!). This Greek Loaded Hummus Board is full of delicious appetizer type snacks that are on the lighter and healthier side for a snacking experience that tastes delicious but that won't bother your GERD. 
This Greek Loaded Hummus Board is full of homemade hummus dip, Greek chicken skewers, peppers, veggies, pita bread, olives and more. A delicious board that will keep you snacking the whole game but is lighter so you don't get that super full feeling that no one likes. 
I love whipping up a huge batch of this hummus and snacking on it all week. It is awesome with veggies or spread on a sandwich. The chicken skewers are a fun way to serve the chicken since it is for an appetizer. I marinated the chicken in an Italian herb blend, lemon zest, olive oil, and a Low-FODMAP essence of garlic & onion salt. You can grill the chicken, bake it or even pan fry it and just add the skewer in after to make it easy to eat. It is delicious dipped in hummus or on its own.
Feel free to make this board your own and add in whatever ingredients you have on hand and like best. Cucumber, bell peppers, celery, carrots or anything that doesn't trigger your symptoms would be great for the veggies. You can use crackers, pretzels, pita bread or anything like that for your grain. To keep this loaded hummus board Low-FODMAP, choose gluten-free grains for your picks.
[[ recipeID=recipe-9kzmwrn0g, title=Greek Loaded Hummus Board ]]