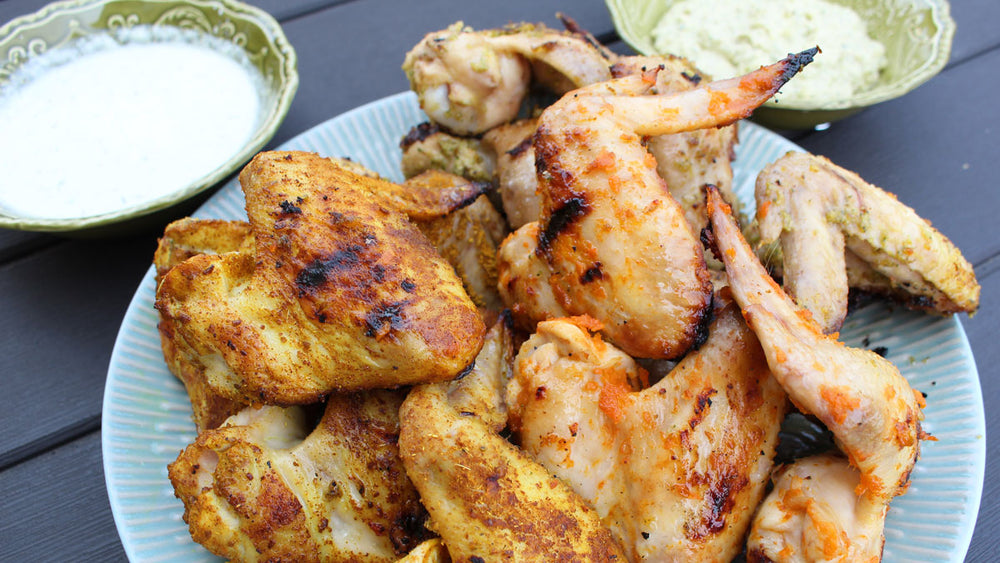 Flavorful Grilled Chicken Wings: A Twist for Reflux-Friendly Delights
RECIPE
Published on Wednesday, June 28, 2023 by
---
The sun is out, and so is my charcoal grill.  
Chicken wings are one of my favorite foods to cook on a charcoal grill. I enjoy using charcoal over a gas grill. They take a little bit more time, but the end flavor is entirely worth it. In this recipe, I decided to try something completely different from the usual BBQ flavor, perfect for anyone with GI sensitivities, especially acid reflux, and GERD.
I am dusting some with my GERD-Friendly Curry Rub, which this spice blend was used in the Curried Lentil Soup, and I'm pairing it with a Cucumber Herb Greek Yogurt Sauce. The Sweet Carrot Ginger Glaze is a spin-off of the Carrot Ginger Soup. I made Roasted "Garlic" (NO GARLIC) and Arugula Pesto for the final flavor. You probably won't use all of the GERD-Friendly Curry Rub the recipe calls for on the chicken wings, but that's okay! The spice blend stores for up to 6 months!
The chicken wing is connected directly to the breast of the chicken. It is white meat, but it doesn't get as dry as a chicken breast can when cooked. The wing is my favorite part of the bird, next to the thigh. When grilling wings, I like to have leftovers! So, 3 pounds is what I recommend.
When purchasing chicken wings, I look for a wholly attached wing, meaning the drum and the flat are still connected. Most of the time, they are split, turning one wing into two branches. This makes them too small for me to chase them around the grill. If grilling is not something you enjoy doing, these wings can quickly be baked in the oven at 375°F for approximately 25-35 minutes, be sure to check the temperature right at the bone to ensure they are fully cooked. We are looking for a rising temperature past 165°F.
[[ recipeID=recipe-8liszkclo, title=Grilled Chicken Wings with a Trio of Reflux-Friendly Flavorings ]]