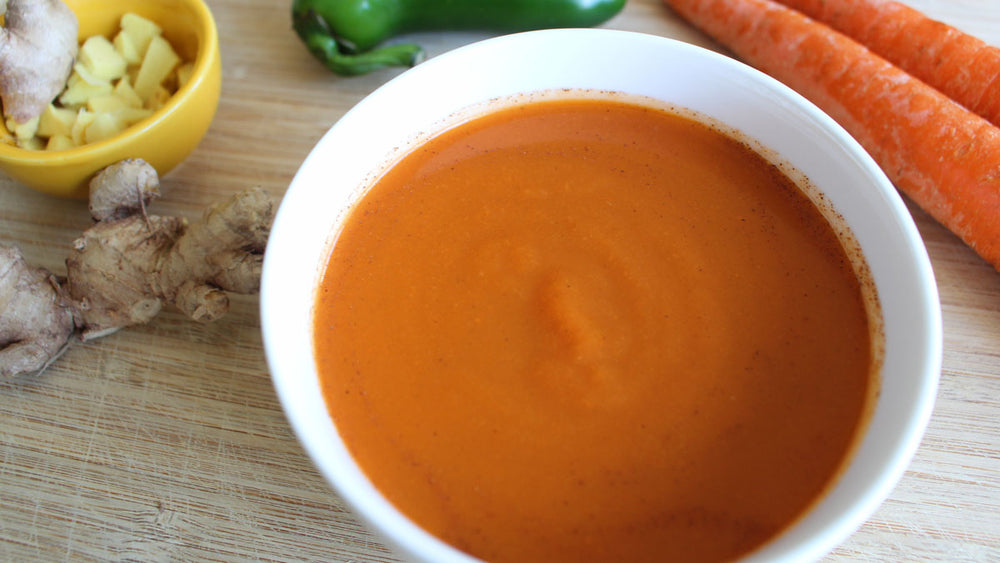 Carrot Ginger Soup
RECIPE
Published on Tuesday, November 22, 2022 by
---
This soup is by far one of my favorites! 
It's super easy, delicious, and loaded with nutrients, like beta-carotene found in carrots. 
Carrots and sweet potatoes have the most beta-carotene than any other fruit or vegetable, which is great for eye and skin health and other health benefits for the body. Ginger is found to subside nausea and help with other digestive issues.
This soup is also rich in potassium and a good source of vitamin C. 
Carrots and ginger are the two main ingredients in this soup.  
I add onions, garlic, and jalapeno to this version, but they are not necessary. Sweet potatoes, pumpkin, or even apples would be a great addition to this soup, especially if you suffer from GERD or acid reflux and onions, garlic, or jalapeno trigger your symptoms. This soup will still be very satisfying with the carrot, ginger, and vegetable stock base you will be able to find the seasoning combinations that work perfectly for your palate! 
Some additional tips: I would recommend using fresh ginger for this soup. The pieces are easier to strain out when you are using your fine mesh strainer. Don't have a fine mesh strainer? You can usually find one near the baking supplies in stores or pick one up here. 
And as for the jalapeno, seeds in for more spice, seeds out for less. If you want to make this a vegan recipe, choose agave nectar for your sweetener and coconut milk in the recipe instead of the honey and heavy cream.
[[ recipeID=recipe-8lajzbi1o, title=Carrot Ginger Soup ]]