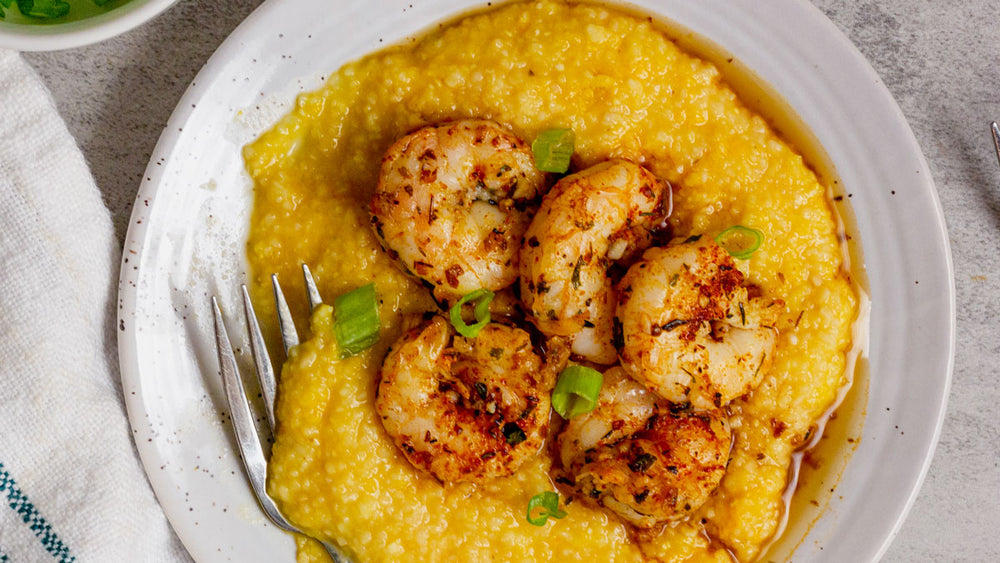 Flavorful and Digestion-Friendly: Low FODMAP Shrimp and Grits
RECIPE
Published on Wednesday, July 26, 2023 by
---
Experience the ultimate comfort food while honoring your dietary needs.
If you're a fan of classic Southern cuisine, you'll be delighted to know that you can still savor the rich and comforting combination of shrimp and grits while staying true to your Low FODMAP lifestyle. 
Shrimp and grits are a beloved dish originating in the Southern United States, particularly in coastal regions. It combines two distinct elements: succulent shrimp and creamy, savory grits. Grits are a staple in Southern cuisine, made from ground corn kernels that are simmered until they reach a smooth and creamy consistency. The dish has gained popularity nationwide and is often enjoyed for breakfast, brunch, or even as a comforting dinner option.
However, for individuals following a Low FODMAP diet, the traditional recipe may pose challenges due to the presence of high-FODMAP ingredients like onions, garlic, and dairy. Fortunately, with a few modifications and ingredient substitutions, it's possible to create a Low FODMAP version that maintains the essence and deliciousness of this classic dish.
Adapting the shrimp and grits recipe to fit within the Low FODMAP guidelines requires making certain ingredient swaps and omissions.
For example, traditional shrimp and grits recipes often include garlic and onions for flavor, but these high-FODMAP ingredients are replaced with alternatives such as green onions (using only the green parts) and garlic-infused oils. Additionally, lactose-free milk can be used instead of regular dairy milk to make the grits creamy without causing discomfort. By being mindful of the FODMAP content of ingredients and finding suitable substitutes, you can continue to enjoy the rich and satisfying flavors of shrimp and grits while adhering to your dietary needs.
Enhance the flavors of your Low FODMAP shrimp and grits recipe by incorporating the bold and aromatic Smoke 'N Sanity Cajun Creole Seasoning. This specially crafted seasoning blend adds a Southern depth to your dish, infusing it with the essence of traditional Creole cuisine. With a combination of smoky paprika, fragrant herbs, and a touch of heat, Smoke 'N Sanity Cajun Creole Seasoning brings a delicious complexity that elevates the overall taste profile of your shrimp and grits. Whether you're a fan of Cajun-inspired dishes or simply looking to add a punch of flavor to your Low FODMAP cooking, Smoke 'N Sanity Creole Seasoning is an ideal choice to add to your seasoning cabinet! 
Discover the irresistible allure of the Smoke 'N Sanity Cajun Creole Seasoning! Make your way to the SnS website and unlock the magic with the exclusive coupon code SNSRD15, granting you a generous 15% discount on their enticing products!
[[ recipeID=recipe-9ljsm1ova, title=Low FODMAP Shrimp and Grits ]]