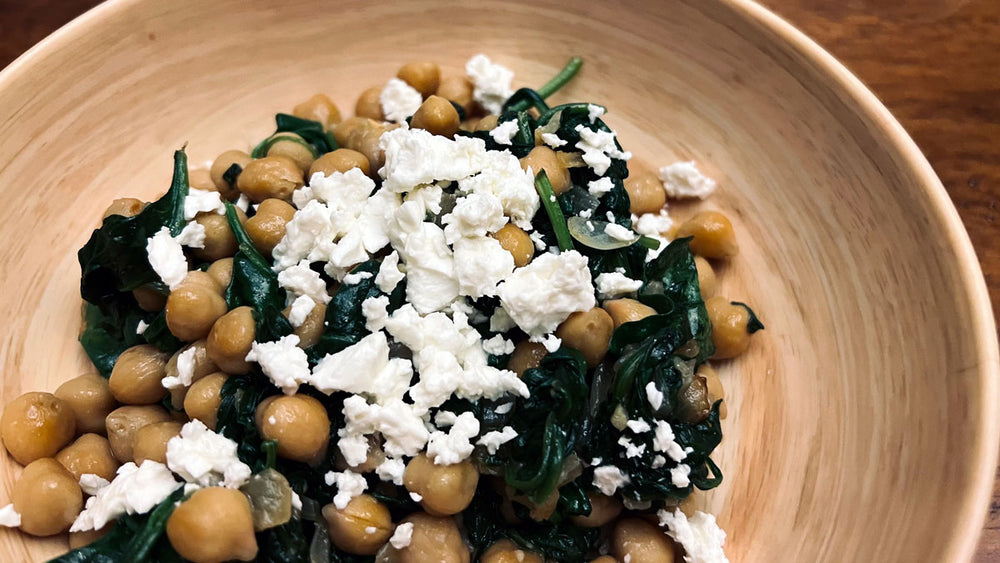 Five-Minute Mediterranean Stir-Fry
RECIPE
Published on Wednesday, August 03, 2022 by
---
We all love a quick dinner, right?
This GERD-friendly, easy and customizable stir-fry is a great addition to your weekly meal plan. It can be made with pantry staples and does not involve anyone standing over the stove on a hot summer night. Like many of my recipes, this one is pretty customizable. You can make it a plant-based meal with garbanzo beans (recipe below), or add your choice of lean protein (shrimp is delicious, but chicken or salmon would also work well here). 
This meal is not only fast, it is also filling. 
The brown rice is a source of filling whole grains and the spinach offers iron, folate and potassium as well as several vitamins. If your garden is going crazy, you could use any greens here. I've made it with both kale and swiss chard, and both work great! If you choose to go with the plant-based recipe, the garbanzo beans (also called chickpeas) will provide fiber and protein. 
Adding chicken or shrimp will also provide lean protein and Mediterranean flavors. I like to top the stir-fry with Feta cheese (I love the block of Feta that comes in a brine), and when tolerated, it is delicious with shallot and a bit of garlic. If you can't tolerate the garlic, you can omit, and season with some additional herbs. Parsley and oregano would both be great here! 
This is one of those 5-minute dinners that can be prepped and cooked simultaneously, and it really does come all together in about 5 minutes. 
If you have a bit more time, you can replace the brown rice with farro (a heartier whole grain), bulger, or even quinoa. I like the texture that the brown rice or farro provide, but quinoa would be another good, higher protein option. 
If you take the time to make this one, please let us know what you think. I hope you enjoy it!
[[ recipeID=recipe-9l655hfep, title=Five-Minute Mediterranean Stir-Fry ]]