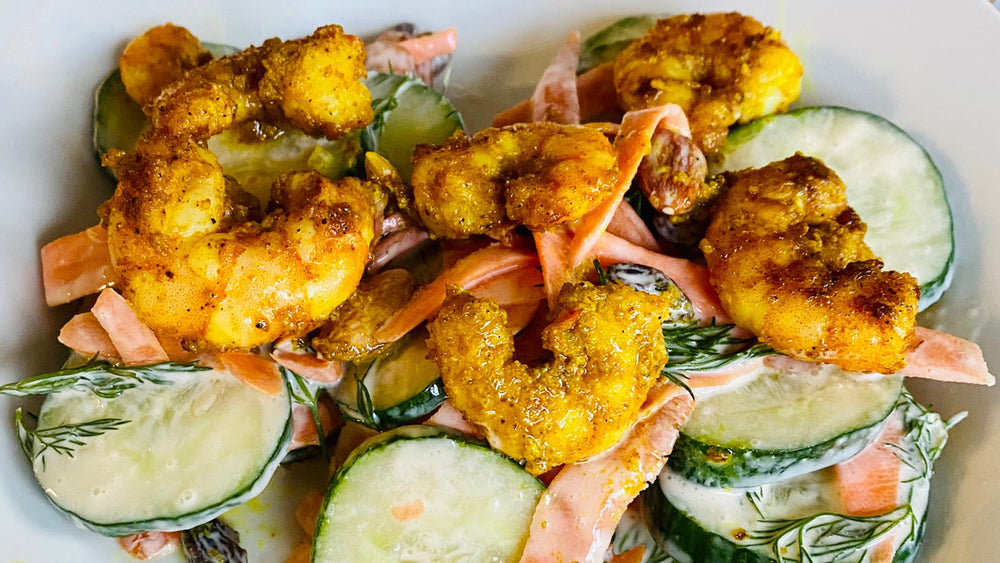 Crisp Cucumber & Dill Salad with Curry Rubbed Grilled Gulf Shrimp
RECIPE
Published on Tuesday, May 31, 2022 by
---
I am very excited to share this Fresh Spring Salad with everyone!
It is fast, tasty, and healthy!  If you're looking for a light snack or a heartier meal that takes less than 30 minutes from start to finish, this salad is a must-try!  
Wild Caught Gulf Shrimp are primarily the only shrimp I will purchase. They are pricier than their farm-raised counterparts, but the little extra money spent is well worth the flavor! 
What does 16/20 mean when it comes to purchasing shrimp?
It means that there are 16-20 shrimp per pound in that bag. So, if you are buying a one-pound bag, that means you are purchasing 16-20 actual shrimp. So, the smaller the number- the larger the shrimp.
An additional note for this recipe and shrimp in general: I prefer deveined shrimp, but not peeled. When shellfish, in this case, shrimp, get packaged with their shells removed, a lot of the flavor is removed as well.
Also, this salad could easily be made with fresh cilantro instead of dill. Cilantro and curry pair really well with each other.  Or just as easily the curry could be omitted. This is a fun salad that you can play around with to make it your own.
Additional ingredient notes for the recipe:
I prefer to use full-fat Greek yogurt for this recipe, but you could easily use a lower-fat version. Additionally, when I use vinegar (which is a lot) I like to use 2-3 different flavors. Rice, apple, or red wine, depending on what my desired outcome is. 
And when it comes to the curry seasoning for the shrimp, depending on how many shrimp you are using (1-2 lbs) will determine how much curry essence you desire (I recommend between ½ to 1 TBSP based on that amount of shrimp).
If you are following a Low-FODMAP diet, you will want to be mindful of the portion of dried raisins that you use and may want to consider a different sweetener in the recipe, depending on where you are at in your challenge or reintroduction process. Maple syrup or stevia would be fine alternatives or if you choose not to have a sweetener at all, that is fine too!
Editor's Note from "What's Cooking? With Dr. Koch"
- Allison Koch, PhD, RDN
During this episode on Fireside Chat, Chef Lisa Green informed me that there are 2 veins on shrimp and when you buy deveined shrimp, only one is removed. I wasn't sure what to think about this but was very comforted after the show to learn that the second "vein" on the shrimp is actually a blood vessel rather than the "sand vein" on the opposite side that is traditionally removed with the deveining process. The blood vein does not pose a food-safety issue to consumers and actually cooking the shrimp properly with any of the "veins" in place will kill any bacteria present anyways. It's purely a personal preference whether you choose to have them present or not.
[[ recipeID=recipe-9l3bqr3or, title=Crisp Cucumber & Dill Salad with Curry Rubbed Grilled Gulf Shrimp ]]